BLESSED JOSAPHATA DAY THIS WEEKEND
November 15, 2022
THE CHURCH CELEBRATES THE SPIRITUAL LEGACY OF SAINTLY NUN - BLESSED JOSAPHATA - ON SUNDAY, NOVEMBER 20TH
This Sunday, November 20th, the Church celebrates the feast day of Blessed Sister Josaphata - the co-foundress of the Sisters Servants of Mary Immaculate. Blessed Josaphata was declared "blessed" by Pope St. John Paul II in the City of Lviv in 2001 when he made his historic Papal Visit to Ukraine. Sister Josaphata is sometimes mistakenly considered one of the 27 new Blessed Martyrs of Ukraine, but in fact she is not. She was only declared "Blessed" at the same occasion. The cause for her canonization (being declared a "Saint") is not based on martyrdom (dying for one's Catholic Faith), but rather "heroic virtue" (the performance of extraordinary virtuous actions with readiness and over a period of time).
We want to familiarize ourselves with the extraordinary life of this woman who dedicated herself to the service of God and His Church, His People. One of the great motivations for her giving herself to the life of a religious Sister was because of the special place in her heart and soul for the people around her who needed someone to offer them kindness and help and pastoral care.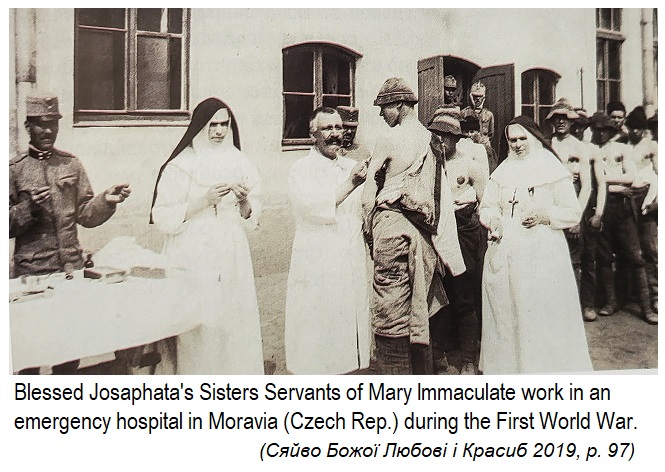 It was a challenging life and she had so much to learn and to experience along her relatively short life-journey of only 49 years. She was inspired by the joys of the success of her efforts and she bore patiently with suffering from health issues and even misunderstandings. One account tells of how after her religious Order developed sufficiently, the priest overseer, Fr. Lomnytsky resigned from his provisionary post as superior and Sr. Josaphata was finally chosen to be the first general superior of her Sisters. However, soon, "...internal divisions led Sr. Josaphata to tender her resignation to the local Archbishop, Metropolitan Andrey Sheptytsky and someone else was chosen. Under the new Superior-General appointed by the Metropolitan, Sister Josaphata and her natural sister, Sister Arsenia (Hordashevska), were denied permission to take permanent vows!" [Which sets Blessed Josaphata in the good company of the likes of the founder of the Redemptorist Fathers, St. Alphonsus. His entire order abandoned him at one point and started a different order. And then later on, he was removed as superior and rejected by the order that he founded!]
However, these are only some of the fascinating episodes in the life and times of Blessed Josaphata. Her entire faith journey from the time she was a young girl until she finally succumbed to tuberculosis is one of total faith in the Lord and therefore a life of internal joy and one that inspires us today - regardless of what walk of life we may be leading as followers of Christ.
There are many resources by which we may learn more about this special woman. Take time to at least read some relatively brief online accounts about Blessed Josaphata (available in various languages) or seek out a longer publication about her life and the order that she co-founded. One of the newest publications, albeit presently available in Ukrainian, is filled with a myriad of new insights and photos and stories of graces and favours received by people turning to Blessed Josaphat in prayer asking for her to intercede for their loved ones and for their special needs in life. This book, «Блаженна Йосафата: Сяйво Божої Любові та Краси» was composed by the Postulator for the Cause of Blessed Josaphata, Sr. Luiza Ciupa, SSMI and Sr. Oresta Borshovska, SSMI. Contact your local community of the Sisters Servants of Mary Immaculate for how to obtain copies. To get started however, do two things.... Second - search for Josaphata Hordashevska online and you will discover many links and resources, but First - offer a prayer to Blessed Josaphata. Ask her to interceded for you and your loved ones for matters of heath or for help in one of life's other many needs. Ask her to also lead you to a better understanding of her amazing dedication to the Lord and His People and for the grace to follow her example.
[See about the special investigation that about one of Blessed Josaphata's in the Archeparchy of Winnipeg - HERE - and pray for God's will in this matter...]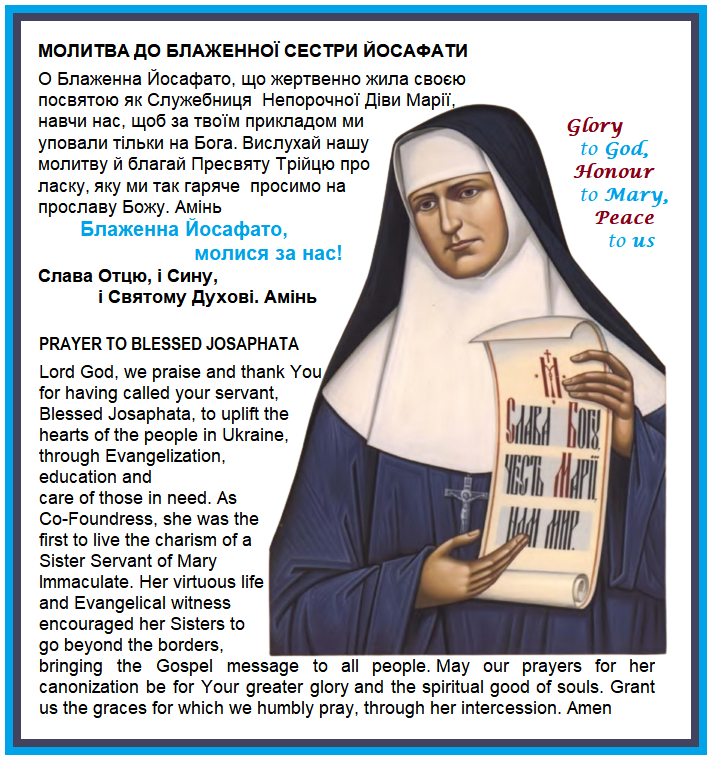 ---