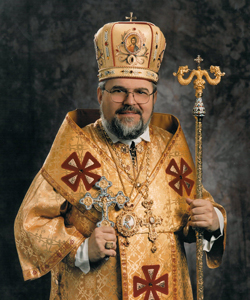 Archeparchy
The Archeparchy of Winnipeg is the Ukrainian Catholic Church in Manitoba.
The Archeparchy contains some 130 parishes (of varying degrees of activity), some 33 eparchial priests, 7 priests serving from monastic communities or religious orders, 4 deacons, 23 nuns, and some 4,000 member Catholics.
There is also one Catholic school and one Nursing Home run by the Sisters Servants
The head of the Archeparchy of Winnipeg, with authority over the entire Church in Manitoba (and all corresponding points north), is its Metropolitan Archbishop.
The present ruling bishop of the Archeparchy is the Most Reverend Metropolitan Lawrence Huculak, O.S.B.M. (cf. administration).