FATHER JAY KORBAN ORDAINED FOR PRIESTLY MINISTRY
August 15, 2020
FATHER JAY KORBAN ORDAINED IN WINNIPEG ON FEAST OF THE DORMITION
Holy Eucharist Parish church in Winnipeg was filled to capacity on the Feast of the Dormition of the Mother of God as Deacon Jay Korban was ordained to the holy priesthood. Okay it was "Covid-19' capacity, but there is no doubt that the amazing Byzantine-Ukrainian church would have been filled to its physical capacity if the situation would have been different. In fact, the online participation by the many hundreds who could not attend in person attests to that.
Why were so many wanting to "be there"? Many knew Father Jay personally, of course, but aside from that - everyone who loves the Church wants to be at an ordination. It is an historic moment and an occasion of great hope as someone is giving his life to serve the Lord and His People in pastoral ministry. This good news especially for the local Church, but also for the Church of Christ world-wide.
The journey of Fr. Jay Korban to this day was long road, but in hindsight, not a day or experience was wasted. His years of study and pastoral experience - not to mention his countless life experiences - will all serve him well now that he goes forward to serve Christ and His Faithful in various ways and places over the next number of years.
Ordinations are usually planned to take place on a significant Sunday or more major Feast day. Winnipeg's 'local hierarch', Metropolitan Lawrence Huculak and Deacon Jay Korban decided that the special event should happen on the Feast of the Dormition (falling asleep) of the Theotokos (Mother of God) on 15 August 2020. The location was to be Holy Eucharist Ukrainian Catholic Parish Church in Winnipeg's East Kildonan district. Fr Jay wanted his three major ordinations of Sub-Deacon, Deacon and Priest to take place in three different churches that were special to him in his life. For the first two, he chose St. Michael's church (400 Day St., Transcona) as he was a parishioner there with his family in his childhood years. He was ordained to the Diaconate at St. Anne church (35 Marcie St. North Kildonan) as he and his wife Sophia had been appointed there for a pastoral year during which they helped in administrative work and Family Ministry. Since Fr. Jay spent many years at Holy Eucharist Parish and his family were long-time parishioners and during his preparation years the parish supported him by prayer and occasionally materially, he wanted to begin his priestly ministry there. The parish, of course, was very pleased and honoured. The last ordinations at 'Holy Eucharist' were that of Sub-Deacon Walter Dudych in 2018 and Fr. Yaroslav Buduykevych in 2013.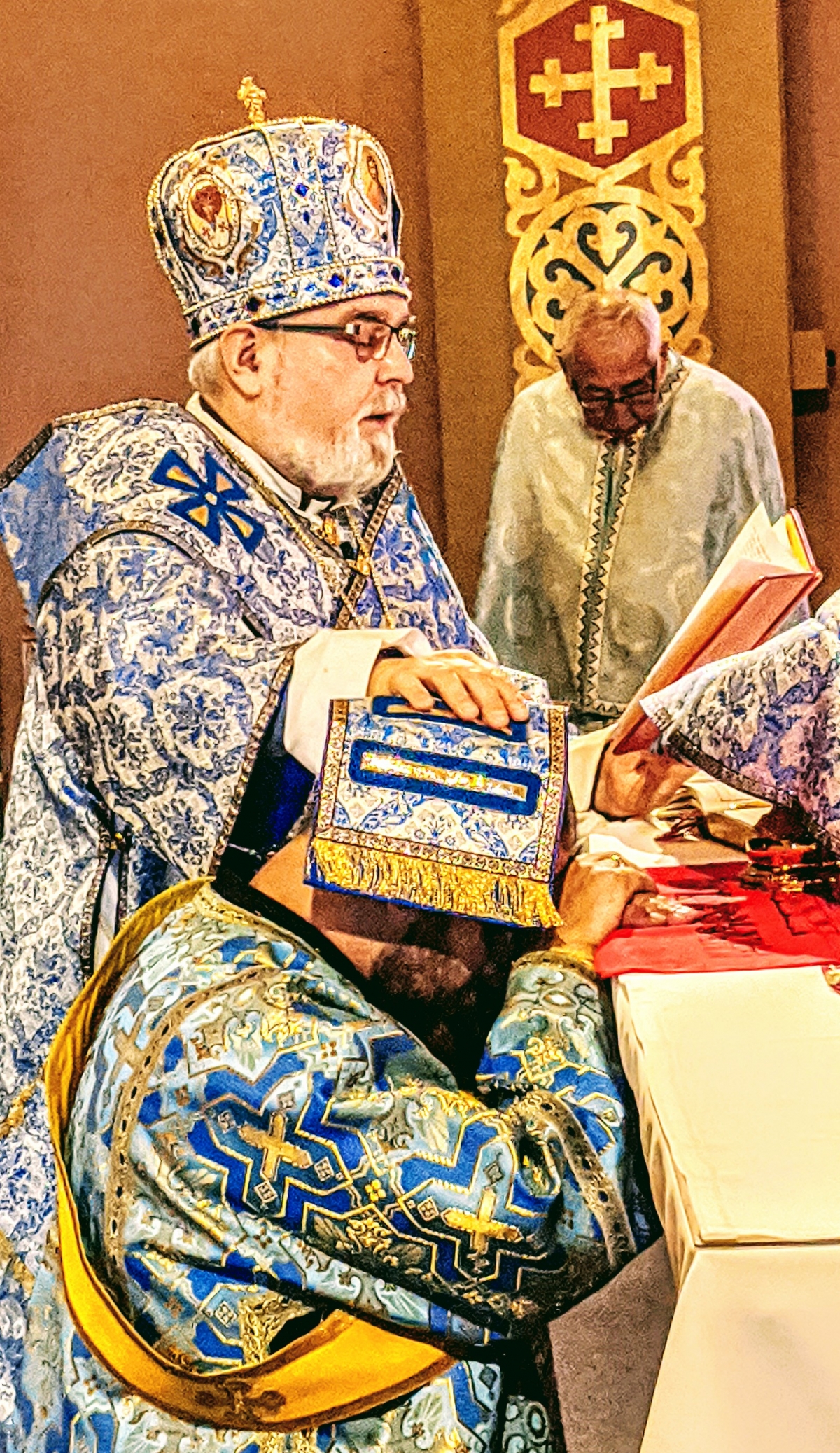 Holy Eucharist church has a special place in Fr. Jay's heart, as he loved to serve as an Altar Server and was very instrumental in promoting a healthy liturgical life and helped in whatever way he could to make that life happen. Holy Eucharist, considered by not a few to be one of the most beautiful places of worship in Canada, took a huge step forward to achieve that recognition went it obtained a beautiful iconostas from a monastery in eastern Canada. Jay enthusiastically spent hours helping with the reassembly and installation of the breath-taking structure. Furthermore, Jay was crowned in marriage to his wife Sophia at Holy Eucharist parish.
The ordination took place on August 15, 2020 in the context of a hierarchical Divine Liturgy presided at by the Archbishop of Winnipeg, Metropolitan Lawrence Huculak. Also concelebrating were Archbishop-emeritus Stefan Soroka and several other clergy. Until the moment of his ordination to the priesthood, Fr. Jay, of course, served at the Liturgy as a deacon together with the Archeparchy's Protodeacon Rev. Stefan Tyrawsky. Fr. Jay's father-in-law, Rev. Ivan Nahachewsky, a military chaplain from the Eparchy of Saskatoon, served as the archdeacon for the rite of ordination.
The designated singers for the Liturgy were Fr. John Sianchuk, CSsR and Lesia Sianchuk. Both renowned for their knowledge of the liturgical music of the Ukrainian Catholic Church and, thus, are frequently asked to lead the singing for special liturgical events within the Archeparchy. Seminarians Alex Pankiw and Ivas' Babick assisted by serving throughout the event. Fr. Jay's mother, Donna Korban, sang the Epistle. His Grace, Metropolitan Lawrence, in lieu of a homily, offered an elaborate and inspirational explanation of the ritual and significance of the ordination rite just prior to it beginning following the Great Entrance. The other clergy concelebrating were Monsignor Michael Buyachok and Fathers Andrew Wach, Michael Kwiatkowski, Mark Gnutel, Michael Krochak and Alan Wizinsky.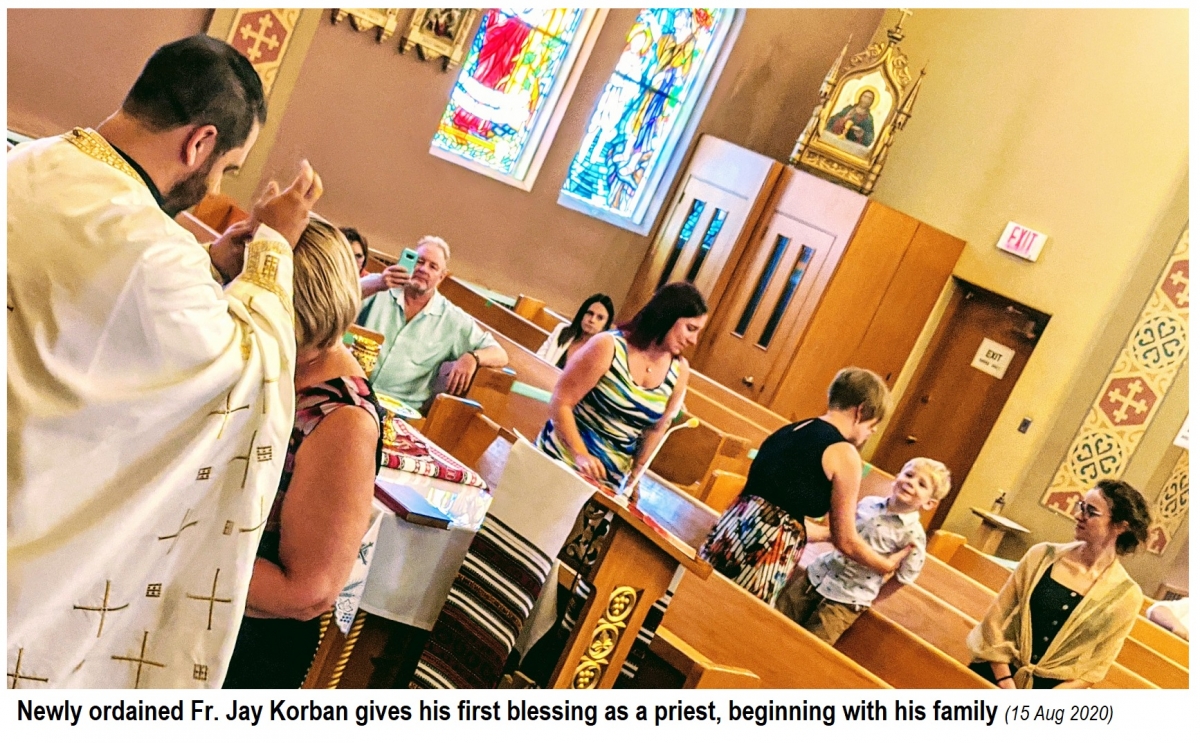 The prayers of all his brother priests and the prayers of all the faithful of the Archeparchy go with Father Jay as he now prepares for his first pastoral assignment. May the Lord Who called Father Jay to ministry richly bless him with all the grace and help that he will need for many, many years of service. Многя Літа!
---