ONLINE CATHOLIC FAMILY CONFERENCE - AVAILABLE NOW
April 20, 2020
HEY! YOU CAN STILL BENEFIT FROM THE AMAZING FAMILY CONFERENCE HELD ONLINE!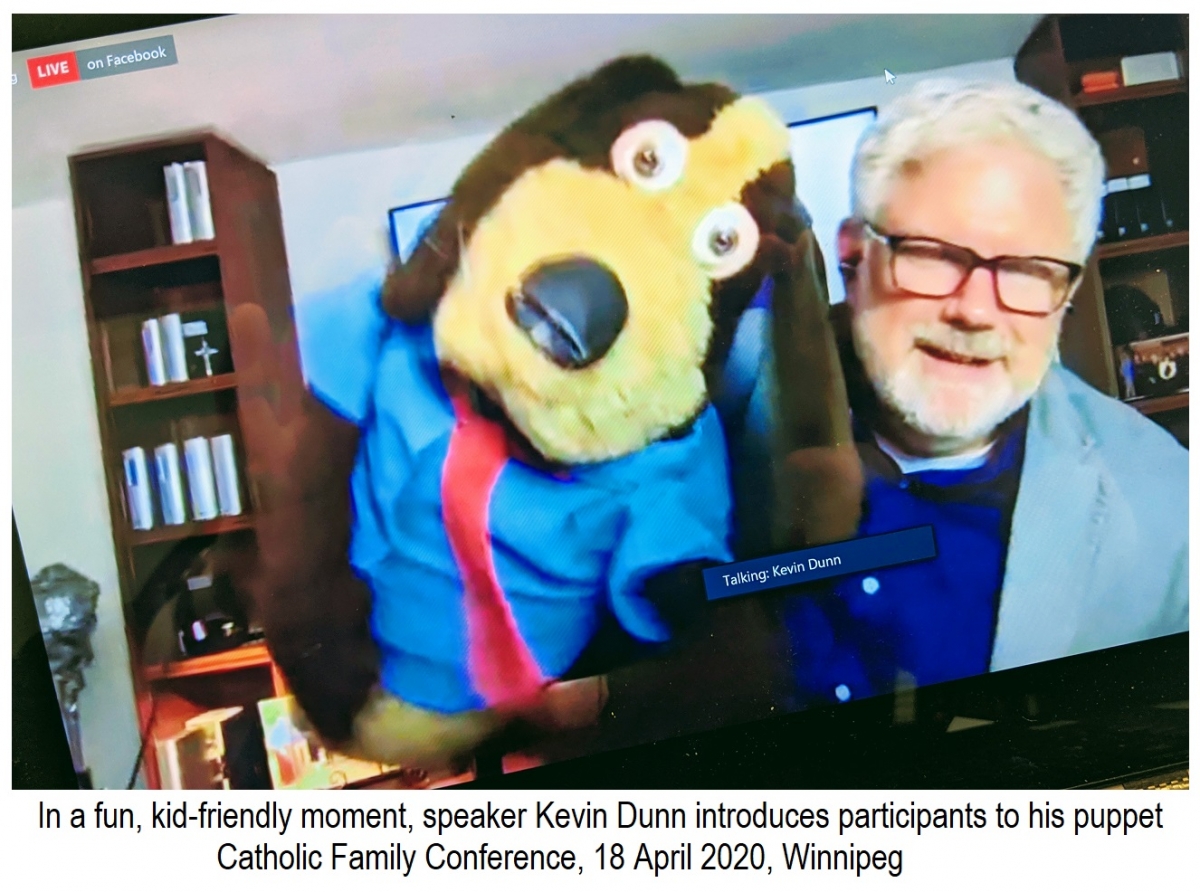 The Saturday afternoon Tri-Diocesan Catholic Family Conference was truly a time of inspiration and grace for everyone that was able to participate by ZOOM and Facebook on April 18, 2020. It is called "tri-diocesan", because it is one of the activities that came out of the years-long collaboration of the Archeparchy of Winnipeg, the Archdiocese of Winnipeg and the Archdiocese of Saint-Boniface. These three southern Manitoba ecclesial jurisdictions have been working together in the Tri-Diocesan committee for the National Week for Life and the Family for several years now as they try to make that annual national week come alive for southern Manitoba in an exciting way. Members of the Archeparchy that have served on the committee along His Grace Metropolitan Lawrence Huculak, are Marilyn Krochak, UCWLC's Pat Sirski and Sophie Manulak, the late KofC State Deputy Merlyn Onyschuk, Chancellor Fr. Michael Kwiatkowski and several others that have been invaluable in helping make things happen over the years.
The family conference has become an event to look forward to every year. One of the leading figures in organizing these conferences is Nadine Fetherston of the Archdiocese of Saint-Boniface's 'Marriage, Family & Life Service'. In fact, she also served as the host of this year's conference, assisted by Yssa Licsi, the Coordinator of the Youth and Young Adult Ministry also of the Saint-Boniface Archdiocese.
It was an afternoon of prayer, profound insights and binding fellowship that included a few good laughs as well (much appreciated as we continue through the dark valley of Covid-19). Those who pre-registered were able to attend via 'ZOOM', those that wanted to join in as observers (or just registered too late) were still able to join in everything via Facebook links to the conference. [The Facebook page of the Archeparchy, BTW, is: https://www.facebook.com/Ukrainian-Catholic-Archeparchy-of-Winnipeg-1456924644619877/?ref=py_c ]
The principal speaker at the Catholic Family Conference was filmmaker and international speaker Keven Dunn. Also offering messages and prayers were Archbishop Lawrence Huculak, Archbishop Albert LeGatt and Archbishop Richard Gagnon. One of the interesting things about Zoom is that everyone can see everyone (unless you turn your camera off) and everyone can also send out chat texts to ask questions or to add a thought or comment to whatever is being said.
IT IS NOT TOO LATE!
Did you miss it!? Well, here's the good news.... You can still take it all in by downloading and PDF [HERE] that has all the essential materials of the conference (and even a bit more!). Gather with family and neighbours online, and go over and discuss the materials in the above-mentioned PDF file (it is quite multimedial and user-friendly).
Also - but only for the next 30 days! - you can also watch the conference talks via Manitoba's NWLF website [HERE]
---