SISTER ANNE-MARIE KOZAKEWICH, SSMI REPOSES IN THE LORD
March 29, 2020
Sr. Anne-Marie Kozakewich, SSMI Reposes in the Lord
Sister Anne-Marie Kozakewich of Bethany Home, the main Winnipeg residence of the Sisters Servants of Mary Immaculate, died today. She received the Sacraments from long-time friend, Philadelphia's Metropolitan-emeritus, Most Rev. Stefan Soroka the previous day.
Funeral arrangements will be announced shortly.
On behalf of the Archeparchy, His Grace Metropolitan Lawrence Huculak expresses condolences to the Sisters, to Sr. Anne Marie's family and all those that knew her.
Вічна їй пам'ять!
_________________________________________
A brief article on Sr. Anne Marie's life from the SSMI website. Visit the site [HERE] for more information and photos.
Sister Anne-Marie's 100th Birthday Celebration
On December 28, 2019, Sister Anne Marie celebrated her 100th year of life with her family, friends & SSMI Community. Metropolitan Lawrence celebrated a Divine Liturgy for Sister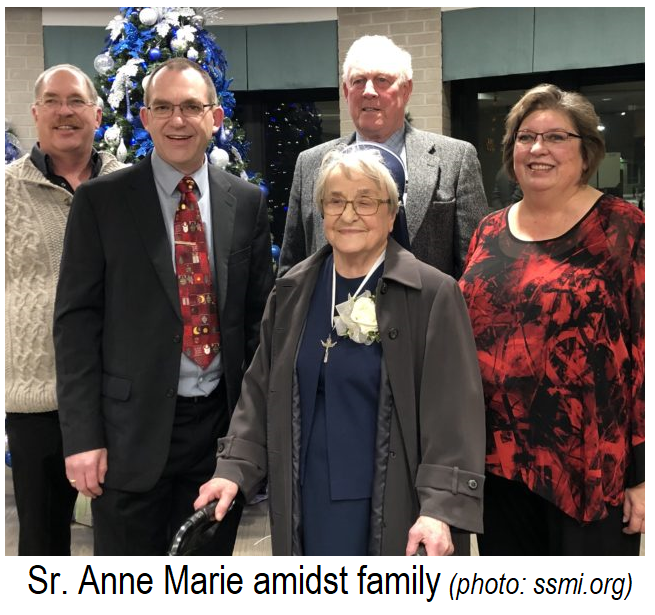 Anne Marie in the Sisters' Chapel. Later a celebratory meal and evening were enjoyed by those close to her.
She was born December 29, 1919 in Parkerview, Saskatchewan was baptized and attended Sheho Farms church. She entered the Sisters Servants of Mary Immaculate in 1941 and has been committed to her religious life for 79 years. Throughout her life, she has been involved in a variety of apostolic missions. She taught catechism, First Communion and Children of Mary. She loves people and anyone who takes time with her receives her love and acceptance. She has helped beautify our Ukrainian Catholic Churches, worldwide. Gifted with a creative sewing ability she created and sewed liturgical altar linens as well as liturgical vestments for many years both in Winnipeg and in Toronto. She is known for inventing the collapsible travel mitres that bishops use today.
She has a great love and energy for life with an ability to live that fully. At the age of 98, she still drove in Toronto. Sister Anne Marie enjoys her retirement in Winnipeg where she is able to connect with her community and the larger community.
---