A WONDERFUL CONCLUSION TO A WEEK FOR CHRISTIAN UNITY
January 25, 2020
AN INSPIRING EVENT AT THE CLOSE OF A WEEK FOR PRAYER FOR CHRISTIAN UNITY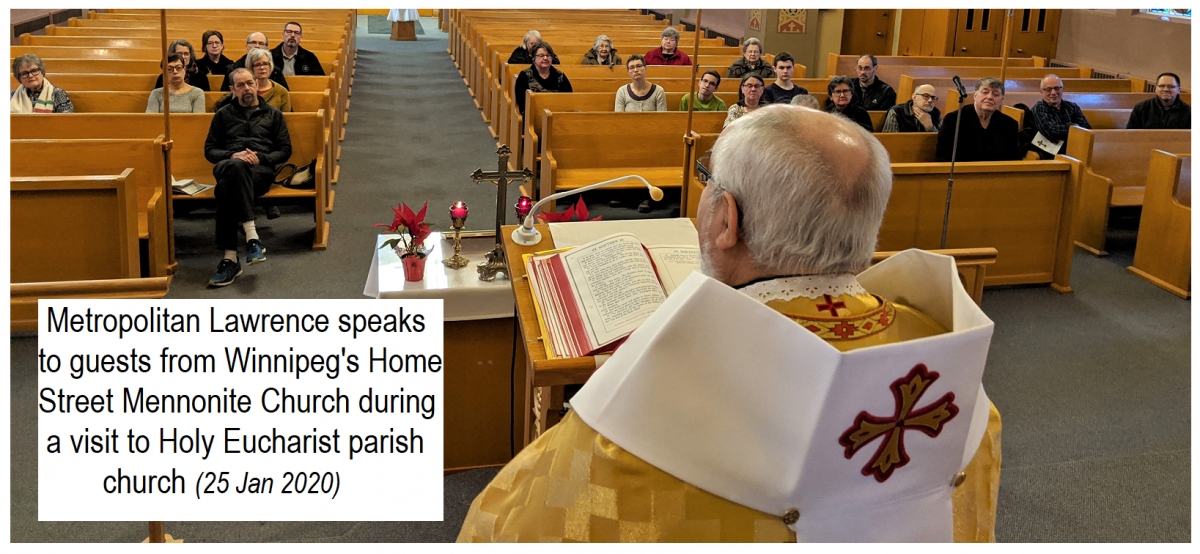 The community of Winnipeg's Home Street Mennonite Church reached out to Holy Eucharist Ukrainian Catholic Parish about the possibility to visit the parish church and experience something of the Church's liturgical practice. This would be occurring on the last day of the international Week of Prayer for Christian Unity. One thing led to another in the planning and, on January 25th, Holy Eucharist Parish was blessed with visits by the Home Street Community, but also the Archbishop of Winnipeg, Metropolitan Lawrence Huculak.
The event began at 11:00 AM with Holy Eucharist Parish Priest, Fr. Michael Kwiatkowski giving the group an explanation of the layout and artwork of the church as well as its history. Holy Eucharist Parish Church in Winnipeg's East Kildonan district is the Parish's second church, built in 1954. Surely one of Canada's most beautiful places of worship. It is adorned with icons, frescoes and stained glass windows by such artists as Leo Mol, Sviatoslav Hordynsky, Roman Kowal, Lucinda Doran and Hieromonk Christopher Kouts. The explanation was followed by an open Q&A.
Metropolitan Lawrence Huculak led a Moleben to the Theotokos and, spoke to the group on themes from the Gospel reading that he chose about the mandate of Christ to "

Go therefore and make disciples of all nations, baptizing them... teaching them... and behold, I am with you always...

" (Matthew 16-20). The responses were led by Parish Cantor David Hrehirchuk and Subdeacon Walter Dudych. A number of parishioners also came to participate in the event.
Everyone was invited to the church auditorium for a Ukrainian lunch prepared by some of the ladies of the parish - spearheaded by Lilian Deptuch, Elaine Bowman and Patricia Bodnar. The Mennonite community were invited to sing a hymn as an opening blessing of the meal and they astonished everyone with their prayerful beautiful song sung with harmony that one would think that they were a formal choir that had rehearsed for weeks. No, just a congregation that loves to sing and do so regularly at their worship services. They graciously repeated this again during the meal to everyone's delight. Well known Winnipeg Journalist, Brenda Suderman, who was also in attendance, spoke at the lunch and, on behalf of the group, presented two works on Mennonite theology and history respectively to Metropolitan Lawrence and parish priest Fr. Michael. A special highlight of the fellowship meal was the recognition of Metropolitan Lawrence's Birthday that fell on that very same day. The ladies had prepared for this surprise by ordering a personalized cake and everyone enjoyed singing a joyful "Happy Birthday". This was followed by a Mnohaya Lita. (His Grace successfully blew out all the candles...)
---