ARCHBHISHOP STEFAN PRESIDES OVER FUNERAL FOR DENA GNUTEL
October 29, 2019
CLERGY AND FAITHFUL GATHER FOR FUNERAL OF PASTOR'S MOTHER
Dena Gnutel, the mother of St. Michael's Parish Pastor, Very Rev. Mark Gnutel was buried from the parish to which she belonged for many years with her family. Her husband, William, was also buried from St. Michael's Parish Church in Transcona in 2017. However, in her attendance were her son, Fr. Mark, and other family members and many fellow parishioners and others that she met over time through her involvement in church circles - in particular the Ukrainian Catholic Women's League of Canada.
The Metropolitan Emeritus of Philadelphia, Archbishop
Stefan Soroka, presided at the services over two days - October 28-29. Many clergy gathered on both days to concelebrate the Parastas on Monday evening and the Divine Liturgy and interment on Tuesday. Archbishop Soroka spoke on the first day, while Fr. Mark preached at the Liturgy on the second day. Some family members shared insights and stories. The main eulogy was given by Fr. Mark's wife, Theresa at the "tryzna" luncheon during which she shared many stories and insights about the life of this extraordinary lady.
This was the second funeral for the mother of a priest to be held at St. Michael's in as many months. The mother of Fr. Greg Zubacz, Rose, was held just over a month earlier.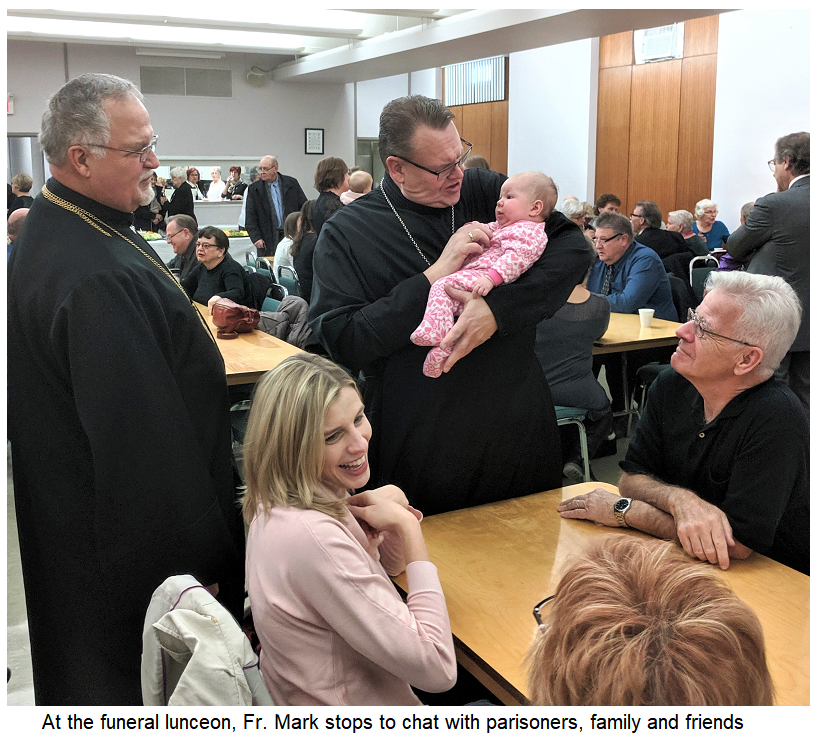 A complete obituary can be found [HERE]
---