FEAST OF THE DORMITION OF THE MOTHER OF GOD
August 15, 2019
WINNIPEG PARISH CELEBRATES FEAST OF THE DORMITION WITH SPECIAL "SHROUD"
Holy Eucharist Parish in Winnipeg's East Kildonan, made spiritual and pastoral renewal a big part of their Centennial Celebrations this year. One of the many goals was the enhancement of their church and their liturgical life. One of the contributions in this area was made by Ed & Rose Swiecicki and family who donated a very special Marian Shroud that is used for the feast of the Dormition every year (August 15-23). The shroud was blessed by Archbishop Stefan Soroka on May 5 of this year. It is housed on the north wall of the church for veneration throughout the year and used for the 10-day festal commemoration of the "falling asleep" of the Mother of God (including fore-feast and post-feast).
On the evening of the actual feast of the Dormition, parishioners gathered for a procession with the unique shroud, the Divine Liturgy, blessing of flowers and herbs and a myrovannya blessing. Two seminarians, Orion and Alex, joined in the celebration. They assisted Sister and Lydia with the singing, while Subdeacon Anton and Carlyle read the Epistle. At the opening procession members of the Women's League carried the shroud, led by the Cross-bearer from the Knights of Columbus, as well as Fr. Michael and Seminarian Orion carrying the icon of the feast. The congregation followed the procession that eventually returned to the front the church where the shroud was placed upon the tetrapod. Fr. Michael insisted that everyone gather to the front of the church - not only because he has been encouraging this for some time now, but also as an experience of the Apostles that gathered around the funeral bier of the Theotokos as they lived through the bittersweet moment of the "bidding farewell" to the Mother of their Lord. [...and God bless them, the congregation complied and moved into the front/central pews!] At his homily, Fr. Michael spoke to this theme... how we, like the Apostles, may always gather to the Mother of God to be re-energized in her example and direct association with our Lord, her unfailing intercession and even, at times, the simple motherly/familial sentiments that she brings out in us. [Sentiments so desperately needed in our society that seems to be increasingly taken up with anger and even hatred]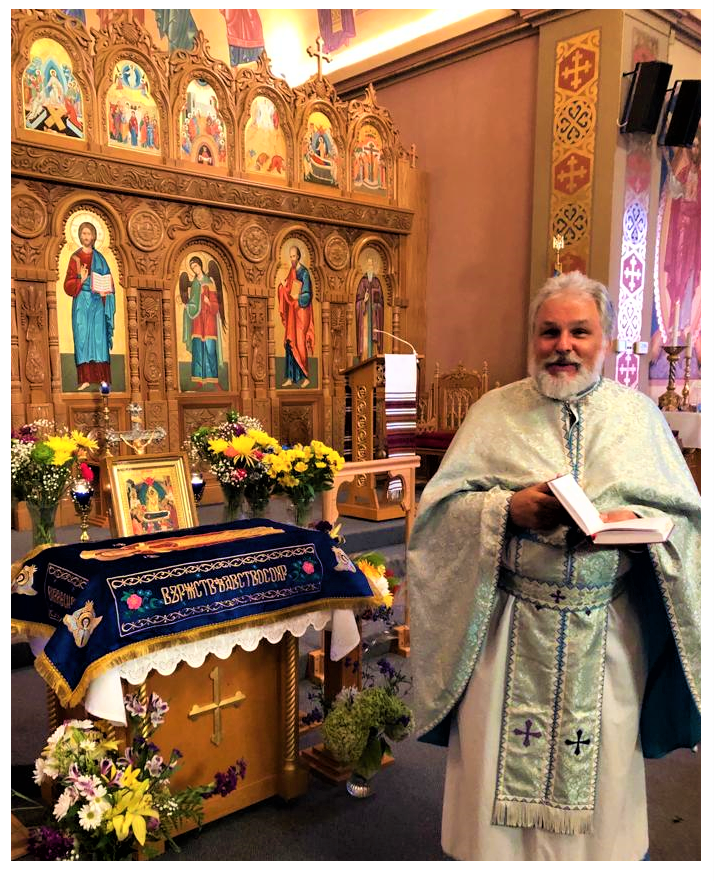 The celebration ended with a traditional Myrovannya at which the Seminarians also assisted by bearing the Icon and the cross as Father anointed.
The feast continues! Please join faithful from around the Archeparchy, around the province at Cooks Creek! August 16-18, 2019!
---