CHANCERY STAFF CELEBRATES TRANSFIGURATION
August 6, 2019
Chancery Staff Celebrates Transfiguration
On Tuesday, August 6 at the morning coffee break, the staff of the Archeparchy of Winnipeg chancery office came together with containers of fruit in hand to celebrate the Feast of the Transfiguration of our Lord. The Feast of the Transfiguration is a Holy Day of Obligation, and one of the twelve Major Feasts of the Ukrainian Greek Catholic Church. The feast commemorates the transfiguration or metamorphosis of Christ on Mount Tabor, when our Lord appeared in His divine glory before the Apostles Peter, James, and John.
At the beginning of the coffee break, His Grace, Metropolitan Lawrence began with the prayers for the blessing of fruit on the Feast of the Transfiguration. The chancery staff sang the responses, and as the fruits and other foods were blessed by Metropolitan Lawrence, the staff sang the Troparion of the Feast. The troparion recounts the events of the Feast, and applies those events to our own lives;
You were transfigured on the mount, O Christ God, showing Your glory to Your disciples as much as they could bear. Make your eternal light shine also on us who are sinners, through the prayers of the Mother of God, O Giver of Light, glory to You! (Troparion, Tone 7)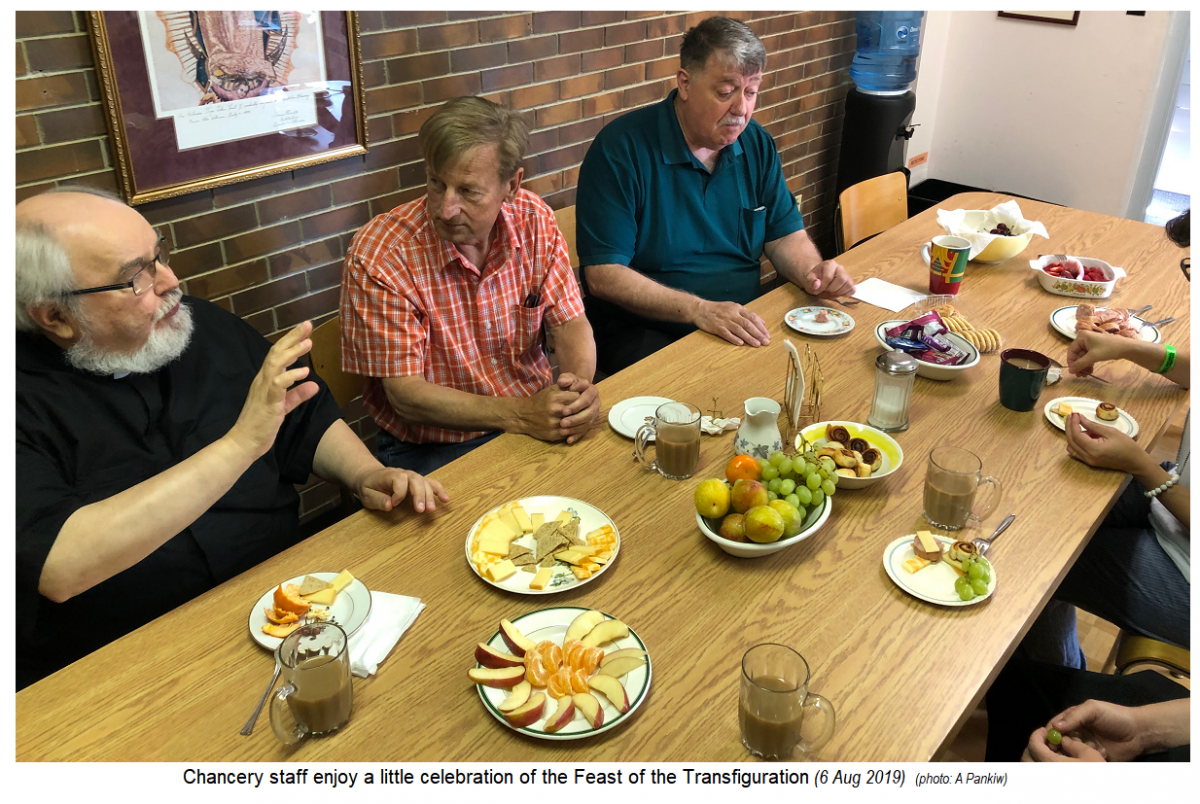 An icon of the Transfiguration was placed in the break room, allowing the staff of the chancery office to take some time to prayerfully reflect upon the significance of this Feast. In offering my own brief reflection, the Transfiguration event was crucial for Christ's closest disciples in achieving a proper understanding of Christ's authentic identity. In the Gospel assigned to the Feast, we read of Christ shining brilliantly upon Mount Tabor, and beside him appear Elijah and Moses. This creates a distinction, emphasizing that Christ is not merely a prophet, but the Son of the Living God. This truth is reinforced when the three disciples hear a voice above them, saying "This is my Son, the Beloved; with him I am well pleased; listen to him!". Just as Christ makes His identity known to His disciples, we too as Ukrainian Greek Catholics can come to know Him through regular church attendance, confession, reception of the Eucharist, and reading and reflection upon Holy Scripture.
As we continue to prepare for the Feast of the Dormition of the Theotokos (August 15) during this Dormition Fast, let us rejoice as we celebrate this Feast of Christ's desire to make Himself known to us.
- A. Pankiw
---