HIS BEATITUDE ENCOURAGES THE YOUNG TO CHALLENGE THE STATUS QUO
July 31, 2019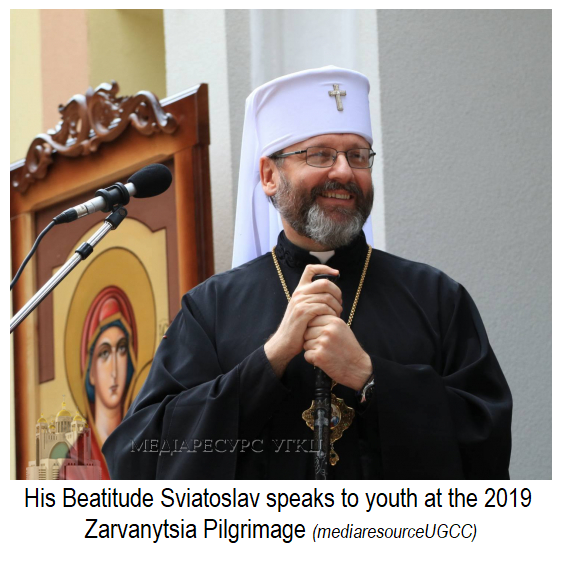 His Beatitude Sviatoslav spoke to the young at the mega annual national pilgrimage to Zarvanytsia in Ukraine that always brings in hundreds of thousands of pilgrims and has even attracted up to a million pilgrims. His words were electrifying and certainly presented a "did he just say that!?" moment for not a few people in attendance. However, his message echoes what has been said by Pope Francis and certainly reflects the Gospel message of Christ Who challenged His Apostles and all followers to never cease fulfilling the mandate to Evangelize all peoples at all times and to live the faith in a more profound way daily.
To be a Christian within your own 'comfort zone' means spiritual death
"In order to force priests to be active in the parish, breach the comfort zone - first of all for yourself. And you will see that the comfort zone bastion of your Pastor will fall like autumn leaves from the trees!"
The Father and Head of the Ukrainian Catholic Church, His Beatitude Sviatoslav, spoke this message during a encounter with youth at the national pilgrimage to the famous Marian shrine at Zarvanytsia, Ukraine.
When responding to questions from the youth as to how to move one's [parish] Priest from his personal comfort zone, His Beatitude gave a few suggestions.
"Bishops have a certain tool for this. It's commonly called "rotation". So if you, the young, see that a Priest has settled into a parish and has built for himself a comfort zone, do not remain silent. Don't fight with him, but break his comfort zone."
However, it is very difficult to break a comfort zone that a priest has developed together with the parishioners. In that case, "it's a catastrophe". Can you imagine, [how challenging it is] for the Bishop to implement a rotation in such a parish? Never. I would like each of us to understand that to be a Christian within your comfort zone means to spiritually die."
In his view, if the parish is alive, it breaches its comfort zone. Thus the Faithful continuously push the Priest to new steps forward.
"Therefore there is yet another challenge to you - breach the comfort zone in your parish! Be vibrant initiators of perpetual movement. Be certain, that the Priest will feel that something must be done in the parish, something must change, because the young want to be alive, and active in the mission [of the Church]."
[source: UGCC Information Department]
---