FATHER VICTOR FETED ON OCCASION OF HIS 25TH ANNIVERSARY
July 17, 2019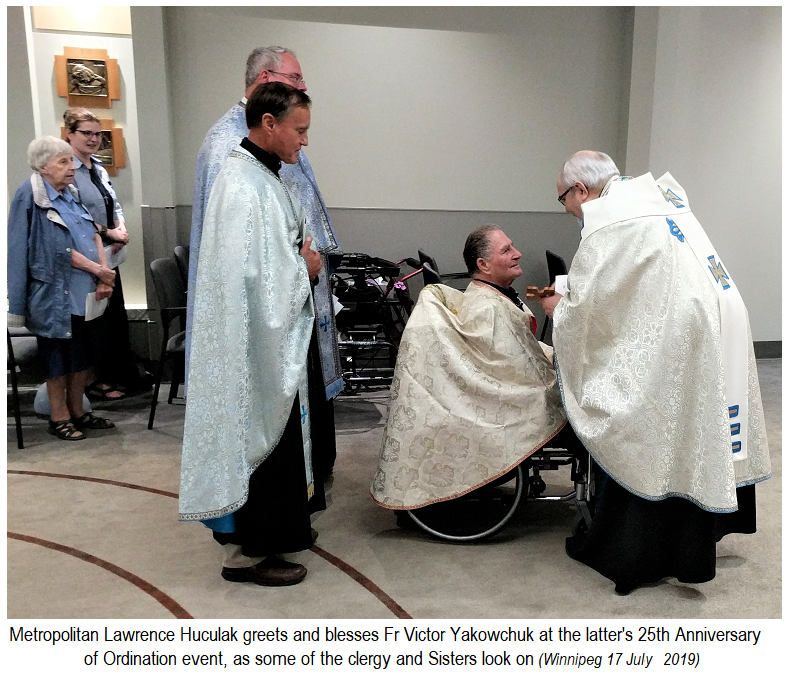 Archeparchy Celebrates Fr. Victor Yakowchuk's 25 Years of Priestly Ministry
The clergy of the Archeparchy and several Sisters Servants and others joined Metropolitan Lawrence Huculak in celebrating Fr. Victor Yakowchuk's 25 years of priestly ministry. They gathered in the chapel of Holy Family Home to pray a Moleben' prayer service to the Mother of God. Fr. Victor, although in a wheelchair, was vested and concelebrated near the altar.
During his homily, Metropolitan Lawrence dwelt upon a theme that was expressed by other speakers later in the course of the event - that even though illness restricted Fr. Victor from fully exercising some practical aspects of priestly ministry, he always remains an active priest and fulfils his priestly service in many various ways. Among the faithful that filled the chapel, there were many priests that had gathered from around Winnipeg and beyond the city to honour their brother priest and to express thanks to the Lord for his vocation. At the conclusion of the Moleben', Metropolitan Lawrence came over to greet Fr. Victor and intoned the traditional "Mnohaya Lita" which the congregation sang with heartfelt enthusiasm.
Following the chapel service, all were invited to the adjacent activity room for a catered meal. As dessert was being served, a good friend of Fr. Victor's, Fr. Alan Wizinsky, who serves at St. Michael's Parish in Transcona, spoke about Fr. Victor's life and vocation. It was interesting to hear of how Fr. Victor first completed a career in the Canadian Armed Forces before pursuing his vocation to sacred orders. Fr. Alan demonstrated how Fr. Victor's dedication to watching over and caring for God's people was a characteristic that he exemplified even prior to starting his theological studies. Sr. Darleane Pelechaty, SSMI spoke on behalf of the Sisters and the people of Holy Family Home. She too attested as to how Fr. Victor's pastoral and prayerful presence were a blessing to all the residents and visitors to Holy Family Home. Fr. Victor has been residing at HFH since experiencing a stroke several years ago. Monsignor Michael Buyachok also expressed greetings on behalf of the clergy and also because he was pastor of St. Michael's Parish and was very instrumental in guiding Fr Victor when the latter was first exploring a possible vocation in ministry.
The organization and hosting of the event was overseen by the Syncellus for Archeparchial Property, Fr. Mark Gnutel (who is also celebrating his 20th anniversary of priestly ordination this year) and his assistant Seminarian Alex Pankiw.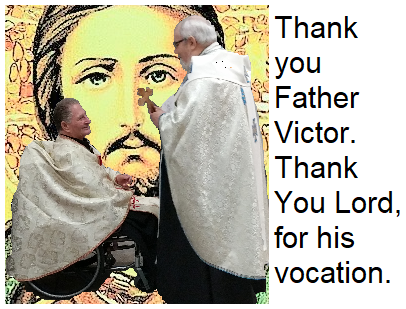 ---