BISHOP MICHAEL WIWCHAR CELEBRATES 60 YEARS OF PRIESTHOOD
June 28, 2019
BISHOP EMERITUS MICHAEL WIWCHAR RETURNS TO SITE OF ORDINATION
His Excellency, Most Rev. Michael Wiwchar, C.Ss.R., Bishop Emeritus of Chicago and Saskatoon, returned to the site of his priestly ordination sixty years ago to give thanks to the Lord for the opportunity that he was given to serve the People of God.
Being the feast of Christ the Lover of Mankind (Sacred Heart) a moleben' to Christ was prayed at the Metropolitan Cathedral of Sts Volodymyr and Olha in Winnipeg. Bishop Wiwchar was the principal celebrant. He was joined by the Cathedral Rector, Monsignor Michael Buyachok, and other clergy, including two Redemptorist confreres, Fathers John Sianchuk and Frank Szadiak and a former student of St. Vladimir's College where Bishop was Rector, Chancellor Fr. Michael Kwiatkowski.
The crowd of Sisters, relatives and other faithful that got to know Father and then Bishop Wiwchar over the years, gathered for this peaceful evening of prayer and fellowship. Bishop Michael, who was born in Komarno, Manitoba, was ordained at this Cathedral 60 years ago by the late Redemptorist Metropolitan-Archbishop Maxim Hermaniuk, CSsR, but he spent most of his ministry as Director of St Vladimir's College in Roblin, Manitoba and then as Bishop of Chicago and Saskatoon. Fr. John Sianchuk preached at the Moleben'. Monsignor Michael Buyachok, Fr. Michael Kwiatkowski and family members spoke at the reception.
Многая літа, Вам Владико!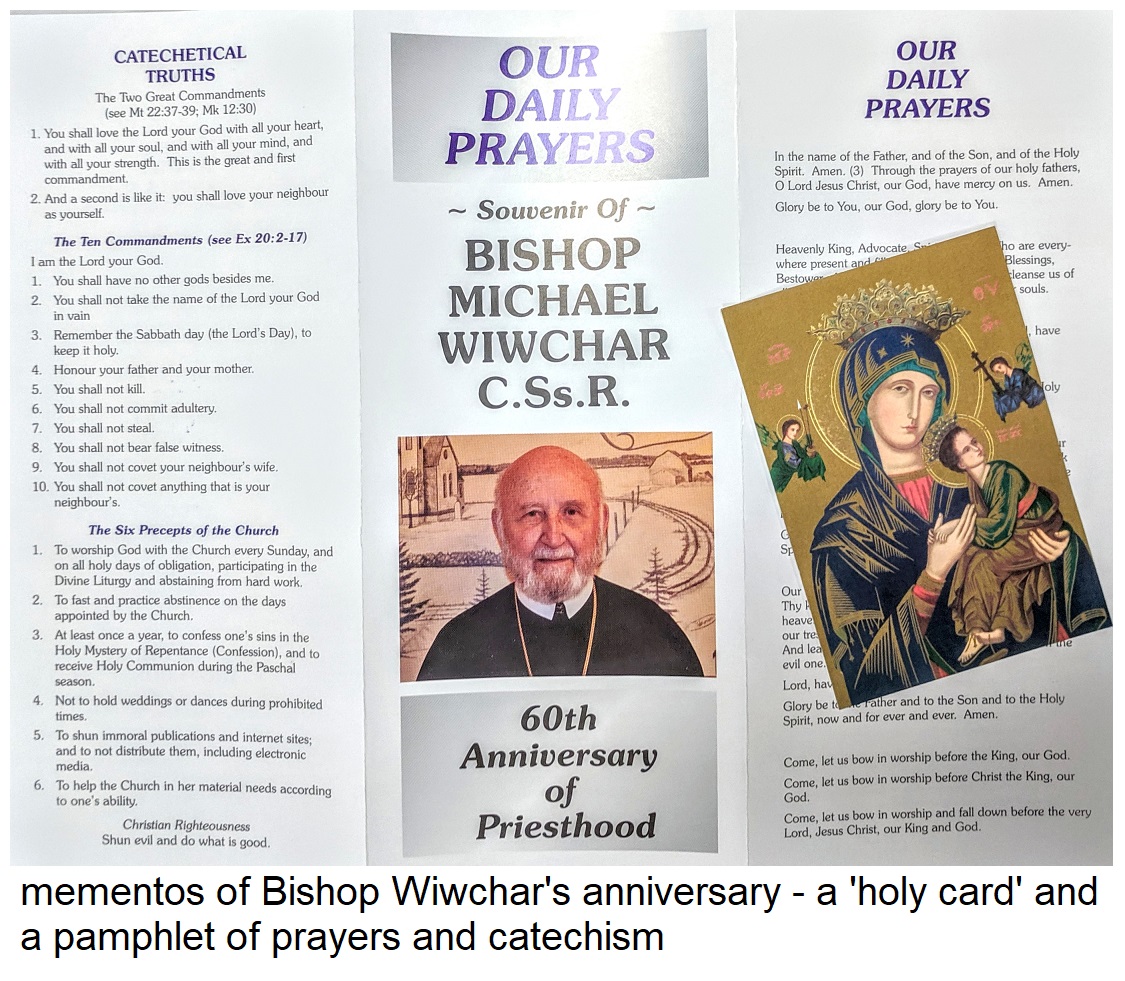 ---