ST BASIL PARISH HOLDS ANNUAL FAMILY PICNIC
June 9, 2019
ST BASIL THE GREAT PARISH INVITES METROPOLITAN LAWRENCE FOR PENTECOST
Father Ihor Shved and the parishioners of St Basil the Great Parish in Winnipeg's west-end district of St. James-Assiniboia, held their annual mega parish family barbeque picnic on the feast of Pentecost and invited Metropolitan Lawrence Huculak to join them.
Deacon Leon Twerdun, served at the Hierarchical Divine Liturgy and Sr. Ruth Aney, SSMI helped lead the parish singers. Many young families were in attendance and the youth and children were invited to take active part in various ways.
The picnic was truly amazing with everyone bringing different salad and enough hamburgers and sausages to "feed an army" and then Fr Ihor also prepared a barbeque meat that is very popular in Ukraine, known as "shashlyk".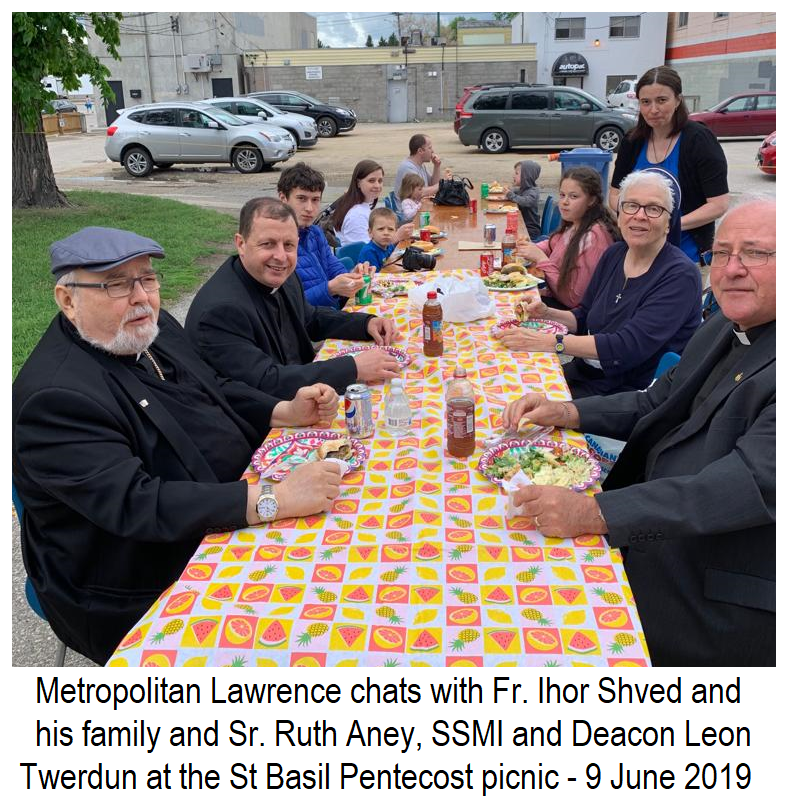 There was an interactive game that had everyone visiting and chatting with each other to fill a page with information that could only be gathered from the picnic guests. There was live music, a bouncy castle and games for everyone. Guests kept arriving, as well as other clergy - including Fr. Ivan Hnativ who is visiting from Ukraine.
---