ST VOLODYMYR STATUE VANDALIZED - Winnipeg
May 24, 2019
LEO MOL SCULPTURE BLESSED BY SAINT JOHN PAUL VANDALIZED
The news that the landmark statue of St Volodymyr the Great at the corner of Cathedral property was vandalized spread
remarkably quickly and far. Canadian news agencies and other social media made the report available across the country and beyond as articles from other countries - including Ukraine of course - came to light. Inquiries were made from across Canada, but also from Europe: Germany, Slovenia, Ukraine, etc.
It was discovered on Tuesday that the well-known and historic sculpture of St. Vladimir the Great had been decapitated and further damaged by having a cross also cut off. The statue was the work of Winnipeg's world-renowned Leo Mol and it was blessed by Pope St. John Paul during his visit to Winnipeg in 1984. The figure was enshrined at the south west corner of the grounds of Sts. Volodymyr and Olha Ukrainian Catholic Cathedral at the corner of McGregor Street and Flora Avenue in Winnipeg.
The Archbishop of Winnipeg, His Grace Metropolitan Lawrence Huculak, is dismayed at the incomprehensible vandalizing of a figure of such historic and artistic value. It is, after all, also a sacred monument that served as an encouraging reminder to the people of Winnipeg of the historic visit of the first world-travelling "Pope of the People" in 1984. It is a proud symbol for the Ukrainian community of Winnipeg of their presence and contribution to Manitoba society and of their Millennium of Christian Faith (1988) for which the statue was commissioned. There are several theories as to why the statue was damaged in such a way. However, the police and others are still investigating as to the motives and the individuals involved.
A meeting took place at the Cathedral chancery on Friday morning with several interested parties, including representatives from the Archeparchial Chancery and the Cathedral's Pastoral Council as to what the next steps should be. Of course, the restoration of the statue is one of the priorities. The Cathedral Rector, Monsignor Michael Buyachok is hopeful that those that damaged and stole the statue pieces will simply return them. He even stated in the media that if the thieves did simply return the head and cross, there would be "no questions asked". Is it possible? God willing....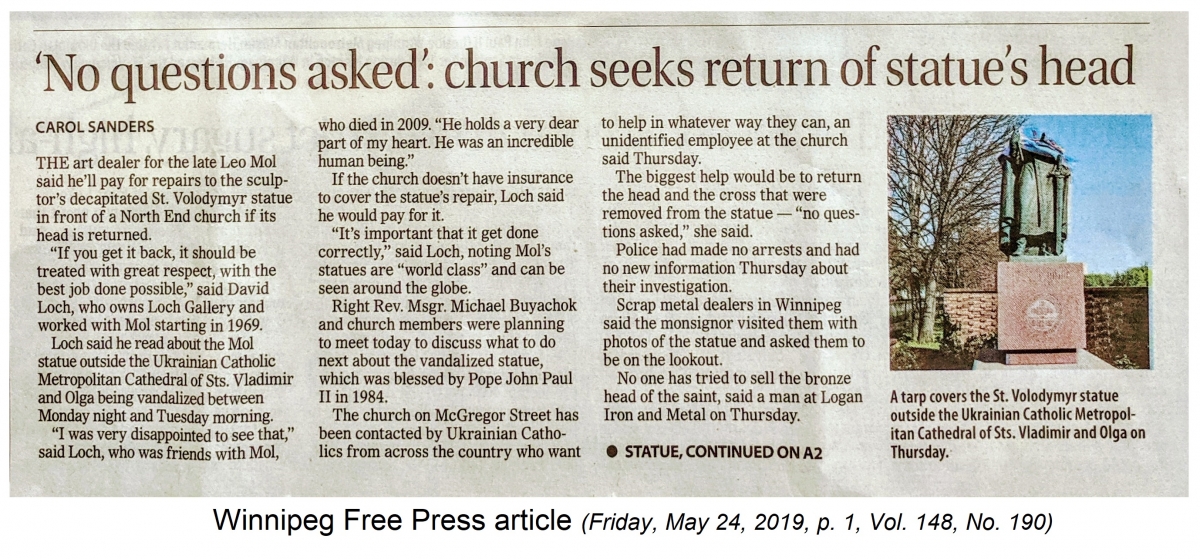 ---