WINNIPEG MARCH FOR LIFE 2019
May 9, 2019
ARCHBISHOP LAWRENCE, CLERGY AND FAITHFUL TAKE PART IN 2019 MARCH FOR LIFE
The 2019 March for Life in Winnipeg began on May 9 with a Mass at the city-centre St. Mary's Cathedral of the Archdiocese of Winnipeg. Archbishop Richard Gagnon presided at the Eucharistic Liturgy, but he was joined by Archbishop Lawrence Huculak and Archbishop Albert LeGatt and some priests and many pro-life faithful.
Archbishop LeGatt preached a very appropriate and moving homily brilliantly applying the words of the Epistle of the day, Acts 8:26-40. The Archbishop paraphrased the words referring to Christ and attributed them to the unborn.... "As sheep led to the slaughter or, as lambs before their shearer, are silent, so they (the unborn) open not their mouths. In their humiliation justice was denied them. Who can speak for their generation? For their lives were taken from the earth." He then compellingly defended his re-application as being truly appropriate.
The Epistle and post-Gospel petitions were read by N. Slykerman
After the Mass, the clergy and people made their way to the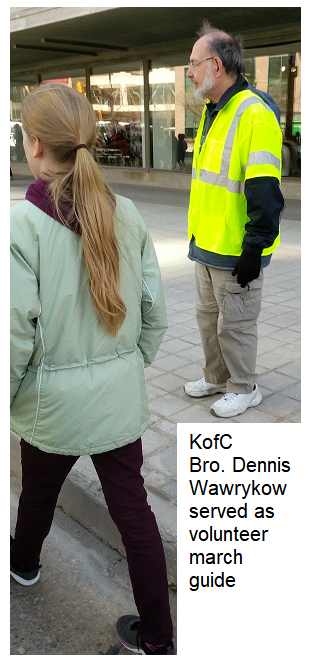 Manitoba Legislative Building to join many more that came directly to the March. Spencer Katerynuk served as the Master the Ceremonies for the entire event. He introduced Archbishop Gagnon who offered an opening prayer. Knights of Columbus Sanctity of Life Representative and March organizer, Tim Scatliff gave a few words of instruction and then the crowd moved out.
When the marchers returned to the Legislative building a small program of speakers took place. Speakers included: MLA for Radisson James Teitsma; Brandon Pro-Life poet Breanna Sieclicki; and Prolife activist Tasha Deschambault. Then Archbishop Albert LeGatt read the statement of the Canadian Conference of Catholic Bishops and closed with a prayer.
For 5o Years Canada has allowed the aborting of millions of unborn Canadians... isn't it time that we thought about what irreparable damage we are doing to ourselves? to our Country? to our society, to our collective soul?
---