2nd ANNUAL TRI-PARISH LENTEN RETREAT ENJOYS SUCCESS
April 17, 2019
2019 TRI-PARISH RETREAT DRAWS PARISHIONERS FROM OUTSIDE THE THREE
After the very successful "tri-Parish" Lenten Mission in 2018 with the Archbishop of Winnipeg, Metropolitan Lawrence Huculak, the three east-Winnipeg parishes decided to try it again. Metropolitan-emeritus the former Archbishop of Philadelphia Most Rev. Stefan Soroka had recently moved back to the Winnipeg area after his retirement and, when approached, agreed to conduct the mission this year.
The three parishes, all east of the Red River, are Holy Eucharist of East Kildonan, St. Michael's of Transcona and St. Anne of North Kildonan. The program is that the Lenten Mission runs for the first three days of Passion Week - Monday through Wednesday, but each day is held in a different parish. The first was at Holy Eucharist, Tuesday at St Michael's and Wednesday at St. Anne. The parish Priests take turns leading the services (every morning - the Akafist to the Passion of the Christ and in the evening the Liturgy of the Presanctified Gifts). Other priests joined to hear Confessions and concelebrate when they could. The clergy involved, besides His Grace Stefan Soroka, were Fr. Mark Gnutel; Fr. Michael Kwiatkowski; Fr. Alan Wizinsky; Fr. Andrew Wach; Fr. Edward Kwiatkowski; Fr. Michael Krochak and Protodeacon Stefan Tyrawski and Subdeacon Anoton Sloboda. God bless the people that came in great numbers to prepare themselves for the feast of Pascha by making their "Lenten Confession".
His Grace, Archbishop Stefan, would invariably hear Confessions until it was time for him to preach. He spoke at length at every session. His basic theme for the first day was the close of the Cherubic Hymn - "Let us who mystically represent the cherubim.... now lay aside all cares of life". The theme for Day 2 was "The Last Judgement" which actually became an inspiring testimony to the limitless mercy of the Lord and His unconditional love toward each and all of us. On the 3rd day, the theme moved into the question of healing through God's grace.... receiving healing from the Lord by our faith and extending healing toward others by our own mercy. At the end of the sessions on the third day, there was a blessing of oil and an anointing for all that came forward - an true administering of the Mystery (Sacrament) of Anointing those seeking healing. Archbishop Stefan and all the priests joined in anointing and blessing everyone.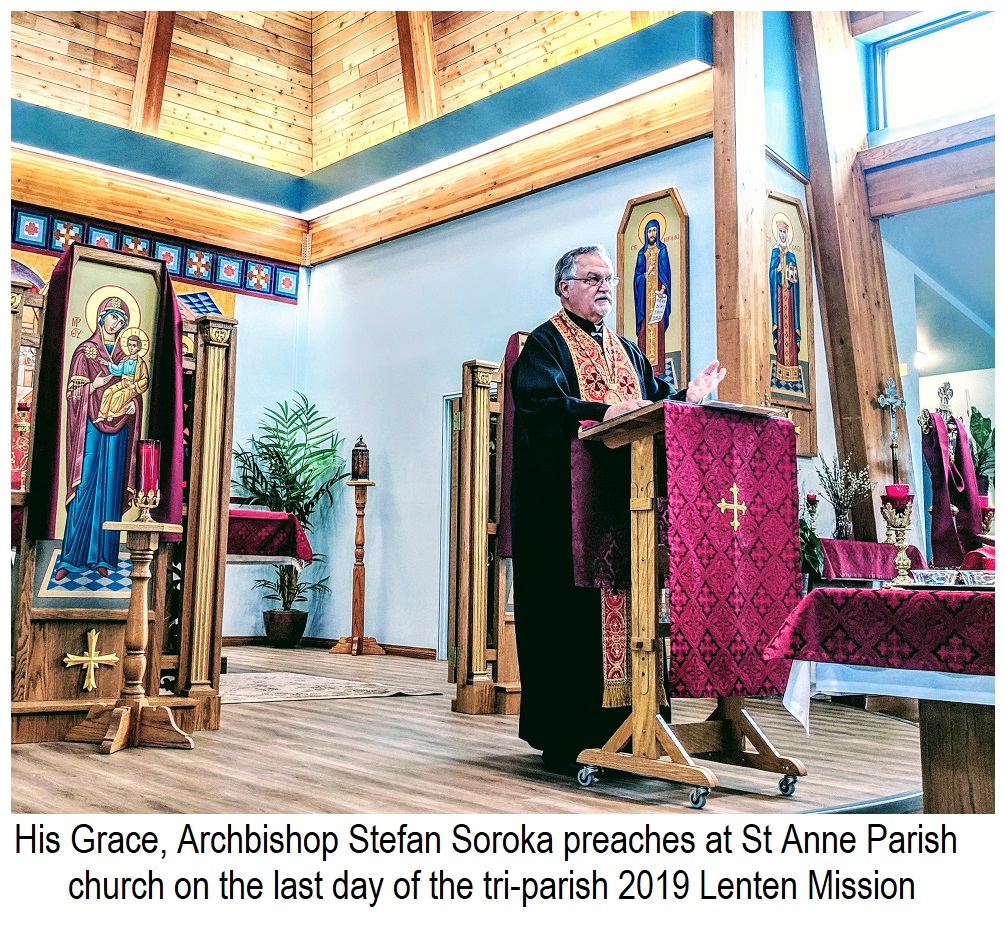 After each of the two daily sessions there was a time for refreshment and fellowship in the respective parish church hall where an amazing, albeit Lenten, lunch was available to everyone - prepared by the parishioners of each parish, often spear-headed by the local branch of the Ukrainian Catholic Women's League. What ensued was a time to talk about all the inspiring ideas that were just presented at the Mission talk and just to get to know fellow parishioners better from neighbouring parishes.
---