2019 CARITAS AWARD DINNER HONOURS JOY SMITH
April 11, 2019
ARCHEPARCHY SUPPORTS ANNUAL CARITAS AWARDS DINNER
The primary honoree at the 2019 Caritas Award Dinner was well-known former MP Joy Smith. After spearheading the passing of important anti-human trafficking legislation in Canada's Parliament, Smith went on too become a globally recognized advocate against the tragedy of human trafficking. After receiving the award, Smith spoke about her work and a new publication on the subject of the shocking extent of human trafficking and sex slavery. She explained to the banquet hall of donors enjoying a comfortable evening out,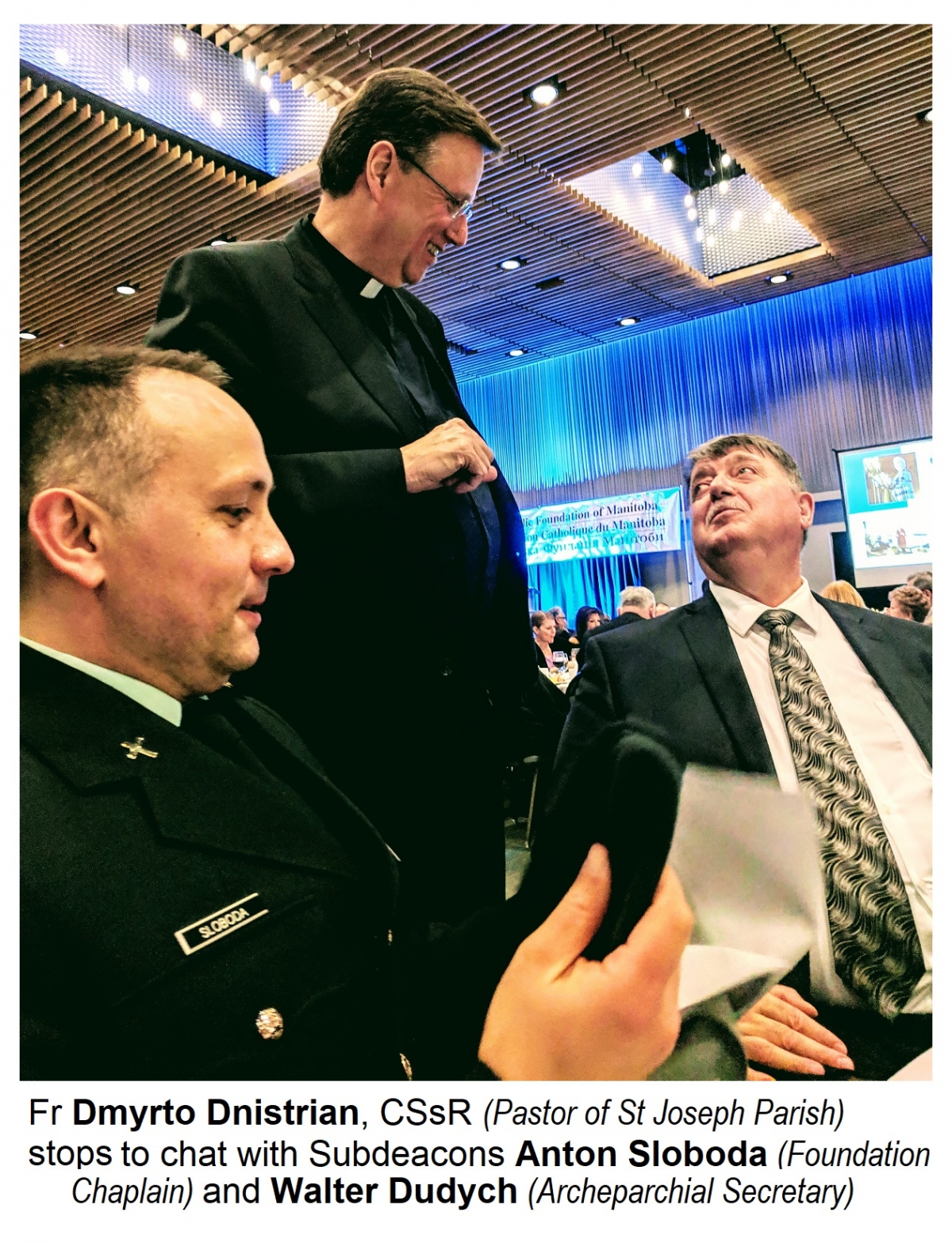 that within a half kilometer around the Convention Centre, human trafficking is taking place. Albeit not in excessively graphic detail, she explained that victims are often as young as 12 and 13 years old. She told how they are mercilessly manipulated into becoming enslaved into a horrific life of abuse and destruction.
Other honorees were Sr. Carol Peloquin, snjm and Bo Gajda were both have been involved with prison ministry within Manitoba's prisons and in helping former prisoners pick up the pieces and rebuild a successful life. In presenting their work an excellent video was shown and a speaker, former prisoner Shawn Ward, both caused the shedding of not a few tears among the hundreds of Caritas supporters.
The event is hosted annually by the Catholic Foundation of Manitoba. The foundation awards grants that may range from $500 to $4,000 to some 60 different worthy causes around the province. The Master of Ceremonies for the evening was the foundation's board president, Nicholas Chubenko. The opening ceremonies included the 'reception of the flags' in which Metropolitan Lawrence Huculak also participated together with the City's two other Archbishops. Under direction of the Board Vice-President Roman Korbatiuk and other board members, lottery tickets were sold during the dinner. They managed to raise some $3500 that was distributed 40-30-30% among the Joy Smith Foundation and Future Hope, Inc. A third winner, St Boniface University President Gabor Csepregi, generously asked that his winning be turned back to the Catholic Foundation for their work. Board Chaplain, Rev. Anton Sloboda, closed with a much appreciated interactive prayer that had the crowd praying the famous peace prayer of St. Francis.
A number of supporters from the Archeparchy of Winnipeg were present. Many representatives of parishes and organizations participated as volunteers and guests. Among the board volunteers were Sophie Manulak, representing the Ukrainian Catholic Women's League of Canada. Among the corporate sponsors were Sts Volodymyr and Olha Cathedral Parish, Holy Family Home and the Archeparchy of Winnipeg Chancery. The annual report and program listed the following causes as recipients of grants from the Catholic Foundation of Manitoba in the last year: Immaculate Heart of Mary School; Ukrainian Park Camp; St Volodymyr Museum; UC Religious Education Centre; Plast Ukrainian Youth Association; The Welcome Home; Parents for Ukrainian Education and well as several other organizations and institutions in which Ukrainian Catholics are involved.
---