ROSSBURN DISTRICT SETS THE MOOD FOR CHRISTMAS
December 18, 2018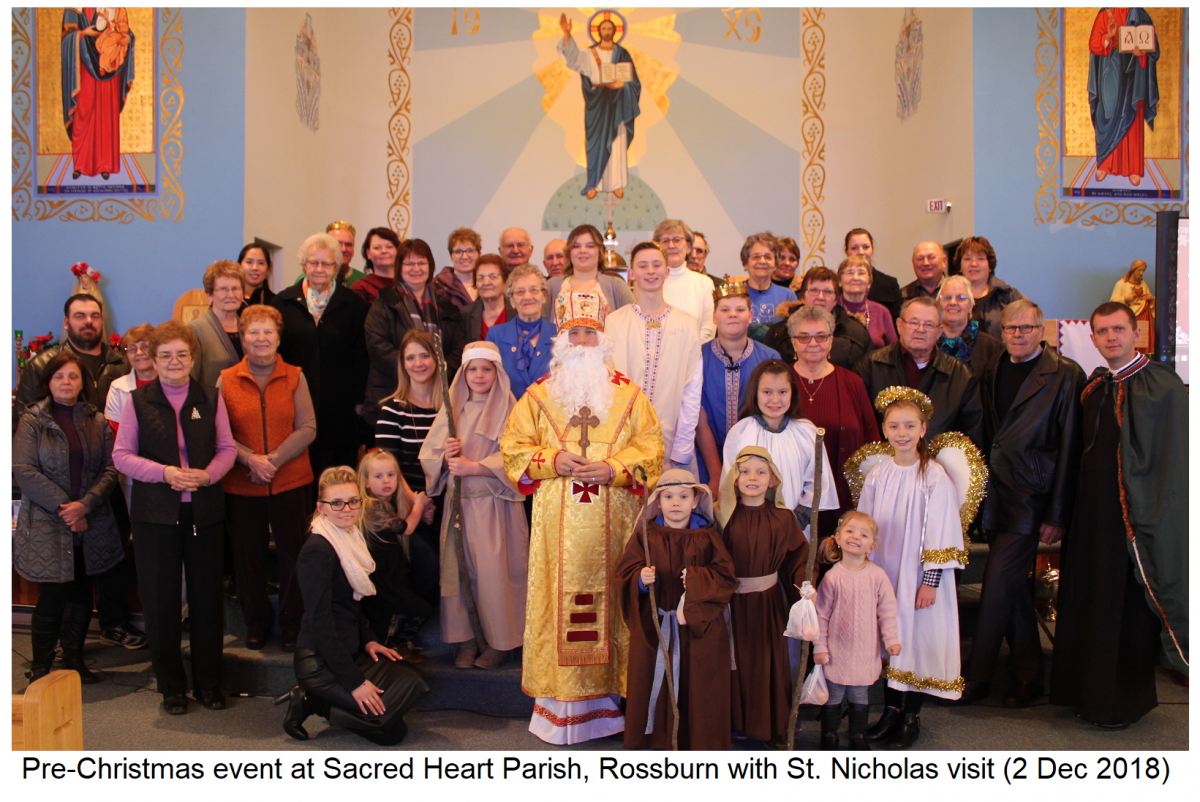 ROSSBURN AND RUSSELL PARISHES HOST MAJOR PRE-CHRISTMAS EVENTS
The parishes of the Rossburn Pastoral District, for which Fr. Mykhaylo Khomitskyy is parish priest, entered into the spirit of the Christmas season with major events of fellowship, tradition and Evangelization. As is the practice in most parishes, they held a sort of 'pre-Christmas promotional event' - by presenting a Nativity play, hosting a family meal and even welcoming good St. Nicholas to their communities.
A Christmas Party and St. Nicholas visit occurred at Sacred Heart of Jesus Ukrainian Catholic Parish in Rossburn - Dec 2nd, 2018. The children from the Bible Study Group prepared with their teachers Iryna Khomitska & Lynda Ryshytylo a beautiful Christmas Pageant (play) in which their parents also actively participated. A special feature was the memorable visit of St. Nick who, as hoped for, was bearing gifts! After all this excitement, there was yet a delicious dinner to conclude the Christmas program. Needless to say (but important to do so) - Fr. Mykhaylo and all the parishioners were thrilled with the event and are very grateful to everyone that joined in the effort to make it all happen.
Then... in another corner of the Pastoral District.... Only a couple of weeks later, another pre-Christmas event took place. St. Mary's Ukrainian Catholic Parish in the town oof Russell hosted a Christmas Concert together with a Potluck Supper and guess who came by!? Well, St. Nicholas swung back around to the Pastoral District to visit the good parishioners of Russell and he had gifts for all the children that came forward.
Fr. Khomitskyy signs off in all of his emails during this Christmas season with an important message.... "Even in the "busy-ness" of this season, may the Lord grant us health and grace to proclaim the awesome gift that the Savior may be born anew in each of us."
---