2017 BULAVA AWARDS
September 24, 2017
ACTIVE UKRAINIANS IN THE COMMUNITY RECOGNIZED BY PEERS FOR THEIR CONTRIBUTION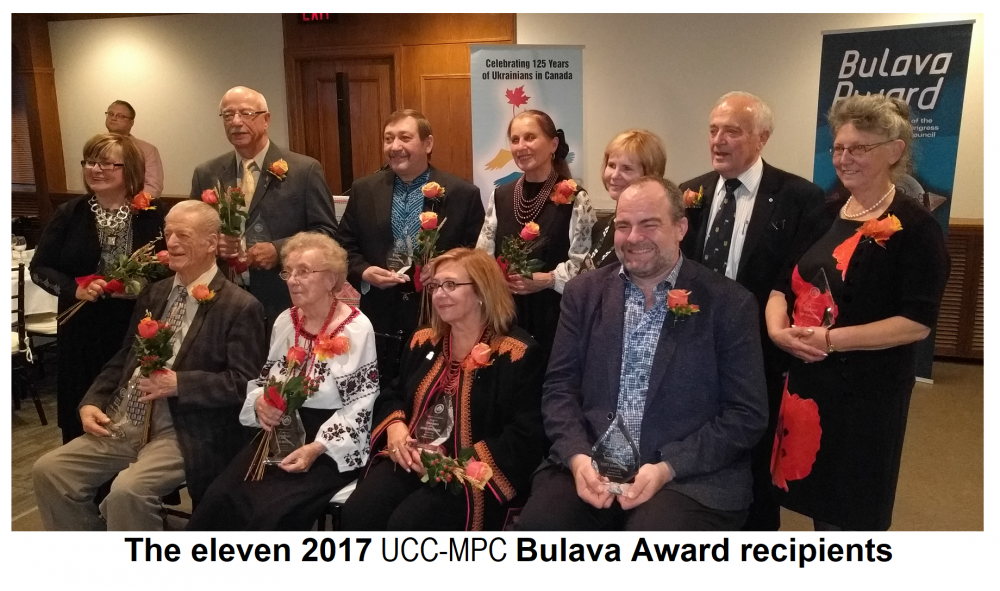 The now annual "BULAVA AWARD" gala dinner was held again at Bergman's on Lombard on Sunday afternoon on 24 September 2017. The Manitoba Provincial Council of the Ukrainian Canadian Congress has hosted the event since 2014. Eleven new recipients were added this year to the 35 individuals and organizations from previous years.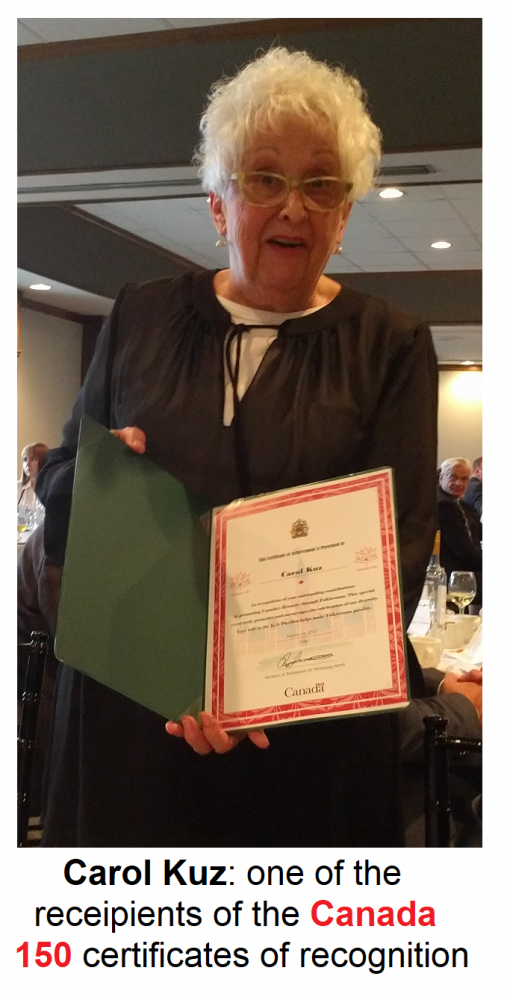 The brief description of the award reads: "The Bulava Award is an annual event dedicated to the celebration and acknowledgement of Manitobans who have volunteered their time, energy and expertise to enhance our Ukrainian Canadian community in Manitoba ensuring it remains strong, vibrant and active for future generations."
The relatively brief program, MC'd by Katrusia Basarab, began with a blessing by His Eminence Metropolitan Yurij. The entertainment was provided by Lyudmyla Lebed' (vocal) and Petro Yuraschuk (violin). The guest speaker was the First Secretary for Consular Affairs from the Embassy of Ukraine to Canada, Kostiantyn Kostenko. The closing prayer was offered by Monsignor Michael Buyachok. Representing the Provincial Government was Transcona MLA Blair Yakimoski and his wife. Before the Bulava Awards were handed out, an unprogrammed addition was added to the afternoon. M.P. Kevin Lamoureux, who was in attendance, awarded three Canada 150 commemorative pins and a number of certificates of acknowledgment to those who worked as volunteers at the Kyiv Folkorama Pavilion. This was part of his mandate to salute Canadians for their contribution to Canadian Society.
The Bulava Award recipients for 2017 were:
Scott Armstrong
Irka Balan
Oksana Bodnarchuk
Norman Golembioski
Ostap Hawaleshka
Ihor Katchanovski
Joanne Lewandosky
Olha Mendela
Peter Maruschak
Darla Penner
Vera Senchuk
---