HOLY EUCHARIST HOLDS PARISH SOBORchyk
September 17, 2017
VIBRANT PARISH-PLANNING "SOBOR" TO ASSESS, SHARE AND CHART A COURSE FOR THE FUTURE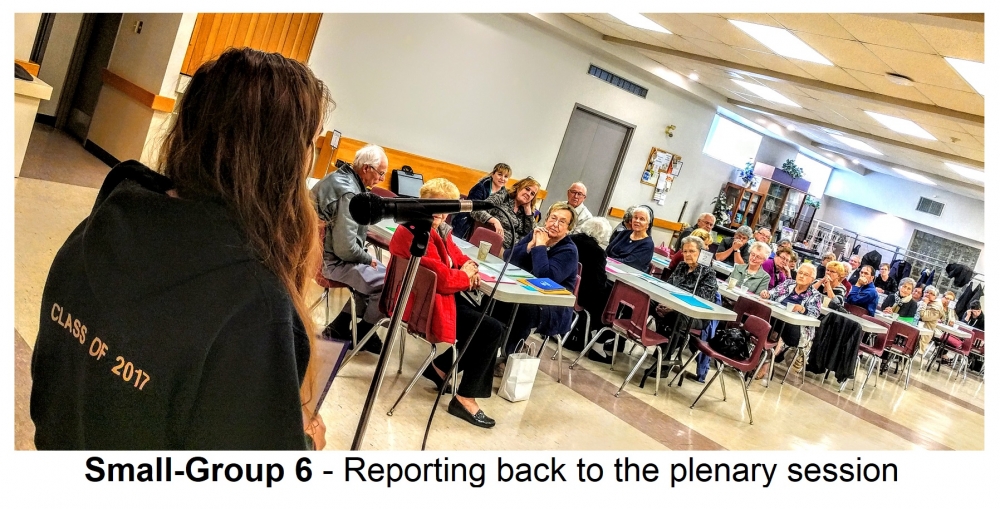 Holy Eucharist Ukrainian Catholic Parish in Winnipeg's East Kildonan held a unique day of prayer, good food, sharing and looking to the immediate and distant future as a new ecclesial tear begins.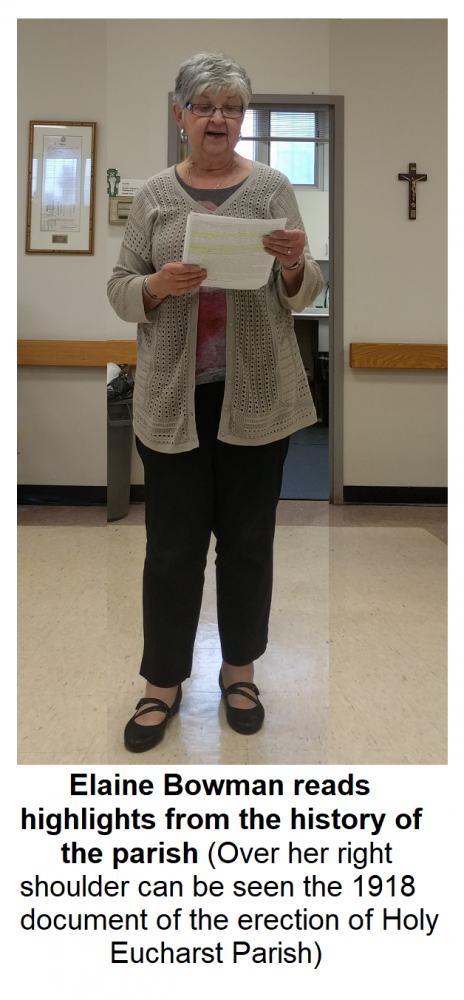 The day started with the Catechism program where children and their parents have a chance to explore the faith. As the children attend catechism classes in the parish program under the directorship of Pat Sirksi, the parents have the opportunity to talk about the issues of the day and they plan to use the relatively new catechism of the Ukrainian Catholic Church – "Christ, our Pascha".
Following the Catechism program everyone gathered in the Church for the Sunday Divine Liturgy which was celebrated by Parish Priest, Fr. Michael Kwiatkowski, assisted by Deacon Myroslaw Tracz. During the homily, Fr. Michael connected two themes of the day – the Sunday after the Exaltation of the Holy Cross and the feast of the early Christian martyrs – St. Sophia and her daughters Faith, Hope and Love.
Following the Eucharistic Liturgy, parishioners gathered in the
auditorium for a great summer lunch prepared members of the Parish Pastoral Council under the direction of Council Secretary, Shirley Skochylas. During the lunch, numbered cards were distributed randomly and when everyone had eaten their fill, they were asked to move to their table marked with the number that they received. The groups that formed would be their group for the small-group discussions that would follow. Members of the Parish Council served as group facilitators. At their tables, all participants also received their Sobor folder with the materials they would need.
Father introduced the first theme by first engaging those gathered to express what they thought a parish was all about. Why did Blessed Nykyta Budka establish Holy Eucharist Parish on August 25, 1918? It was great. People started giving out reasons why we have and need our parish. They ultimately were spiritual reasons with the goal, as one said, of "drawing people to God". This was followed by a presentation by Elaine Bowman, who read a brief history of the parish, that everyone would understand that we have a rich history. People, generations, came before us and, God willing, generations will continue after we are no longer here. Our hope is to do the best with what we have to serve the mission of the Church of Christ.
The first small group discussion was about what do we as a parish need right now? What are issues that we need to address and the ministries that we need to attend to for the good of our parish immediately. Then what are the additional short- and long-term matters that we want to deal with for the betterment of parish life. It was interesting to observe that when the group representatives started reporting back to the whole group – they felt that having a welcoming spirit and striving for better unity were of primary importance. Communication - within our parish and with the outside world - was also stressed. If people were better informed about all the events happening within the parish as well as around the Archeparchy they feel that there would be more involvement and more support. Many amazing and practical ideas came out of this discussion. Some can and will be implemented almost immediately and others will be done so in time as volunteers and resources come together.
A break was had where each participant introduced himself/herself and shared one thought of bit of information that they felt was most significant in their life at this time. Everyone enjoyed this for as some said, we see each other often and perhaps recognize each other, but we really need to get to know each other better on a more personal level. Parish Council President, John Petryshyn, stressed the importance of this as we have so many parishioners… we see so many faces, but each one has a story, has needs, has something to contribute. This was followed by a fun game that involved actual movement and taking a physical position with regard to how each felt about a long list of foods, seasons, celebrities and other concepts. It was a moment of good family fun.
As the 'Sobor' went back to work, it was decided that for the sake of time one of the breakout sessions would be eliminated. So the third session was tackled which corresponded with the third of the six primary priorities of the Vibrant Parish movement – "Serving One's Neighbour". After a brief introduction, that included a reading of the pertinent section from His Beatitude Sviatslav's 2011 Pastoral Letter on the Vibrant Parish, the small groups got together again. Their task this time, was to propose what Holy Eucharist Parish can and should do for the wider community and for the those in need in the surrounding area. They also included the call to Evangelization in their deliberations. Again – many excellent ideas came out of the discussions. Visiting the elderly in nursing homes… introducing ourselves to neighbours in the vicinity an telling them what our parish has to offer… a soup kitchen..., etc. One young presenter suggested contacting the government-run and other Christian-sponsored charitable efforts and either assisting them or learning the best-practices from them as we try to set up our own outreach. Some parishioners were surprised to learn about the outreach efforts that the parish is involved with already – like Habitat for Humanity, the summer literacy program, the community markets, etc.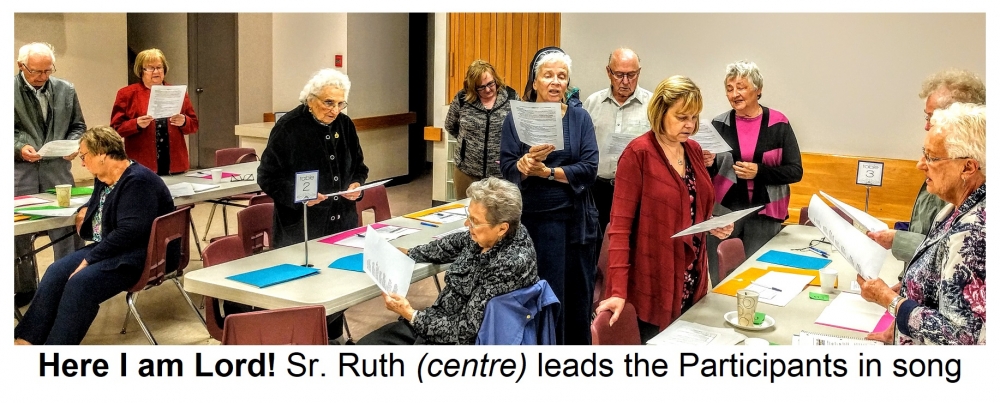 Toward the end of the Sobor, the group was also asked to discuss practical issues in the parish like actually signing up for various ministries in the parish. They will try to initiate a "greeter/usher" program that will involve ALL parishioners taking turns. After all, this is our collective home and we all want to take turns welcoming people and making them feel at home. One of the last lengthy discussions was the return to two Sunday Divine Liturgies. Is this necessary? Is it desirable? Then the question of language. One in Ukrainian and one in English? Just one that is "half на пів"? does our parish want a Saturday evening "anticipation" Liturgy or one Sunday evening? No one was surprised that this issue generated a good discussion as it touches upon both the identity of our parish and our need to be a source of God's grace for all people.
In the end, Sr. Ruth Aney, SSMI, lead the whole group in a heartfelt and appropriate singing of "Here I am Lord" as we move on as a parish family to serve each other and reach out to many fellow Manitobans around us. The Sobor was a very satisfying exercise in true parish spirit. May the Lord bless us with the realization of our many good intentions and great plans!
________________________________________
Basic Program…..
Holy Eucharist Parish "SOBORCHYK" – A New Parish Year!
September 17, 2017
General Theme:
This Parish belongs to everyone! "Unity in the One Body of Christ"
"speaking the truth in love, we are to grow up in every way into him who is the head, into Christ, from whom the whole body, joined and knit together by every joint with which it is supplied, when each part is working properly, makes bodily growth and upbuilds itself in love!" Ephesians 4:15-16
Building the Church Together: Everyone is wanted! Everyone is needed!
Our Ukrainian Catholic Faith is rich in teaching and human experience. It is our Faith that has brought is thus far! Only by faith will we go forward.
"May the God of steadfastness and encouragement grant you to live in such harmony with one another, in accord with Christ Jesus, that together you may with one voice glorify the God and Father of our Lord Jesus Christ." Romans 15: 5-6
Part 1 - Eucharistic Liturgy at 10:00 AM
Part 2 – Parish Family Lunch
Part 3 - Sharing, Deliberating and Charting our Course!
1. Icebreaker – being a family
2. Mandate and Purpose: Why did the holy Bishop, Blessed Nykyta Budka agree to establish Holy Eucharist Parish almost 100 years ago!? (Fr Michael)
3. Our Roots: History of our Parish (Elaine Bowman - with sharing)
4. Putting our Household in order. What are the things that we should take care of first in our parish? What are the 'sine qua non' matters for us to be successful?
- Suggestions
- small group discussions (facilitated by Parish Council Members)
- sharing our results
5. The Salt of the Earth
6. Our call to Holiness! Who me!?
- Our personal commitment to Christ: Prayer: Faith Education
- Vocations – Religious and Lay – Through Baptism we share in the Priesthood of Christ
- small group discussions (facilitated by Parish Council Members)
- sharing our results
7. The Salt of the Earth; the Light of the World (Matthew 5:13-16)
8. The "Vibrant Parish" Priorities – they are attainable!
- Which priorities concerning outreach and charitable activity can our parish realize?
- Acts of Mercy: Spiritual and Corporal
- small group discussions (facilitated by Parish Council Members)
- sharing our results
9. Here I am Lord
- Can I really do this? Can I help? Come follow me.
- Love of God and of Neighbour
10. AGM (mini version on pressing matters)
---