REDEMPTORIST PRIEST FATHER KYBA REPOSES IN THE LORD
May 13, 2017
FATHER BORIS WALDIMIR KYBA, C.Ss.R. REPOSES IN THE LORD
A Priestly Parastas was celebrated at Sacred Heart Church in Ituna, SK on May 11, 2017, with Most Reverend Bryan Bayda, CSsR as the main celebrant. The funeral Divine Liturgy was celebrated at 10:00 AM on May 13 at St. Joseph's Ukrainian Catholic Church, 250 Jefferson Ave in Winnipeg, with Metropolitan Lawrence Huculak, OSBM officiating.
At the close of the Divine Liturgy as the final Panakhyda was prayed, Metropolitan Lawrence prayed the comprehensive prayer of absolution for a deceased Priest. He also performed the rites unique to the funeral of a priest. He poured oil over the face of Fr. Kyba and then covered it with the large veil usually used to cover the gifts – the chalice and the discos – at the Divine Liturgy. He first described the rites to the congregation that first the oil is poured out as a prayerful request for mercy and at the same time a declaration of our faith in God's mercy that He pours out upon His People. He explained that in Greek, the word for mercy and oil are almost identical (Elaio - oil; Eleios – mercy). He then covered Fr. Borys' face with the veil that Father held up before his face countless times as he celebrated the Divine Liturgy during his 50+ years of priesthood. The holding up the veil then signified that even as he delved ever deeper into the Faith, he did not understand all the mysteries of the Faith, as some remined hidden.* Now the veil is placed over his face with the front side of the veil toward his face, for the mysteries that he only believed in this life - he now will see.
Some 20 members of the clergy joined Metropolitan Lawrence, Bishop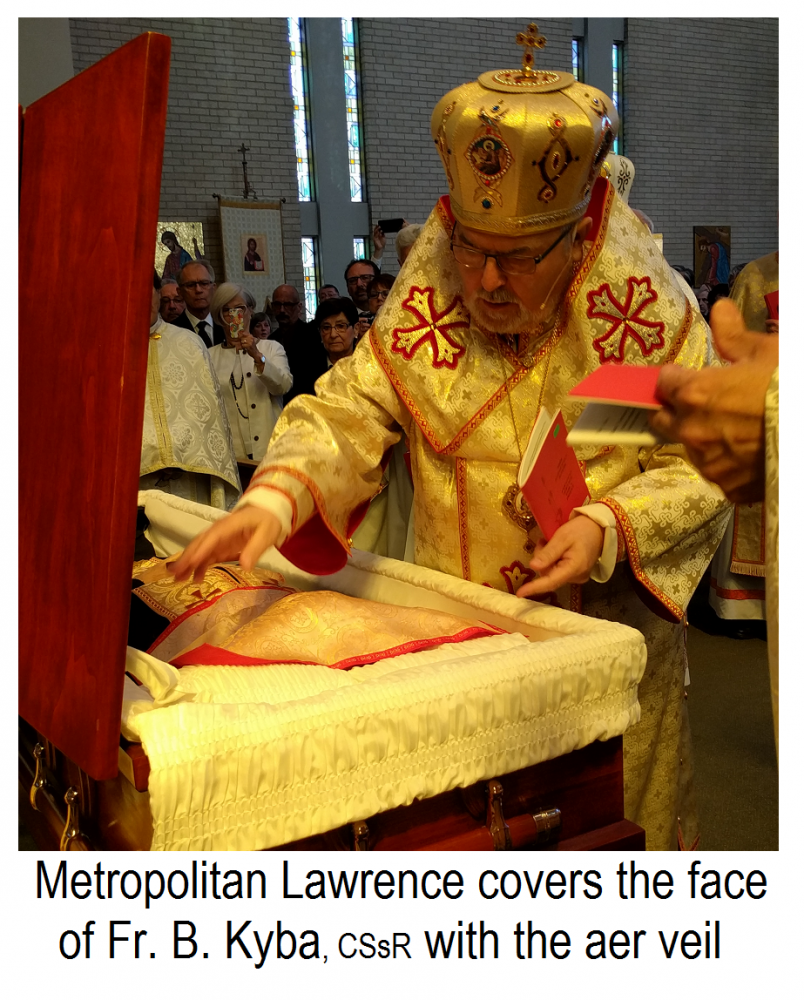 Bryan Bayda, Fr. Kyba's family, a number of Religious Sisters and many faithful at St. Joseph church in Winnipeg. Six of Fr. Kyba's Redemptorist confreres served as pallbearers. His earthly remains were interred at the Redemptorist Fathers section at Holy Family Cemetery north of Winnipeg.
Father Boris Kyba, CSsR, fell asleep in the Lord on Tuesday, May 2, 2017 at St. Joseph's Home in Saskatoon in the presence of his family, fellow priests and the Sisters of St. Joseph.
Fr. Boris Kyba, C.Ss.R. was born on July 14, 1941 in Yorkton SK, the fourth child of Anthony and Stephania (nee Yurkiw) Kyba. He grew up on the family farm in Dnieper, SK. He attended Cedric School and was enrolled at St. Vladimir's College in Roblin, MB from 1956 to 1959. Father Boris then entered the Redemptorist novitiate in Meadowvale, Ontario and made his first profession of religious vows on August 28, 1960.
Father Boris pursued seminary studies for the priesthood at several institutions. He attended Holy Redeemer College, University of Windsor where he received his Bachelor of Arts Degree in 1963, continued his studies at St. Mary's Seminary in Yorkton, and completed his seminary training at Immaculate Conception College in Oconomowoc, Wisconsin.
He was ordained to the Deaconate on March 25, 1966 at St. Nicholas Cathedral, Chicago, by the late Bishop Jaroslaw Gabro. That same year, on June 24, the Feast of John the Baptist, he was ordained a Priest by the late Bishop Michael Rusnak, C.Ss.R. at St. Mary's Church in Yorkton.
After his ordination, Father Boris attended the University of Manitoba, where he received a Professional Teaching Certificate. From 1967 to 1972, he was on staff at St. Vladimir's College. Father Boris was Principal of the College from 1968 to 1972. During this time, he was also the Pastor of St. Mary's Parish in Russell, MB.
In 1972 Father Boris was assigned as Pastor of Holy Eucharist Church in Toronto, ON. Six years later he was assigned as Associate Pastor at St. Joseph's Parish in Winnipeg. During this time, he also served as Provincial Consultor/Secretary. He returned to St. Vladimir's College in 1981. In addition to teaching and pastoral duties for the Roblin District, Father Kyba was a faithful bus driver for many a college concert tour.
From 1987 to 1993 he was Pastor of St. Joseph's Church in Winnipeg. From 1993 to 1999 he was assigned as Pastor to Wynyard and district. In 1999 to 2005 Father Boris returned to St. Joseph's in Winnipeg. He was the Vicar to the Provincial Superior, and was the Provincial Superior in 1993. He was Pastor for Ituna and District from 2005 to 2015, and the Associate Pastor until the time of his death.
In his fifty years of Priesthood, Fr. Boris preached Parish Missions, Retreats, and worked on numerous Marriage Encounter Weekends. He always found time to enjoy a round of golf!
He was predeceased by his mother in 1988 and father in 1993, an infant sister Marie Ambrose, his brothers Stan and his wife Eileen and Nestor and his wife Jean and brother-in-law Jim. He is survived by his sister Joanna Pidperyhora, brother Paul (Lynne) and sister Cornelia (Bruce) Bobinski, his niece and nephews and numerous cousins and other relatives.
Donations in his memory may be made to Blessed Vasyl Velychkovsky, CSsR, Shrine in Winnipeg.
The obituary text above was taken from the Cropo Funeral Chapel website.
_____________________________
* "At the exclamation introducing the Creed, the priest raises the larger veil aloft and gently waives it above the holy gifts. This raising of the veil served as a sign, indicating that the holy gifts were being 'uncovered', i.e. that the moment of consecration was approaching. There is a beautiful symbolism connected with this rite. The priest lifts up the veil and holds it before his eyes as a sign that the truths of the faith exceed the powers of human understanding. They are believed, not 'seen'. They are hidden behind the veil of divine mystery. And one of these mysteries of the faith is the transubstantiation of the bread and wine into the Body and Blood of Christ." [Meletius Solovey, Commentary on the Liturgy (OSBM: Warren, 1989), p. 109]
---