2017 ANNUAL 'GOSPEL OF LIFE' MASS
May 15, 2017
GOSPEL OF LIFE LITURGY AT ST. VITAL PARISH
Once again, Winnipeg's three Catholic Archbishops led the city's Catholic community in a prayer for life at the annual "Gospel of Life' Eucharistic Liturgy in the context of the 'March for Life' and the National Week for Life and the Family. The Mass, which the Knights of Columbus traditionally organize and promote, was held this year at the large St. Vital Roman Catholic parish church on Pembina Highway. As of late, the city's Archeparchy and two Archdioceses take turns hosting the Divine Liturgy in one of their parish churches.
His Grace, Most Reverend Richard Gagnon, Archbishop of Winnipeg preached a comprehensive sermon on the life issues that the National Week for Life and the Family is focusing on this year (see text below). Concelebrating at the Mass were Archbishop Lawrence Huculak and St. Boniface Archbishop Albert LeGatt as well as some Ukrainian Catholic and Roman Catholic clergy from various parishes.
Some thirty minutes prior to the Liturgy, the Knights of Columbus led a crowd of the faithful in the praying of the Rosary at a memorial for the unborn outside on the church grounds. The Rosary was prayed in different languages and Sophie Manulak, the former National President of the Ukrainian Catholic Women's League of Canada led a decade in Ukrainian.
St. Vital Parish invited all the participants to an abundant reception in their meeting place after the Liturgy.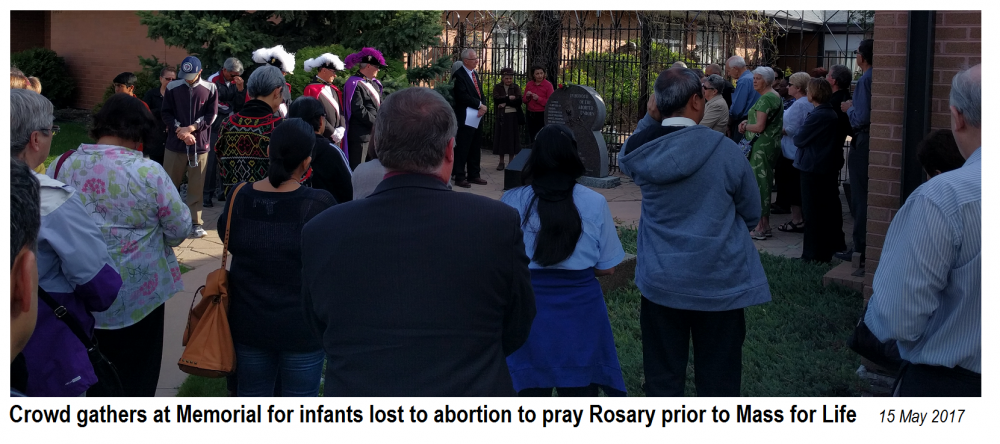 The Sanctity of Life and the Works of Pro-Life homily at the Mass for Life, by Most Rev. Richard Gagnon, Archbishop of Winnipeg
---