WINNIPEG'S 2017 MARCH FOR LIFE
May 11, 2017
SUNNY WEATHER DRAWS LARGE NUMBERS FOR MARCH FOR LIFE 2017

The day began with a Eucharistic Mass celebrated at St. Mary's Cathedral in the heart of Winnipeg with the city's three Catholic Archbishops presiding. Archbishop Richard Gagnon, of course, was the main celebrant, but he was joined at the altar by Ukrainian Archbishop Lawrence Huculak and St. Boniface Archbishop Albert LeGatt. The Cathedral was filled with prayerful witnesses from all across the city and from around the province. Some schools were able to represent, including a large group from St. Paul's
High School. His Grace Richard Gagnon preached the homily. The Rector, Fr. Geoffrey Angeles, led the singing with perfect song choices and amazing keyboard accompaniment.
A parallel service was being held by Calvary Temple in the Buntain Chapel.
All the participants soon afterward made their way to Manitoba's Provincial Legislative Building for a moment of organization and prayer. Before long, the Knights of Columbus under the direction of Brother Tim Scatliff guided the mass of people wining down from the steps of the Legislature across Broadway
Avenue and along Memorial Boulevard toward Portage Avenue. The line of people, walking two, three and five abreast, stretched far. Many prayed, some chatted, some sang and this year the lively drumbeat of KB Fujumelody and His Motherland Tune accompanied the marchers for the duration of the event. Winnipeg Police provided safety and order throughout the march. Their professional use of police vehicles to pause traffic at intersections and guide marchers along the predetermined route kept everything flowing through the city's noon hour traffic. The picket-carrying marchers eventually made their way along Portage avenue past Portage Place. They made their way back to the Legislature for a number of moving testimonies by those who had fallen victim to the abortion deception or had barely escaped the trauma. Others spoke about the work that they do to aid women dealing with unexpected pregnancies and single mothers and the men involved.
His Grace, Metropolitan Lawrence had the last word. Before leading a closing prayer and offering a blessing, he thanked and credited the many people who came out to witness to truth and offer hope. He made mention of the Former State Deputy of the Knights of Columbus, Brother Merlyn Onyschuk who organized the March for Life for a number of years before dying from cancer last year. He acknowledged his wife Connie who was present at this year's March.
Winnipeg's Ukrainian Catholic parishes made a special effort this year to participate and bring out the crowd. Two parishes, Holy Eucharist in East Kildonan and St. Michael's in Transcona arranged for buses to bring marchers from their churches. At least six members of the clergy and many parishioners from a number of parishes from around the city were present.
It is no generalization to say that everyone went home with a great deal of satisfaction that they had participated in a good event and at least witnessed in some small way to the truth that one day will be restored to Canadian culture. Life is always precious. All people have a right to life – including the elderly, the ill and the unborn.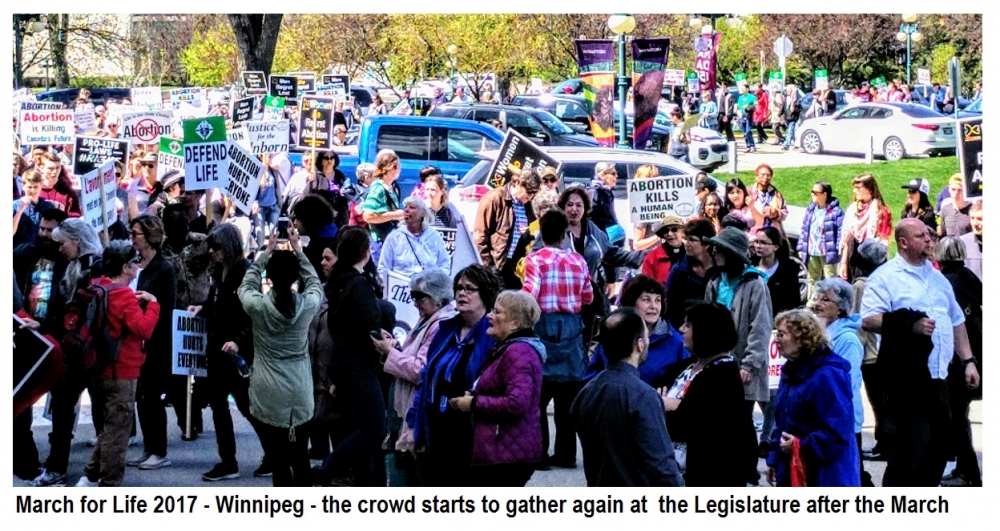 ---