BISHOP SHARES IMPRESSIONS OF VISIT TO WAR ZONE
March 2, 2017
BISHOP STEPHAN MENIOK, EXARCH OF THE WAR-TORN DONBAS REGION OF UKRAINE SHARES HIS THOUGHTS AFTER A VISIT TO AN AREA ON THE EDGE OF THE WAR ZONE
BISHOP STEPHAN MENIOK: SOME THOUGHTS AFTER VISITING AUDIYIVKA AND MARIYINKA
Recently
Bishop Stephàn
, the
Ukrainian Catholic Exarch of Donetsk
, having received the blessing of the Head of the Ukrainian Catholic Church, His Beatitude Sviatoslav, visited the town of
Audiyivka
that was just shelled days prior. [N.B. His Beatitude has subjected any church-related activity in the war zone and environs, especially visits of clergy and religious, to his prior approval]. Bishop Stephàn was accompanied a team of aid-workers from the
Caritas
charitable organization. The old section of the town of Audiyivka, a residential area, was just shelled days prior by Russian-provided artillery which should not even be in sector.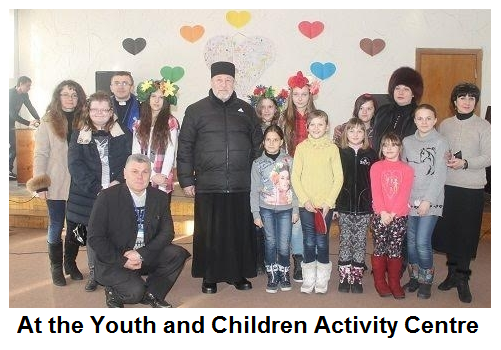 The area was devastated and apartment buildings and individual homes were left in ruins. This was the first time that the civilian-military cooperation effort (
CIMIC
) was able to come in and make an assessment of the damage and the needs of the local population. They assess the most urgent fundamental infrastructure repairs required as well as food and medical supplies. Bishop Stephan also managed a visit to the town of
Maryinka
where he met with the directors of a local youth and children's centre. What follows are some raw thoughts and impressions that Bishop Stephan shared with Ruslana Tkachenko of the press-service of the Donetsk Exarchate after concluding his visit…
"When one walks through these empty ruined buildings it gives the impression a biological war is occurring: people are poisoned, they die and after them all that is left is a home, things…"
"Walking along an empty street I came across homeless animals, a cat attached itself to me, looking for its owners."
"I returned* with a sullied disposition and a weight on my soul." [*N.B. Bishop Stephan was forced from his cathedral and residence in the city of Donetsk and now resides in exile in the city of Mariupol and directs his pastoral work from there.]
"In Maryinka I visited the local creative centre for youth and children. They even organized a little concert for me."
"In speaking with the victims and wounded, I heard many complaints. People came to air their grievances with regard to the military that occupied their homes, and well as in regard to the government. That is along the front line and our soldiers are forced to live in the homes of the local residents."
"In the city, the charitable organization Caritas continues to be active. The city administration facilitates this."
"People live in continuous psychological tension. Imagine, they lay down to sleep every night with the thought that an [artillery] shell might hit their home."
"One woman, seeing that I was a clergyman said to me, "I would like nothing more than to die peacefully" and I thought, "good [for you], but what about the young people?"
"If you told anyone to live under [gun] fire, he would immediately feel a change in his bodily organism; nothing would be pleasant to him. Now imagine that people live continuously with that pressure. It is wholly possible that with time they will experience psychological crises."
"The military administration is active everywhere, because the people distrust the civilian administrations"
______________________________________________
Corresponding information….
10 FACTS ABOUT THE RUSSIAN INVASION AND CONTINUED AGGRESSION IN UKRAINE
MINISTER OF FOREIGN AFFAIRS OF UKRAINE
Click
[HERE]
for more detailed information.
---