SAINT BASIL THE GREAT PARISH CHRISTMAS TRADITION
December 19, 2016
ST. BASIL THE GREAT PARISH OFFERS PARISHIONERS INTERACTIVE PAGEANT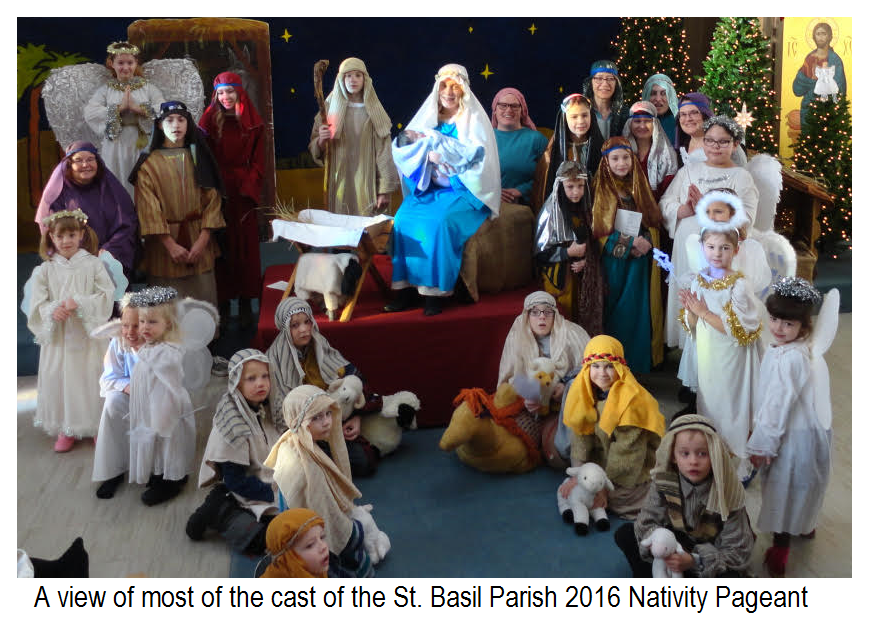 The parish Catechism program children and teachers - with some great help from their parents and families - put on an amazing performance of the Christmas event. It was truly interactive as the audience joined in the singing of carols throughout the production.
All the children and some of their parents and teachers were part of the scenes. There was of course Joseph and Mary and a live baby Jesus! There was host of angels, shepherds and Wise men who sang as they came up through the audience to present their gifts. Two young narrators led everyone through the account of those events that changed the world forever. It was truly a meditation in sight, sound and personal participation that helped prepare everyone at St. Basil's for the upcoming feast of the Nativity of Christ.
After the performance, everyone went down to the auditorium for fantastic meal and desserts. Then... St. Nicholas also came to meet with the children and give them a message and gift for each.
St. Basil the Great Parish
in Winnipeg's west end, always manages to inspire... come visit us!
---