Annual Service Celebrates the History of Trembowla Site
November 18, 2016
July 31 was a memorable day at the Trembowla Cross of Freedom site as volunteers prepared for the annual service honoring pioneers that coincides with the celebration of Canada's National Ukrainian Festival in Dauphin.
With the program and food preparations in place, the attention was turned to setting up a shaded seating area for the many honoured guests and visitors.
Very Rev. Oleg Bodnarski of Dauphin, Very Rev. Dr. Michael Kwaitkowski of Winnipeg and Rev. Roman Stefanishyn, Ukrainian Orthodox Church of Rossburn area, and everyone present, were officially welcomed by the committee.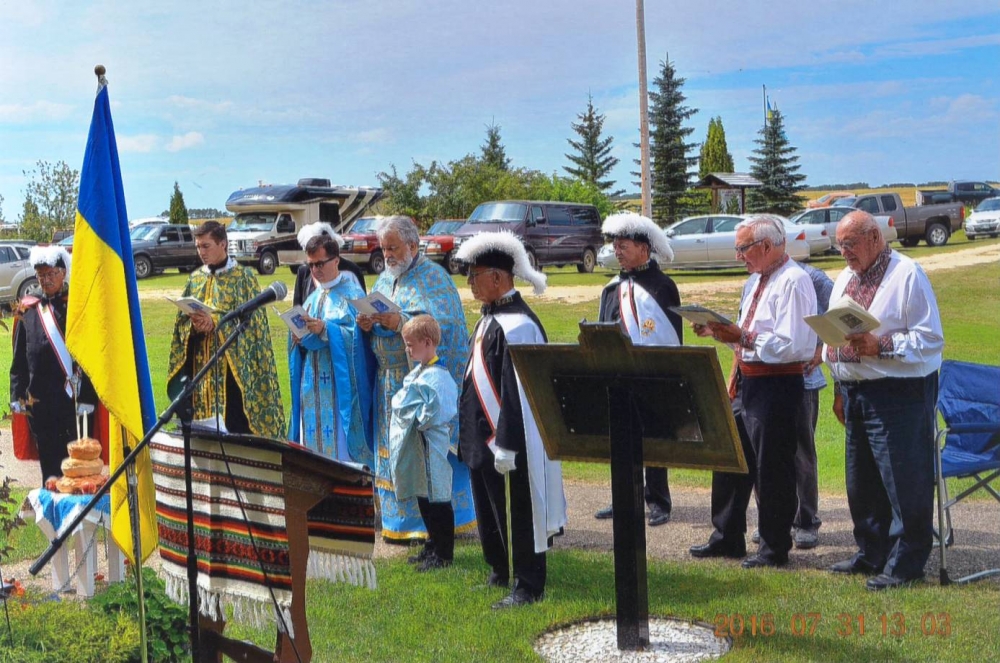 Assisting in the Moleben service were cantor and emcee Marvin Procyshyn, Canada's National Festival Choir of Dauphin and the professional honor guard provided by the St. Viator's 4th Degree Knights of Columbus. Incense bearer Ernie Wasylyshyn was prompt in his duties, as also was altar boy Nicholas Plustwa, who stood the test in the heat of the sun and kept his dedicated role. Thank you everyone for your participation in the celebration.
The park bench commemorating the 125th Anniversary of Ukrainian settlements in Canada was blessed during the service.
The engraved bench was unveiled by Prof. Roman Yereniuk, co-chair of the Ukrainian Canadian Congress, Manitoba Provincial Council and Lesia Szwaluk, executive director of Taras Shevchenko Foundation of Winnipeg.
Encouraging greetings were received from Canada's National Ukrainian Festival Hospodar and Hospodyna Allen & Sandra Dowhan, Prof. Roman Yereniuk, Lesia Szwaluk, Mayor of Dauphin Eric Irwin and Dauphin MLA Brad Michaleski. The Trembowla committee thanked everyone for their attendance.
A traditional and delicious outdoor lunch was enjoyed by all while the crowd was entertained with music and songs by Mary and Marvin Procyshyn, Manual Nakonechny and more lively Ukrainian songs by the festival choir of Dauphin.
Adding a highlight to the show was seven year-old Dawson Federowich doing a lively solo Ukrainian dance, a vivid promise of love in the preservation of Ukrainian heritage. A huge encouragement goes out to all who endeavour to promote this continuous dedication.
The Trembowla committee thank you all who helped and supported the event. May God bless you abundantly.
Following the blessing, the commemorative bench honouring the 125th Anniversary of Ukrainian settlements in Canada will be placed beside the Cross of Freedom area.
Submitted by Kay Slobodzian
---