FAMILY, CLERGY AND FRIENDS BID FAREWELL TO ORYSIA TRACZ
November 15, 2016
FAMILY, CLERGY AND FRIENDS BID FAREWELL TO ORYSIA TRACZ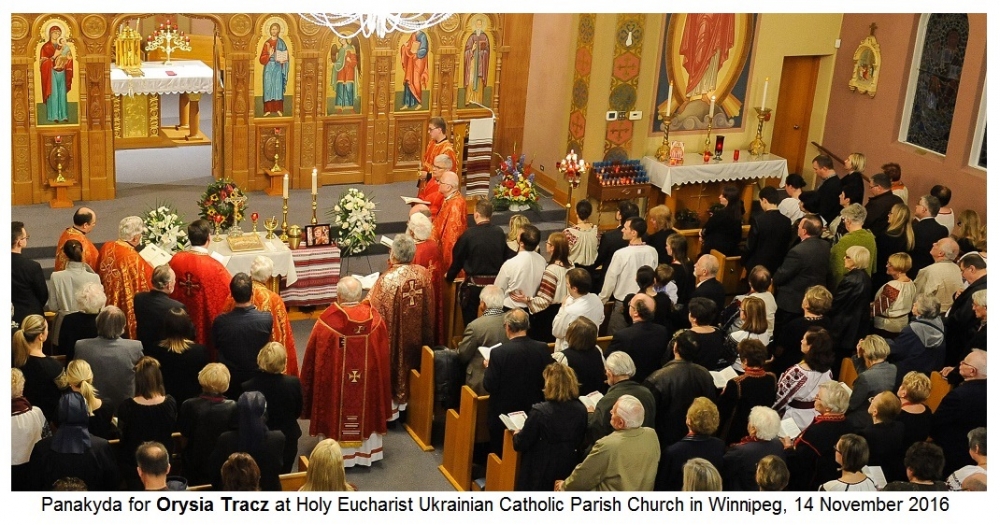 His Grace, Metropolitan Lawrence led the Divine Liturgy and
Panakhyda
services on Monday evening for the late well-known researcher and promoter of Ukrainian folk culture -
Orysia Tracz
. Orysia and her husband, Deacon
Myroslaw Tracz
have been actively attending
Holy Eucharist Ukrainian Catholic Parish
for a number of years and this is where the funeral services and "
tryzna
" were held.
Orysia died unexpectedly, but peacefully at Health Sciences Centre in Winnipeg on 10 November 2016. Besides her loving husband, she leaves to mourn her three sons, Boyan, Dobryan, and Ruslan and other relatives and friends. Famous for her knowledge of
all things Ukrainian
and especially her ability to share her knowledge in a popular and enthusiastic manner,
Orysia
was invited to give lectures
around the world
. In fact, she was booked for a number of such engagements into next year. She will be missed in the community as a consultant on the origins of traditional Ukrainian customs, art and ritual.
Metropolitan Lawrence and a dozen other priests and deacons were on hand to lead a filled-to-capacity church and auditorium in bidding farewell to Orysia with centuries-old traditional prayer of the Ukrainian Church that she would have appreciated. Although parish cantor,
David Hrehirchuk
, led the responses and the
Hoosli Ukrainian Male Chorus
under the direction of
Walter Skakun
, led the Panakhyda, many in the congregation added their voices - filling the church will a powerful heartfelt prayer.
Metropolitan delivered the homily in the church and Orysia's three sons and sister spoke at the Parish Centre.
The Archeparchy offers their condolences to Deacon Myroslaw and the whole family.
God grant her eternal memory.
Вічна Їй пам'ять!
---