WINNIPEG DOCTOR CELEBRATES 65 YEARS
October 2, 2016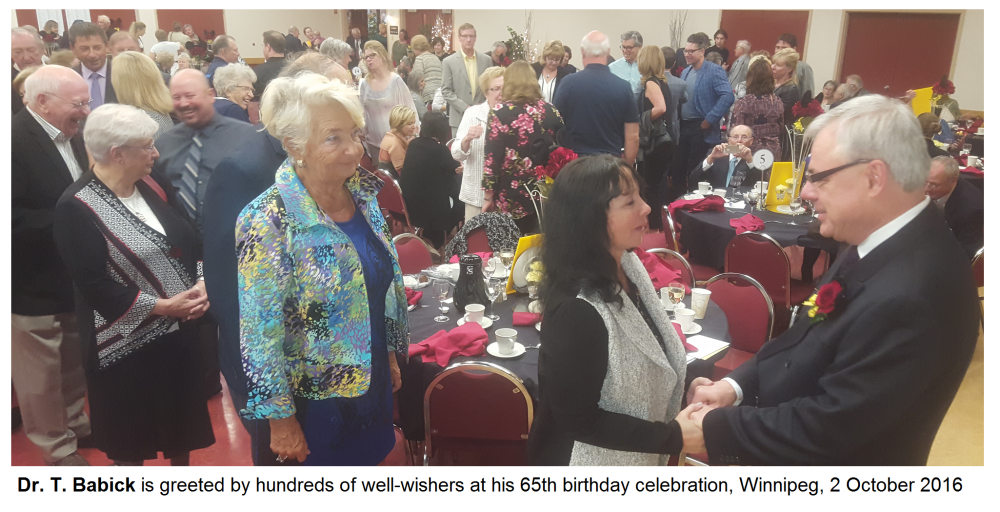 DOCTOR TERRY BABICK CELEBRATES 65 YEARS
Doctor Terry Babick was joined by his family, wife Pat, and children Andrea and Ivas and hundreds of friends for a 65th Birthday celebration organized by his children, staff and others for October 2nd, 2016. The event took place at the Holy Eucharist Parish Centre in Winnipeg's East Kildonan. Among those in attendance were colleagues in the medical profession and especially many representatives of the city's Ukrainian community. As Dr. Babick is active in the Ukrainian Catholic Church, there were also in attendance numerous clergy and religious Sisters.
Two very moving speeches were given by both of his children. His son Ivas' spoke of his father as an example of a true man… one of humility, integrity and dedication. His daughter, also a physician, Dr. Andrea Babick also spoke of the invaluable example of her father and mother. She saw in him a person of strength and love and someone who taught her to persevere through all things. Both of his children brought out the great importance of faith in their family upbringing that was instilled in them by their father and mother and how that faith sustains and guides them today.
When Dr. Taras rose to speak in the end, he brought humour and words of gratitude
about how so many people supported him and the causes that he holds so dear, including the Orlan Ukrainian Dance Ensemble. He mentioned many people that were no longer with us, before turning to the many people that were still here today – many that were also present. With an eloquence and memory and humbleness that amazed and moved everyone gathered for the afternoon festivities, he managed to thank everyone and make all feel that they had a significant role in his life.
Rosmarie Todaschuk of the famous Todaschuk Sisters led everyone in singing the traditional Mnohaya Lita.
Those that came expecting something akin to afternoon high tea were surprised that a full buffet meal was offered to the guests, catered by Phyllis' Catering. Many wonderful desserts prepared by a number of people, "Yvonne" among them.
God bless Dr. Babick with many more years among us.
---