SISTERS SERVANTS ELECT NEW PROVINCIAL COUNCIL
August 15, 2016
The Canadian Province of Christ the King of the Sisters Servants of Mary Immaculate, has recently concluded its 'Provincial Chapter' which took place from 4-14 August at the vast Mount Mary Immaculate Retreat Centre in Ancaster, Ontario. During this event, which occurs every five years, representatives from the various homes, hospitals and missions that the Sisters operate around Canada, gathered for some 11 days of prayer, discussion, sharing and planning.
One of the tasks was also to choose the "Provincial Council" that will collaborate with the Provincial Superior in guiding the activity of the Sisters Servants in the country for the next five years. The Sisters made the following choice in their election:
Provincial Superior – Sr. Christina Syrotynsky
Vice-Provincial and 1st Councilor – Sr. Theresa Matwe
2nd Councilor – Sr. Janice Soluk
3rd Councilor – Sr. Janet Kozak
4th Councilor – Sr. Jean Zemliak
Sisters Christina, Theresa and Janet served on the previous Council and, besides their duties on Provincial Council, maintain their other ministries. Sr. Christina was functioning full time as the Secretary at the Provincial House in Toronto. Now that she has been elected Provincial Superior - a time consuming position in itself - a new Secretary will have to be designated. Sister Janet is the Superior and Director of the superior of Mount Mary Retreat Centre that hosted this year's chapter. Sr. Theresa, besides serving as the Formation Director of the Canadian Province, works as the Executive Assistant to Metropolitan Lawrence Huculak at his Chancery in Winnipeg.
The newcomers this year are two that bring considerable administrative
experience with them. Sr. Janice served once as the General Superior of the congregation's world-wide activity and presently serves as the Chair of the Board of Directors of the congregation's Canadian fundraising foundation – the Lubov SSMI Foundation based in Winnipeg. Sr. Jean was executive Director of St. Paul's Home in Dauphin, MB for many years and a member of various medical health associations.
The Sisters are beginning an exciting new period of growth and development with the expansion of Holy Family Home in Winnipeg, the plan to move ahead with a new Ukrainian Catholic School facility and more activity in other places around the country.
_________________________________
"Congregation" is just one technical term used to define the canonical status of a religious Order and the vows that the members make. [Canon 504 of Code of Canons of the Eastern Churches posits that, "a congregation is a society […] in which the members make the three public vows of obedience, chastity and poverty, which however are not equivalent to monastic profession, but have their own force according to the law."]
"Province", when used in connection with a religious order means one administrative subdivision of the order in a certain country or on a world-wide understanding. They may change or be adjusted as the apostolate of the order changes, shifts and develops. The Sisters Servants of Mary Immaculate presently have seven such provinces and its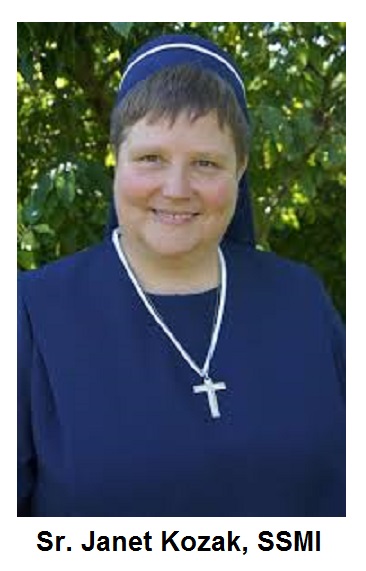 Generalate in Rome, Italy. The provinces are Canada, Brazil, Serbia, Slovakia, Poland, the United States and, of course, Ukraine (Ukraine facebook). [Canon 508 of Code of Canons of the Eastern Churches explains that "A province is a part of the same order or congregation, consisting of several houses, and which a major superior – i.e. the Provincial Superior - rules directly."]
"Chapter" is a regular meeting held at which all the members of a religious (monastic) order in one Province gather to pray, take account of themselves, share thoughts and plan their activity for the next few years. [There can also be a "General Chapter" for the whole order attended by representatives from around the world.]
---