UKRAINIAN WINNIPEG – MORE PROMISING EVERY ISSUE
August 9, 2016
If you frequent one of Winnipeg's Ukrainian churches or some shop, credit union or other business that caters to Winnipeg's growing Ukrainian community, chances are that you have seen a glossy copy of "Вінніпеґ Український / Ukrainian Winnipeg". This impressive magazine with its attractive layout and interesting articles is becoming better known around the province of Manitoba by the month. An increasing number of businesses and services, as well as church communities, are finding it worth the fee and effort to place advertisements in the periodical. It is complimented by an excellent website of the same name: www.UkrainianWinnipeg.ca.
The enterprising young co-editors, Valerii Pasko and Andrii Shcherbukha have succeeded in putting together an excellent edition every time. There are articles about people and things Ukrainian – whether local or international. This latest edition, for example, among various articles, one finds stories on the Todaschuk Sisters, filmmaker Jevhen Deslaw, the new Saperavi restaurant established by enterpreneurs with a Ukraine connection and a sad report on the ongoing situation in south-eastern Ukraine. One of Winnipeg's premier photographers, Norbert K. Iwan, offers startling photographs of Holy Trinity Cathedral on Main Street after the fire that caused extensive damage. The publication also includes at least two lists of upcoming events… one on Ukrainian cultural events in the months of August and another about events throughout 2016 associated with the celebration of 125 years of Ukrainian Immigration to Canada.
Among the challenges to Ukrainian community newspapers, magazines and websites, three in particular have always remained important to the publication's success or demise. The first is that it must be CURRENT. Ukrainians are an educated lot that are capable of finding their news from others sources and in other languages. They would prefer to get information from their own ("nashi"), but not if their own repeatedly publish 'last minute' or days or months after the fact. Another important factor is that the publication must be INCLUSIVE or else those who are seldom or never represented in the publication will eventually get the hint that the magazine doesn't concern them. The exclusive nature becomes obvious when one language is continuously given only token regard, or when one political party or faith persuasion is commonly given more attention than others, or if the 'establishment' sector of the community always enjoys precedence over the new and innovative regardless of the latter's success or contibution. And, lastly, it must be ATTRACTIVE. People don't want to read a sloppy or merely functional publication just to get the information. If need be, they can and will get their information from better resources elsewhere. So far, it must be said, "UKRAINIAN WINNIPEG" is doing a very impressive job with regard to all these points! The editors and supporters must be congratulated. There is room for improvement, however. One area would be to become the dependable go-to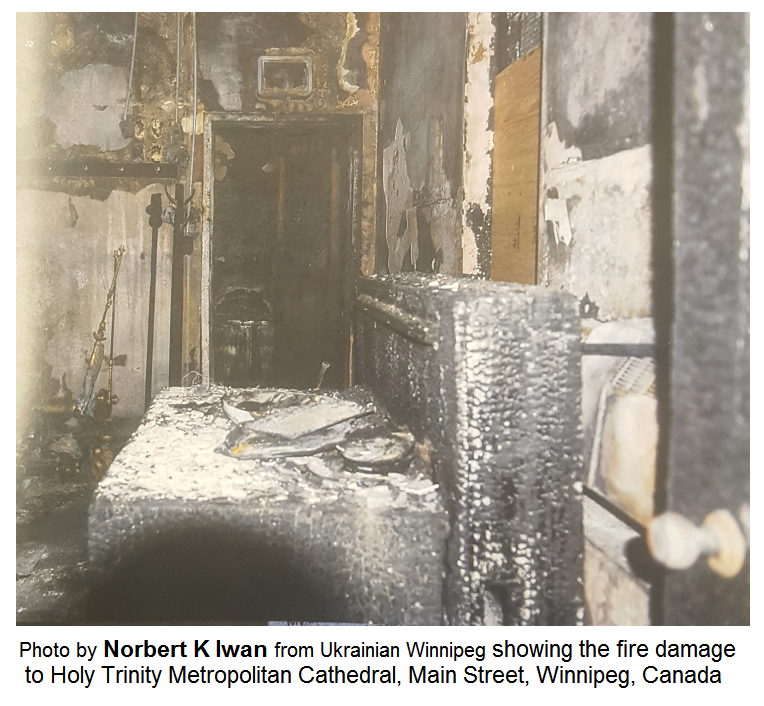 resource for information on all coming events about ALL things Ukrainian…. cultural, political, religious, sports, etc. (and not only events officially sponsored by Ukrainian organizations. What about a Ukrainian-Canadian performing in some concert, or a lecture being given on a topic of interest to the Ukrainian community, or even a small school or parish production that reflects the Ukrainian spirit in some way?)
Winnipeg is fortunate to have this excellent publication available. Hopefully, by our support and the ongoing dedication to excellence exhibited by the magazine's editors, Ukrainian Winnipeg will grow into the universal information resource that Ukrainians and non-Ukrainians in Manitoba would very much benefit from.
For more information about the magazine, contact the staff at:
Tel. 204-881-3793 or email: info@ukrainianwinnipeg.ca or visit the website at: www.ukrainianwinnipeg.ca
Besides at the back of your local Ukrainian church, you can pick up a copy of the magazine at:
Kalyna Store,
Central Foods,
Taste of Europe,
Lviv Store,
Gunns Bakery,
Tenderloin Meat and Sausage,
Dobrimarket,
M&S Meats,
McNally Robinson Booksellers,
Carpathia Credit Union,
Greggs Insurance,
Shevchenko Foundation,
Ann's Perogy Palace,
Gardenton Museum.
---