THE 2016 PARISH PRAZNYK AT ST. JOHN THE BAPTIST IN DOLYNY
July 7, 2016

Pastoral activity in the Dolyny area of Manitoba prior to 1904 when Fr. Joseph Sabourin started celebrating Divine Liturgies from time to time in the homes of pioneers. Fr. Sabourin was actually a French priest from St. Boniface who eventually received the faculties to celebrate the Byzantine Divine Liturgy. He went on to become the rector of the St. Boniface seminary and chancellor of the Archdiocese. After that, a number of clergy started coming by on a more regular basis, including the famous Redemptorist missionary Fr. Achilles Delaere, CSsR. The church of the Forerunner St. John the Baptist was built in 1907.

Well, needless to say, the parish is not as active as it used to be even half a century ago. However, among the regular services, the parish still hold their annual 'praznyk' on the feast day – according to the Julian ("old") calendar on July 7th. Rather than transferring the holy day to the nearest Sunday, it is pastorally more convenient to celebrate it on the day itself whenever it falls. This year it was a Thursday.
As many country churches, St. John's in Dolyny has a bell tower and a cemetery nearby. What is unique is that the adjacent hall was erected in 1939 in honour of Ukrainian Catholic priest and activist Fr. Markian Shashkevych. Fr. Markian gained fame in Western in the first half of the 19th Century by writing and publishing in Ukrainian – which was not done very often before that time due to political circumstances. As a priest he was sent to the most remote and poor villages. He finally succumbed to illnesses which caused him blindness and deafness. He died at the relatively young age of 32.
This year Parish Priest Fr. Mykhaylo Khomitskyy and local parishioners organized the praznyk for Thursday morning on July 7th. Needless to say that it was not a time convenient to working members, but many people were able to attend all the same – those retired or on holidays as well as guests from out of town. Among the guests were Anne and Ted Rybak from Holy Eucharist Parish who have roots in that area and they were accompanied by retired priest Fr. Edward Kwiatkowski who now assists at Holy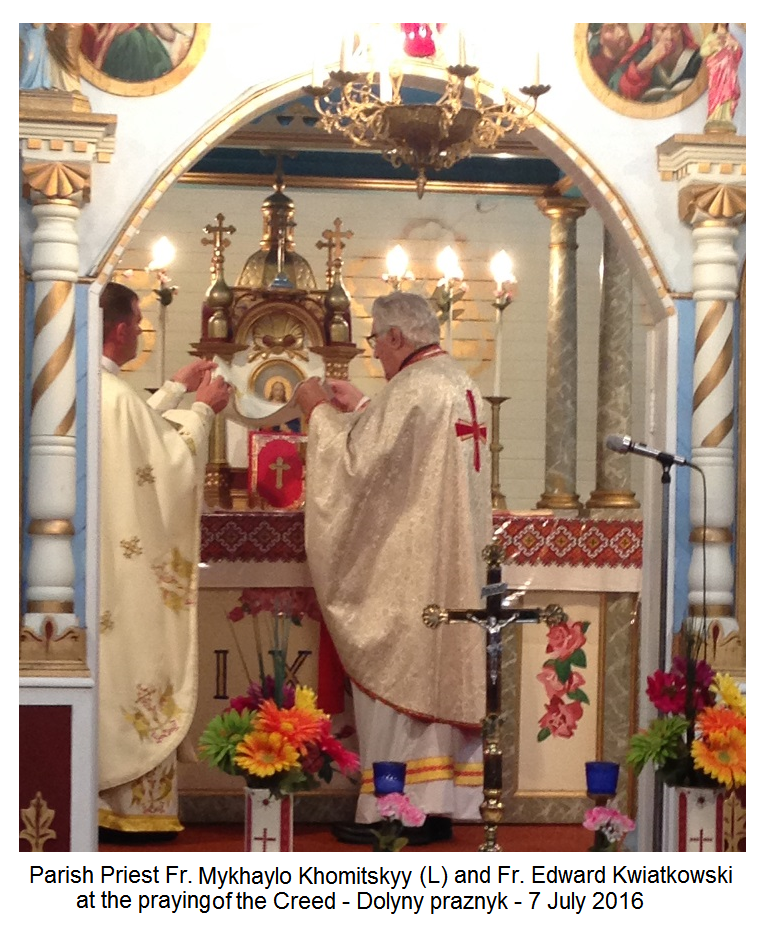 Eucharist as well. Fr. Ed, who was invited by Fr. Mykhaylo to preach at the Praznyk, also has roots in that area and still has some relatives there too who were there at the Praznyk. Both sets of his grandparents were born in the Ternopil region of Ukraine and his maternal grandparents – the Labays - are buried in the Dolyny cemetery.
There is nothing quite like a country parish praznyk. The amazing homemade food, the hospitality, outpouring of faith and the overall spirit of the event still offer a taste of the pioneer days of our ancestors. May the good Lord richly bless the rural parishes that strive to host the annual praznyk.
---