FATHER ROMAN GALADZA REPOSES IN THE LORD
August 1, 2023
FATHER ROMAN GALADZA REPOSES IN THE LORD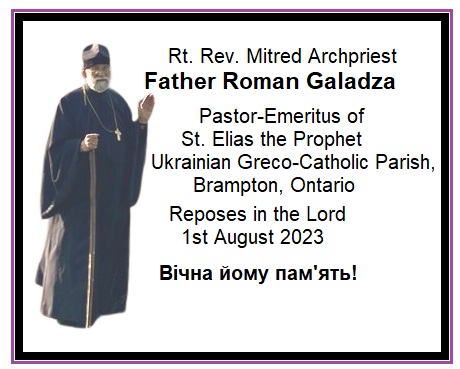 The announcement was posted on the website of St. Elias the Prophet Church - the parish that Father Roman grew into a centre and symbol that became known around the world for its living example of Ukrainian Byzantine liturgical life. He, his family and parish were not only known for their welcome spirit and hospitality, but perhaps especially for their zeal to involve everyone in the singing.
Among his other pastoral endeavours, Father Roman was probably most associated with his love for singing. In this he shared a passionate dedication with a few such individuals in Canada - like Redemptorist Father John Sianchuk in the west - to promote a revival of Ukrainian liturgical singing by simplifying it and making it accessible and doable in almost any circumstance.
Father Roman inspired many people with a love for Liturgical singing and a love for the rich tradition that it enhances. Among his enthusiasts were several members of the clergy for whom he may be regarded as a mentor and who will carry forward his love for the liturgical patrimony of the Ukrainian Church.
The funeral for Father Roman Galadza is scheduled to take place on Monday, August 7th. Details will soon be shared.
May he rest in peace. Вічна йому пам'ять!
---