THE FUNERAL OF POPE BENEDICT XVI: A PERSONAL ACCOUNT
January 17, 2023
THE FUNERAL OF POPE BENEDICT XVI: A PERSONAL ACCOUNT
I had come to Rome for another matter,* but my arrival in the "Eternal City" coincided with the eve of the funeral of Pope Benedict XVI. The crowds and security around the Vatican were huge. Thousands of people lined up to make their way into Saint Peter's Basilica to pay their respects to this extraordinary Pope who captured the attention of the world by his brilliant theology and, especially, by his surprise resignation in 2013. He went on to remain present as Pope-emeritus for almost a decade - living in a monastery behind the walls of Vatican City in the peaceful gardens to which only a few have regular access.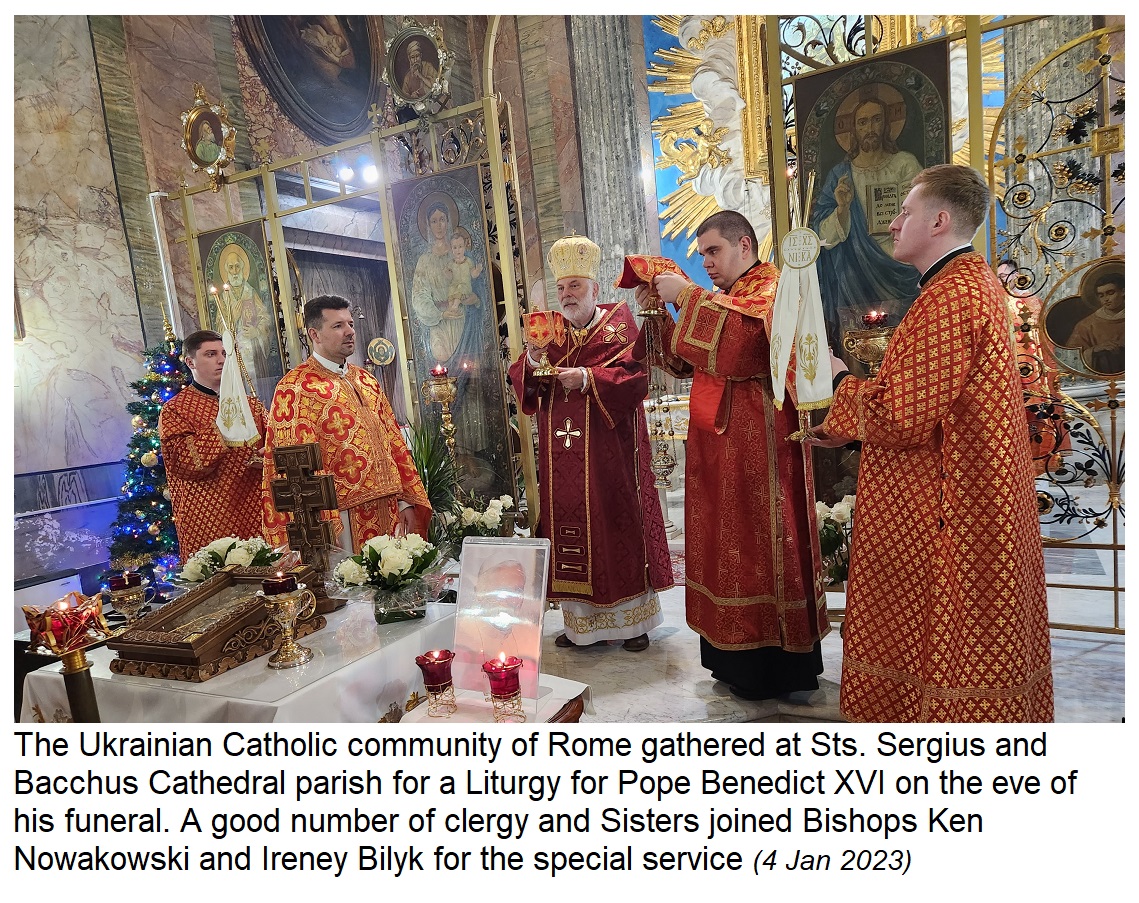 Pope Benedict died mid-morning on the last day of 2022 on Saturday 31 December. It was decided that, although he would not receive a full state funeral, as would a reigning pontiff, he would receive some of the typical honours. One of them was that he would lie in state before the high altar of St. Peter's Basilica for three days from Monday January 2nd through Wednesday January 4th. Hundreds of thousands of people made their way to Rome to get into line and make their way into the world's most famous church and pass by the earthy remains of Pope Benedict XVI who had now completed his earthly sojourn according to the love and wisdom of his Lord and God. I had just completed the first step of a mission at the Vatican Dicastery for the Causes of Saints with Sister Luiza Ciupa, SSMI, the Postulator for the cause of Canonization of Blessed Josaphata Hordashevska, and she suggested that since we had already made our way through the stringent security checkpoints, we should take advantage of that and make our way to St. Peter's. I had come straight from the airport to the Vatican and was still carrying my luggage and was still somewhat mesmerized that only yesterday I was celebrating the morning Divine Liturgy at Blessed Virgin Mary Church in wintry Winnipeg before beginning the trip to relatively warmer Rome. However, aware of the blocks-long lineups that I had just struggled to get through, I agreed that this was a very wise move rather than going home and trying to get back in again. We made our way through the square and into the line-up. It took awhile to get into the church and up the long centre aisle. But it seemed that 'before we knew it' we were at the rail that surrounded the Tomb of the Apostle Peter and there on a platform above that was Pope Benedict laying in utter peace arrayed in pontifical vestments. The mourners were continuously but respectfully urged to keep moving as there were obviously thousands more behind them that wanted to pass by. We had a moment to take in the extraordinary and historic scene and offer a prayer for the repose of his soul and, as most probably also did - ask him to remember us and our intentions in his prayer when he comes into the presence of the Lord he served). As we left the area, we then received a commemoration card and moved on. The exit from the Basilica was not rushed. The pilgrims were allowed to disperse into the vastness of the church and find a quiet corner in which to pray and contemplate the significance of these times and events.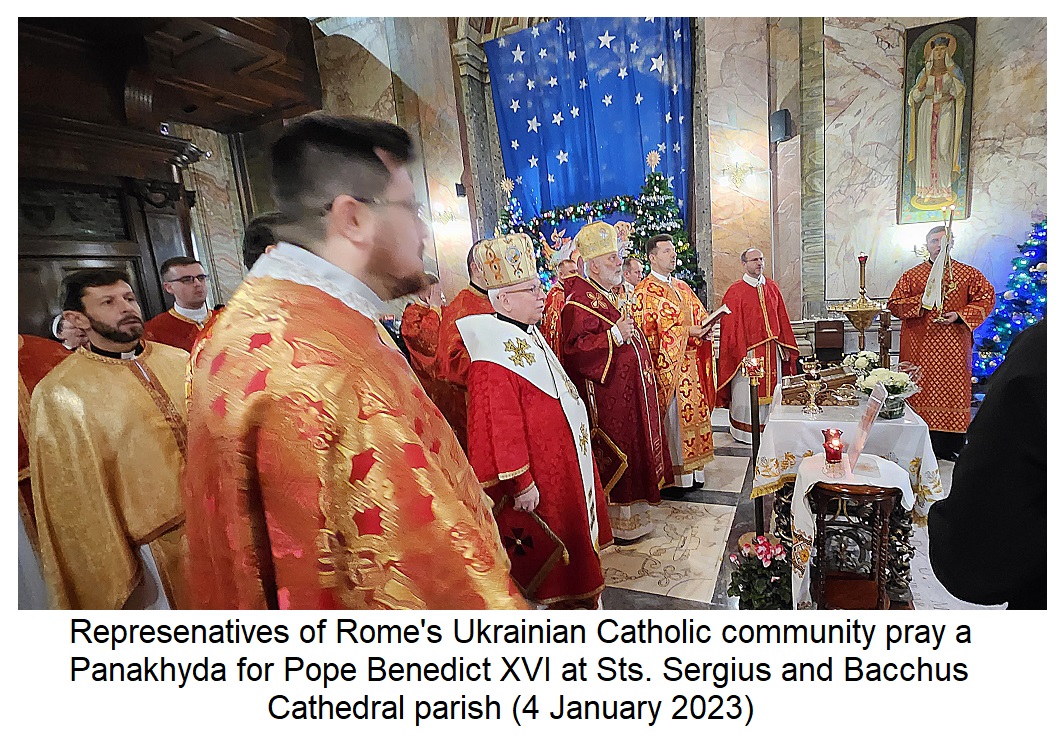 That same evening, the Protosyncellus of the Ukrainian Catholic Apostolic Exarchate of Italy, Fr. Teodosiy Hren, OSBM, organized a Divine Liturgy for the Ukrainian Catholic community of Rome to come together and pray for the repose of the soul of the late Pope Benedict. This took place at the church of Sts. Sergius and Bacchus in the heart of ancient Rome which is now serving as the Cathedral Church of the Exarchate. The Exarch himself, Bishop Dioniziy Liachovych, OSBM was away in Brazil at the time, but Bishop Ireney Bilyk, who resides in Rome and Bishop Ken Nowakowski from London, led the Liturgy and Panakhyda, together with a good number of clergy, women religious and lay-faithful from around the city (and beyond).

The next day, 5 January 2023, those wanting to participate in the funeral of Pope Benedict XVI on St. Peter's Square, had to make their way early. Clergy were advised to be there "no later than 8:30 AM". The same thought flashed through my mind as it did for anyone who ever attanded a Papal function, "yeah right. An hour before it is supposed to begin!?" Those who have attended papal functions, that means if you come at that time, there were will already be unbelievable masses of people already gathered in front of you. I got there early and, thanks to a tip from a friend who works in Rome, I had already obtained a clergy pass that could be obtained only online by submitting the necessary documentation. When I arrived, very bright and early, there was already a large crowd of priests moving toward St. Peter's. We were directed into a special line during which various security organizations checked us three times - one stop at which we had surrender any liquids and pass through a metal detector. Along the way, I met up with clergy that I had known from Ukraine and were now serving the Ukrainian people in Italy. There were priests from all around the world. It was actually cold on the square that morning. The wiser priests came prepared with heavy sweaters to wear under their vestments and even woolen toques and hats! I was one of few but noticeable Ukrainian Catholic priests or priests of other eastern Catholic Churches among the crowd. Our vestments could be spotted throughout the crowd of 4000 priests that attended that day - not including the hierarchy and dignitaries from other denominations that flanked the Altar at the top of the steps.
It was a simple funeral Mass, but, perhaps for that reason, it made an impression on the souls of everyone present. The words of the special prayers were wholly appropriate as the Church bid farewell to one her 266 Popes that served the Church of Christ as His vicar and as the "servant of the servants of God". His not-quite eight years in the Chair of St. Peter ended almost ten years prior, but his "legacy" will yet be determined in the years ahead. At the end of the funeral, as Pope Benedict's coffin was about to be carried into the Basilica, Pope Francis stepped forward, placed his hand on the coffin and seemed to pray for an extended period of time. A comment was made in the media that this may have been the first time that a Pope conducted a funeral for another Pope. One would have to study the earliest years of the Church when the martyrdom of Popes was a relatively frequent event. Perhaps a Pope or Pope-elect had the duty of hurriedly burying his predecessor in the catacombs. But certainly in recent history, this was a unique site to behold.
As his coffin was being taken back into St. Peter's and down to the Crypt where many Popes are entombed, some of the clergy and others in the square shouted out "Santo subito", which they also did for his predecessor Pope St. John Paul II. It means, basically, "declare him a saint right away!" If Pope Benedict XVI will be recognized as a saint by the Church will be determined in the years ahead. It would certainly take time as there is a procedure that needs to be followed. Popes change and tweak the process for determining sainthood and Pope Benedict himself did this in his time. For now, we look to see what is on the horizon for the "pilgrim Church" with only one man now in white at the Vatican. May our Lord richly bless Pope Francis as the Church truly needs (as always) bold and holy leadership as the barque of Peter makes its way through new and tumultuous waters in the years ahead.
Fr. Michael Kwiatkowski
PS An little story connected to Pope Benedict...
On the Monday after the funeral, and after much walking along the cobblestone streets of Rome, my boots, especially one, started to fall apart. I was losing my sole! Well, I was told by one of our Sisters that there was certainly a shoe repair shop near the Vatican. I googled "calzolaio near me". I was pointed in the general direction and started on my way. I passed an open car service station and asked the mechanic near the entrance if he knew of a repair shop in the area. He said that there in fact was one - three store-fronts up the street. I found it. I didn't have a long wait and explained my predicament. He told me to take a seat and take off my boots and hand them over. He would do the repair immediately. As I waited I looked at the many shoes and boots in the small front room of the little shop. I also noticed a lot of pictures above the front desk. Several pictures and newspaper clippings of Pope Benedict XVI. Well, it turns out that this was Pope Benedict's shoemaker. This apparently started from when he was still known as Cardinal Joseph Ratzinger and even after he was chosen to serve the Church as Pope Benedict XVI.
So my boots were repaired by Pope Benedict's shoemaker. He also asked me how old my boots were. He would make a perfect new pair for me if I wanted. It was a fleeting temptation, but I would soon be leaving Rome returning back to Winnipeg. Besides, I'm sure the cost would have been somewhat prohibitive. Just because I too liked Pope Benedict probably didn't make me besties with his cobbler and wouldn't score me a massive discount. I am grateful, however, for the excellent repair service and the memento of the boots with which I now track through the snowy streets of Winnipeg.
___________________________
* see article on Blessed Josaphata
---