HEAD OF UKRAINIAN CATHOLIC CHURCH MAKES FIRST TRIP DURING WAR
November 8, 2022
HIS BEATITUDE SVIATOSLAV MEETS POPE FRANCIS IN ROME: FIRST EXTERNAL TRIP SINCE RUSSIA BEGAN APPALLING INVASION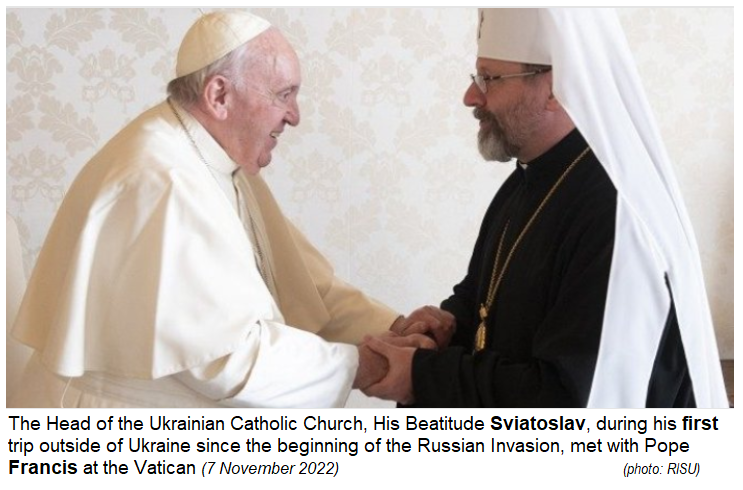 On November 7, 2022, Pope Francis received the Head of the Ukrainian Greek-Catholic Church, His Beatitude Sviatoslav, in the Apostolic Palace in the Vatican. His Beatitude is on a working visit to the Apostolic See, this being his first visit since the beginning of the horrific Russian invasion of Ukraine.
His Beatitude Sviatoslav spoke about the suffering of the Ukrainian People and how the Church has been serving throughout the war. The First Hierarch emphasized the inadmissibility of any peace proposals, which would include the denial of the right to existence of the Ukrainian people and their country within its internationally recognized borders.
Pope Francis shared about the Holy See's efforts to end the war and to promote the establishment of a just peace. This was reported by

Vatican Radio

with reference to the Secretariat of the Head of the UGCC in Rome.
His Beatitude Sviatoslav brought a piece of a Russian mine that damaged the facade of the Greek Catholic church in Irpin as a unique and powerfully symbolic gift to the Holy Father. It is a reminder of one of the first "martyr cities", and similar pieces were removed and continue to be removed from the bodies of soldiers and civilians - particularly children. Thus, it is a tangible manifestation of the destruction and death that this war brings daily.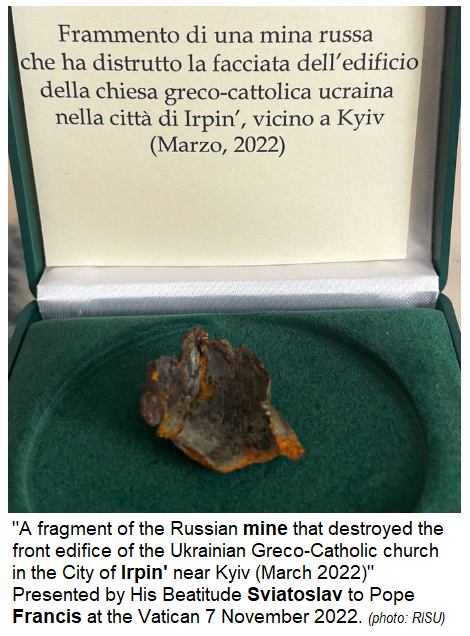 According to the Head of the UGCC, the Pope assured him that he is with the Ukrainian people through prayer and decisive actions.
The message of the Vatican Secretariat of State also adds that the Pope emphasized the Holy See's efforts to end aggression and promote a just peace.
His Beatitude Sviatoslav said he wished

bring the cry of the Ukrainian people to the heart of Christendom, with the hope of a just peace that will bring justice to the aggrieved Ukrainian people

. He also told the Pope about the Church's support for the people in times of war and his visits to communities affected by the war in the center, east and south of the country.
The Holy Father was also presented with a pastoral plan for 2023, which focuses on serving the weakest, receiving and supporting displaced persons, and treating the wounds caused by the war. The Major Archbishop pointed out the colonial dimension of the war against Ukraine.
The head of the UGCC thanked the Pope for all his efforts to stop the war, to mediate for peace, to release prisoners and hostages, and in organising the Catholic Church's general solidarity in support of the Ukrainian people.
Another important highlight of His Beatitude's visit will be presenting a report on November 14th to Ambassadors to the Holy See - about the reality of the war - first hand.
For sources and more information, see"
Vatican News Service [HERE], and
Religious Information Service of Ukraine [HERE], and the
Ukrainian World Congress [HERE]
---