VIBRANT MORDEN MISSION CELEBRATES THANKSGIVING
October 12, 2022
Parish THANKSGIVING DINNER for Newcomers
It was a warm fall day on October 9th in the Morden's Mission of All the Saints of Ukraine not only because of the weather but due to the number of smiles of all the parishioners.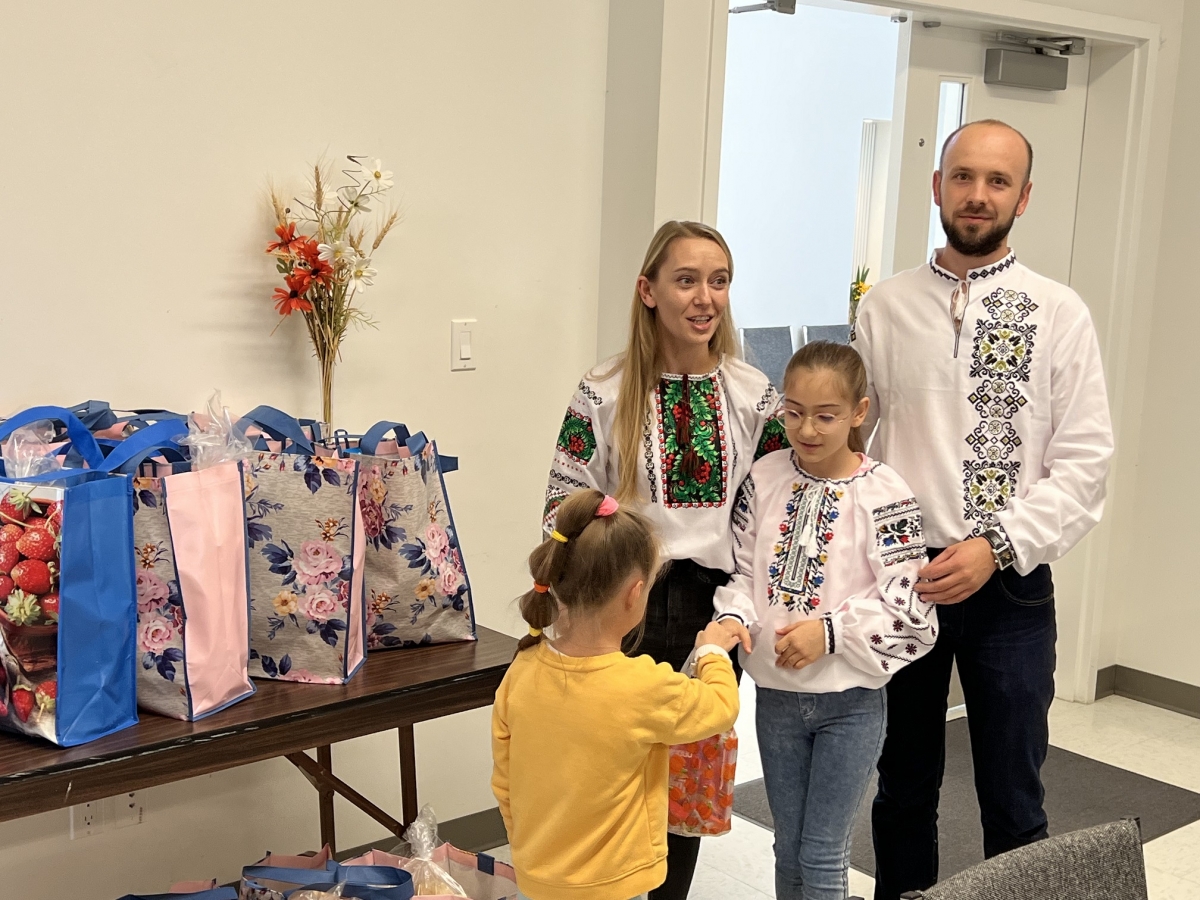 Parish family gathered to pray, give thanks to the Lord and celebrate Thanksgiving Day. For a lot of lately joined parish families, it was their very first Thanksgiving in Canada. What used to be a small congregation of around 15 families doubled in size in the last couple of months.
It is the sad reason behind that. Due to the continuous war in our motherland more and more families looking for a better life for their kids. Our kids - what a huge difference they make in church life! On Sunday we not only celebrated but also learned something new. It was the first intro into Altar Boys/Vivtarna Druzhyna and Children of Mary/Dity Mariji for a dozen young boys and girls. Such a large number of kids wished to join those ministries. It was a very sentimental moment for their parents to watch kids learning about helping the priest at the altar. For a congregation of our size, it is a huge step. With Fr. Mykhaylo and dobrodijka Iryna's help kids began their journey into something new.
After the Service parish family gathered at the hall for a festive dinner. Father Ramon Onkong from the Saint John the Evangelist Roman Catholic Church joined us for the dinner. As our mission does not have its own church building for the last 9 years we rent from St. John's parish.
Dinner was followed by some official part of welcoming recently joined parishioners.
Our former parishioners were volunteering hard at the Morden's Corn & Apple festival this past summer. In cooperation with the St. John parish, we were cooking burgers and hot dogs at the Parish's booth. All the proceeds from the volunteering parishioners decided to donate to the newcomer families of the parish. It was a kind gest to support those new to the country who start everything from scratch. With the generous support of local organizations and farmers, we were able to prepare 22 welcome packages. They included some poultry, eggs, veggies, fruits and sweets. Those gifts were about accepting, sharing and taking our brothers and sisters very close to our hearts. We wish them all the best in their new life in a peaceful Canadian land.
Also, parishioners organized photo zone where families could take professional pictures. Which can be used for their very first Canadian Christmas cards - another good local tradition.
After a very busy summer with the sturdy and growing number of parishioners full of activities, our parish family is looking forward to another Liturgical year. We have around 20 kids who signed up for Sunday school this year. With God's help and fully support of Fr. Mykhaylo we continue to grow spiritually.
Kate Tykhonova
Parish Chair,
Ukrainian Catholic Parish Mission of All the Saints of Ukraine,
Morden, MB October 12th, 2022
---