WINNIPEG DEANERY HOLDS FIRST POST-PANDEMIC MEETING
September 21, 2022
CLERGY OF THE WINNIPEG DEANERY GATHER IN ST BONIFACE FOR DISCUSSIONS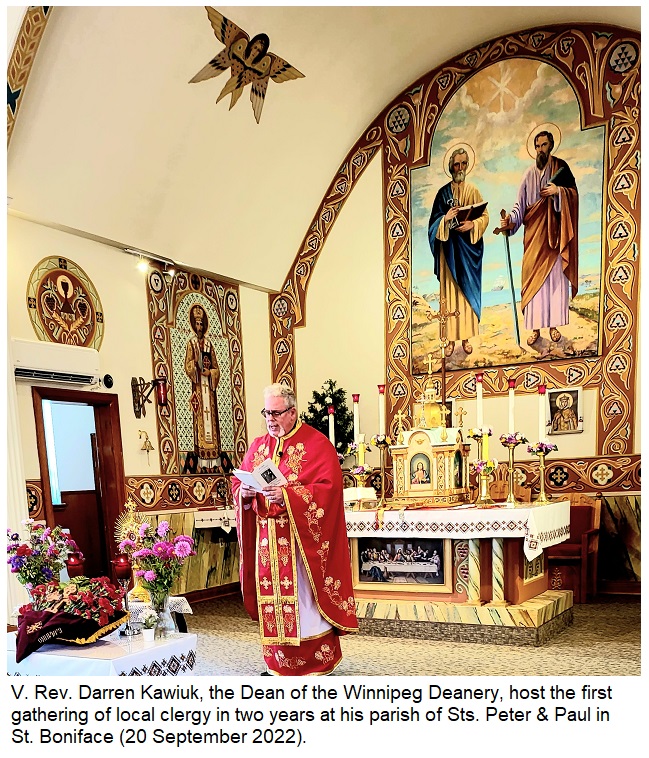 As another sign that some aspects of Church life are once again become more active in our Manitoba post-pandemic society was the first meeting of the Winnipeg Deanery at Saints Peter and Paul Parish church on 20 September 2022.
The present Dean, Father Darren Kawiuk, invited the clergy of Winnipeg, the Interlake and the South East to come together for the first Deanery meeting of clergy since January of 2020. Not all the clergy were able to attend, but a good representation did. This included priests, deacons and seminarians/candidates for ordination.
The gathering, which took place in the week following the Exaltation of the Holy Cross, began with a Moleben' to Christ. This was followed by some refreshments in the church auditorium and an excellent meeting.
Some of the items on the agenda included:
- a presentation by the Archeparchy's SAFE ENVIRONMENT Officer Mr. Yaroslav Chubenko.
- the question of "LIVESTREAMING" that became so popular during the Covid-19 restrictions. [Now that the restrictions have been lifted and, more importantly, the temporary dispensation from the obligation of attending the Divine Liturgy on Sundays and Holy Days... should livestreaming be continued? Does it simply compromise the essential in-person aspect of parish life? If continued for the sake of the sick and shut-ins, how should this be done? Etc.]
- A common Catechism program - and location - for all the parishes of the Deanery...
- a better means of communication between parishes and sharing of resources. Sharing information for events and invitations, How would this best be accomplished in a way that would help the parishes while respecting the integrity of each parish?...
- a number of issues were also discussed that concern the spiritual, physical and material wellness of the clergy.
Please keep your clergy in your prayer! Please seek ways to support, assist and collaborate with your clergy for a stronger and more fruitful parish life!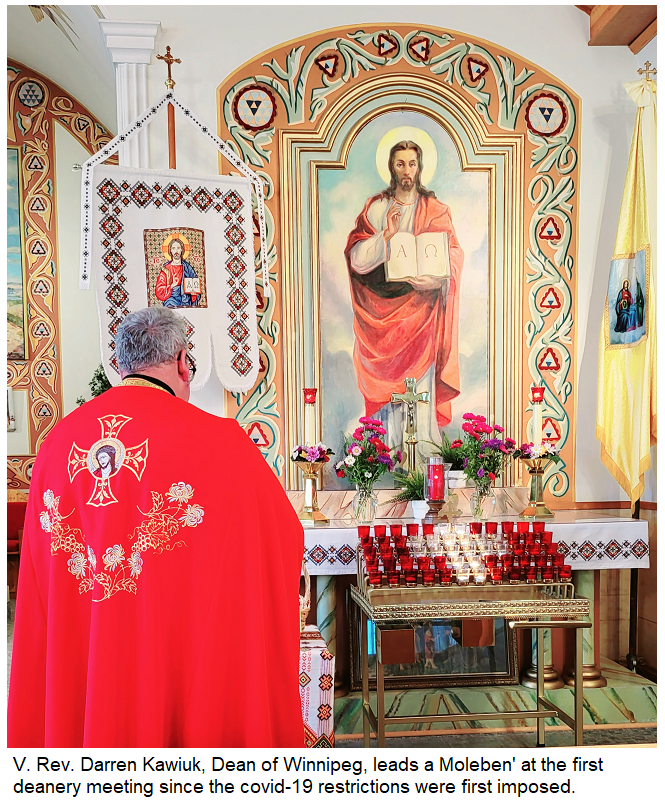 ---