POPE FRANCIS: "WHAT ARE YOU DOING FOR UKRAINE?"
June 20, 2022
POPE ASKS IN SUNDAY ANGELUS MESSAGE:
"Ask yourselves what you are doing for the people of Ukraine?"
[* see a Manitoba opportunity at the bottom of the page....]
At the Sunday (June 19) Angelus message and blessing that the Holy Father traditionally imparts weekly from the Papal apartment window high above Saint Peter's Square at the Vatican, Pope Francis spoke about Ukraine. [HERE] In fact, his twitter account reiterated the crux of his message. Do not merely remember Ukraine and the millions of Ukrainians whose homes have been destroyed, who have been kidnapped into Russian-controlled territory, who have lost loved ones to bombing and combat, who have been forced to flee their cities and the country itself. Pope Francis asks all to ask ourselves what am I doing to help? Am I at least praying...?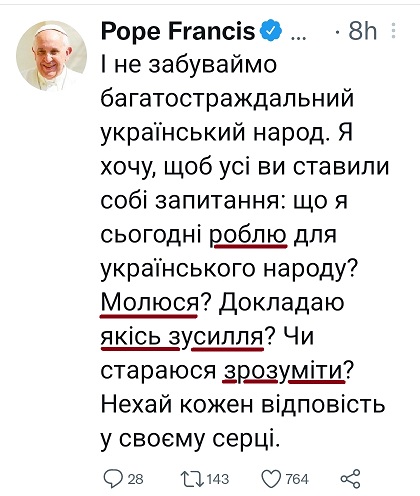 WINNIPEG REFUGEE - NEWCOMERS ASSISTANCE GROUP APPEALS FOR VOLUNTEERS
As more and more refugees arrive into Winnipeg from war-torn Ukraine, the local Manitoba Branch of the Ukrainian Canadian Congress is in need of more volunteers. They are asking for more people to come forward to help the newcomers settle in and "learn the ropes" and just be a friend or a contact to explain and guide them through the challenging nuances of life in a new land.
If you can spare some time - at least maybe inquire to find out if this is for you - contact the U.C.C. volunteer office now....
Tel. 204-942-9348
Ukrainian speaking volunteers to act as "language assistants" for those coming to the UCC-MPC Reception Hub at the Best Western Airport Hotel (Wellington Ave) to help provide a warm welcome to newcomers. Volunteers help connect people to Ukrainian community resources. The Reception Hub is open 6 days per week (Monday-Saturday) and hours vary day to day and go into the evening on some days.
Please fill out this short survey [CLICK HERE] to indicate your interest. Once your information is received, orientation information will be sent to you along with the signup link.
---