INDIGENOUS PEOPLES EXPRESS SOLIDARITY WITH UKRAINIAN NEIGHBOURS
February 27, 2022
INDIGENOUS PEOPLES REACH OUT TO LOCAL UKRAINIANS IN SUPPORT
The Ukrainian People have received an overwhelming outpouring of moral and prayerful support since Russian troops began assembling along the Ukrainian border months ago. Since Russian President Vladimir Putin actually did the unthinkable and gave the order to invade, that support has increased a hundred-fold.
The words of support have come from global and local religious leaders like Pope Francis and the Ecumenical Patriarch Bartholomew and from the local pastor from the church down the street. World leaders from Europe to the Americas and from many countries around the world have condemned the unprovoked and globally dangerous invasion ... while offering support to Ukraine its citizens. Some of the most heartfelt experience of support come in a little way between neighbours that never really gave their ethnicity much thought until now. "Hey, Helen, your family comes from Ukraine, not? My sympathies and prayers are with you and your people".
One of the most heart-warming developments is the support of indigenous peoples toward the Ukrainian communities in their midst. It was somewhat unanticipated as indigenous peoples would have developed their rapport with the first waves of European immigrants - often English, French, Irish, perhaps and German. Ukrainians slipped into the 'New Worlds' considerably later at the turn of the last century or after the Second World War.
There have been several such expressions of sympathy and support, but these are three such examples....
Just recently the Winnipeg Free Press published an article on its Opinion page, entitled, "Ukrainian People are My People Too". It was written by Niigaan Sinclair a member of Canada's Anishinaabe First nations. He is a professor at the University of Manitoba and a well-known writer and activist. In his article (which will have many a Ukrainian in tears) he talks about his years of friendship with people of Ukrainian origin - including his "best friend". His appreciation for Ukrainian food ("I've had borsch and bannock more than once..") and his explaining the cultural exchanges between Ukrainians and Indigenous people simply verify that which is inevitable among people that live together in the same place. He doesn't let Ukrainians off the hook for their participation in historic "racist acts" over the years, but he also recognizes the hardships and pain and genocide that both his people and Ukrainians have experienced.
Chief Billy Morin of the Maskekosihk Enoch Cree Nation situated in the middle of the Province of Alberta, tweeted on the day the Russian troops started moving into Ukraine. He too acknowledged historic friendships between Indigenous peoples and Ukrainian immigrants. He assured Ukrainians here in Canada that his people stand in solidarity with friends, family and zemliaky in Ukraine.
The third example account comes from "down under". But it does have a Canadian connection as the story was shared by Sister Nicodema Zemliak, SSMI who is from Canada (Manitoba in fact), but has been serving in Australia for many years now. At the Ukrainian Catholic Parish of St. John the Baptist, with she is associated, in Perth, Australia, local groups - Haka for Life and Corroboree for Life - of Australia's Aboriginal and New Zealand Maori peoples came to perform and show their support. They performed and danced and declared their solidarity with the people of Ukraine and offered their sympathy to the local Ukrainian Community. The people were overwhelmed with emotion at the unbelievable gesture of kindness. Below are some photos from the Perth event....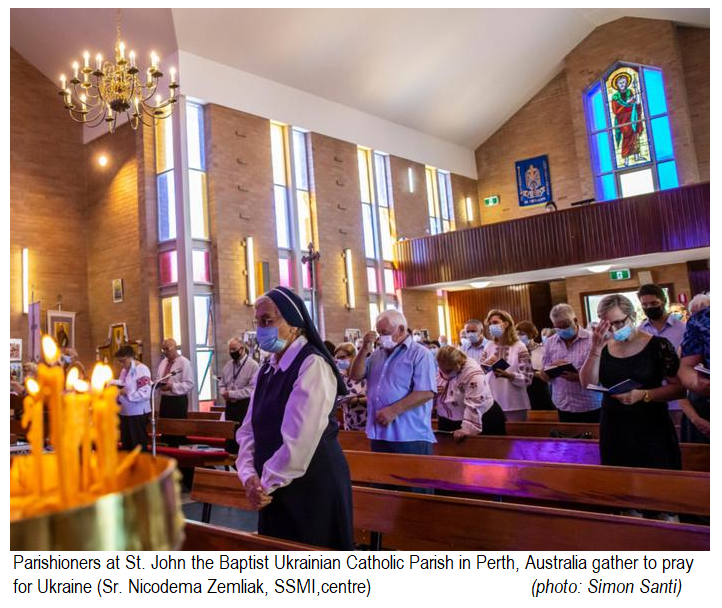 ​​​​​​
---