ANOTHER DAY OF HOPE IN THE ARCHEPARCHY
November 13, 2021
DAY AFTER FIRST SNOWFALL DEACON ANTIN SLOBODA ORDAINED AT CATHEDRAL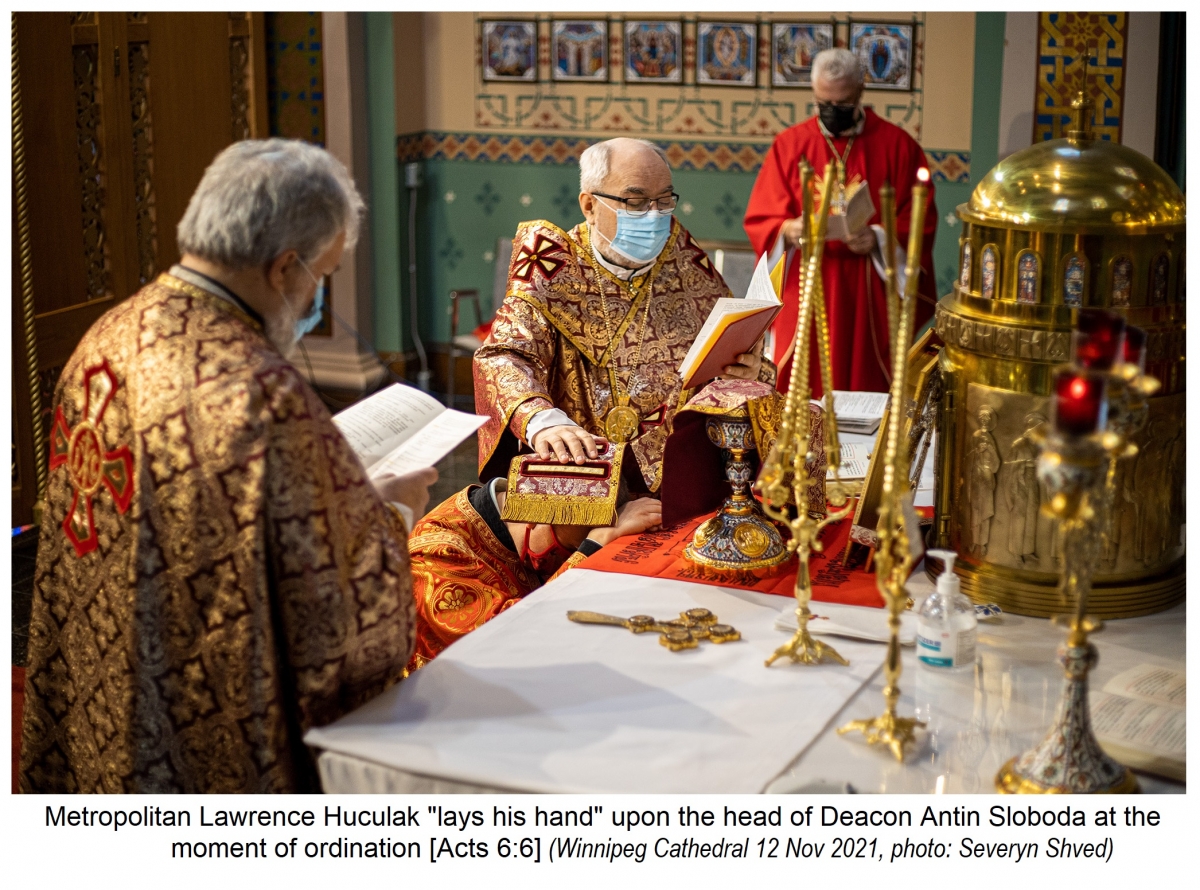 It was November 12, 2021 on the morning of the feast of the holy Hieromartyr Saint Josaphat. The weather was relatively bright and calm following two days of billowing snow in the city of Winnipeg. Vehicles were inching along towards Sts. Volodymyr and Olha Cathedral and some, of course, were bogging down in the 15 centimeters of snow that had fallen over Manitoba. With the weather the way it was, together with the province's covid restrictions the crowd was not massive. However, the event happening in the Cathedral was truly special. Canadian Armed Forces Chaplain, Captain Antin Sloboda was being ordained to the diaconate. The ordaining bishop was the Archbishop of Winnipeg, Metropolitan Lawrence Huculak with the participation of Most Rev. Scott McCaig the Bishop of the Military Ordinariate of Canada. A number of other chaplains and military personnel were present as well as several brother clergy of the Archeparchy of Winnipeg. Deacon Anton's wife Olesia and son Adam were present among the relatively small group of faithful who had also gathered for the ordination.
The Cathedral parish follows the Julian Calendar for its day-to-day liturgical life, but by the ordination candidate's personal request the feast of the Bishop and Martyr Josaphat was celebrated according to the Gregorian calendar. Thus, the vestments were red in honour of the great martyr for Christian unity. It was also the day after the November 11th feast of the Patron of the Canadian Military Ordinariate - St. Martin of Tours.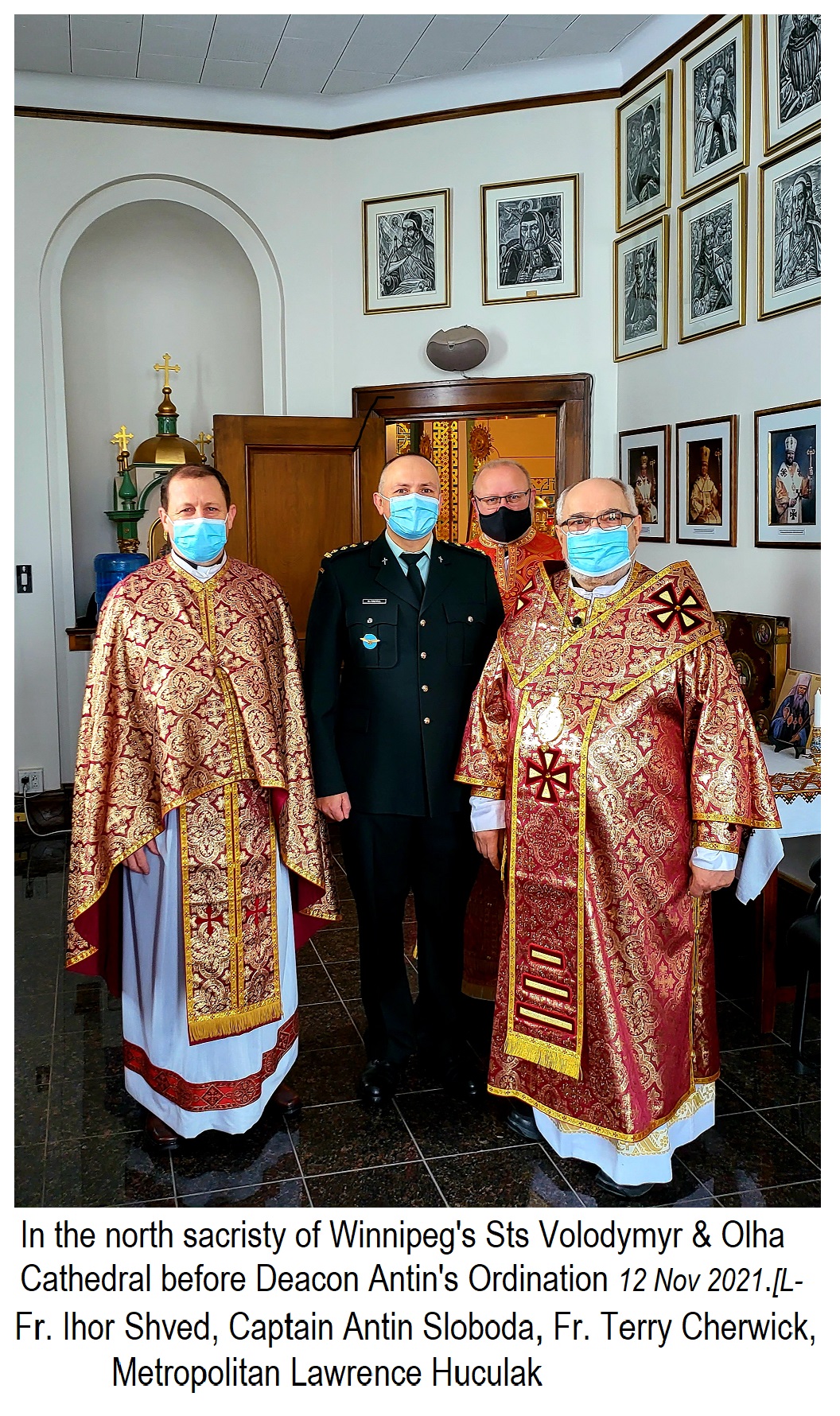 Three priests led the responses for both the Eucharistic Liturgy and the rite of ordination - Fathers Yaroslav Buduykevych, Michael Winn and Walter Dudych. Long-time acquaintance of the ordinand, Fr. Michael Kwiatkowski served as the Archdeacon. There were several members of the clergy and other chaplains present, however only a few were able to serve at the Altar, among them: the Rector of the Cathedral Fr. Ihor Shved and Chaplain and Vicar-General of the Military Ordinariate Fr. Terry Cherwick. Seminarian Alexander Pankiw assisted throughout the event.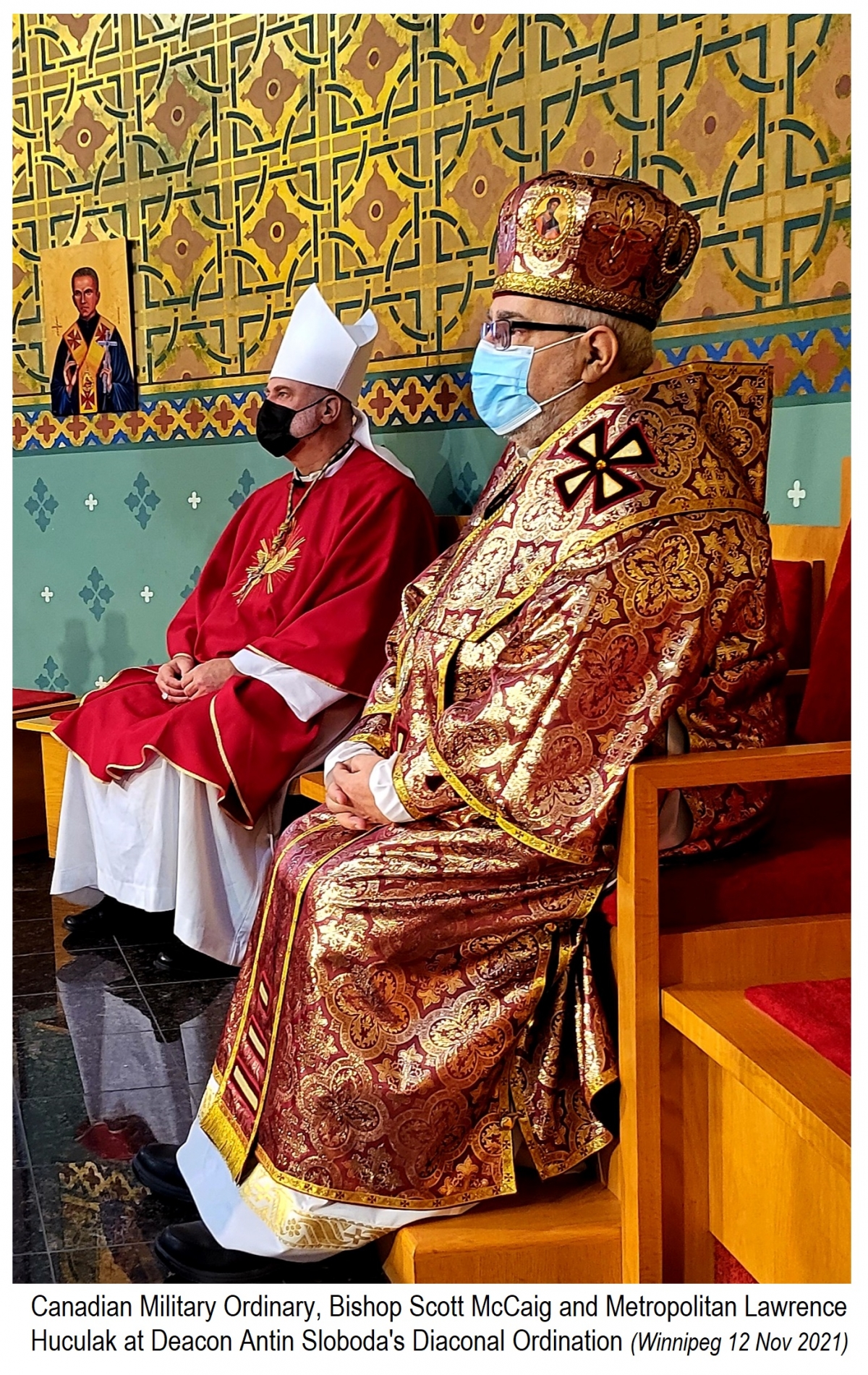 The event was simply an uplifting experience. Part of the reason was the long and unique journey that Deacon Anton took to get to this moment, but also just because it was a moment of blessing for the Archeparchy and for our armed forces personnel and for the Church in general to have another person dedicate his life to the Lord and to the service of His Church. Great things ahead!
Please keep Deacon Antin and all clergy and seminarians in your prayer - as well as all those who serve in Canada's military.
Ἄξιος! Многая Літа!
Watch the entire ordination liturgy below. Some of the highlights are.... Bishop Scott's Homily (at 24:00); the Ordination ceremony (beginning at 55:45) and Deacon Anton's moving acknowledgement (at 1:27:58)
We have added the text of Deacon Anton's extraordinary post-ordination remarks below.... (watch it in the video above at 1:27:58)
Deacon Sloboda's post-ordination address...
Sts Olha & Volodymyr Cathedral, Winnipeg, MB
12 Nov 2021
Glory to Jesus Christ! Слава Ісусу Xристу!
First, I want to thank all of you for joining me today in-person or virtually. Дякую всім, хто приєднався до сьогоднішньої події, особисто та через інтернет.
Thank you, Archbishop Lawrence, for welcoming me into Winnipeg Archeparchy, for your fatherly care, and for ordaining me a deacon. Thank you, Bishop Scott, for coming for this ordination all the way from Ottawa and for sharing with us your words of wisdom. Your presence made this day, indeed, very special for me and my family.
At the end of this talk, I will also thank others who have been walking with me on my spiritual and personal journey, but now I would like to share some thoughts with regards to the meaning of this ordination.
Some of you might say to yourself, - what a terrible timing to have an ordination during a pandemic! It is practically impossible to plan anything in advance; there are restrictions on how many people and who can be invited, everyone needs to follow strict safety precautions, we cannot have a proper community fellowship afterword, and even hugs are discouraged.
Well, I might surprise some of you, but I want to say that today, November the 12th, 2021, when we celebrate the Feast of Saint Josaphat, I see as the best timing possible for my ordination. Not only because COVID gives me an excuse to cut down expenses on refreshments after this ordination, ;-)

but

first and foremost

because the conditions that we have been facing right now remind me to some extend of the times that laid foundation for my vocation - the times when our Church existed in Soviet Ukraine. In that era religious gathering were small and family-centred, we prayed with the global church with the help of radio receivers, and the most certain thing about our future was its unpredictability.
For many of us the last two years have been very uncertain. However uncertain times can also be meaningful times. Throughout my live, I drew the most inspiration from people who remained faithful to God and who carried on their mission in the times of uncertainty.
One of them was my late grand-father Adam Morawsky, a Ukrainian Catholic priest. He lived and served in the times of extreme uncertainty. He was ordained by Bishop Nykyta Budka, the first Ukrainian Catholic Bishop in Canada who established the institutional church on this land, and who consequently contributed to the very existence of this cathedral.
After spending fifteen years in Canada Bishop Budka returned to L'viv where in 1942, in the middle of

the Second World War

he ordained my grandfather. That year the city of L'viv was under Nazi occupation; by that time the war and violence had already taken thousands of lives in that city: Ukrainians, Jews, Poles, and others. By the end of the war the death toll in Ukraine reached over 7 million, however the end of that war did not bring the end of uncertainty for my grandfather. Shortly after L'viv was overtaken by the Soviets and our church was made illegal because of its catholic identity, my grandfather, his family, along with hundreds of other Ukrainian Catholic leaders was arrested and sent to GULAG labour camps in Siberia.
Neither my grandfather nor his ordaining bishop lived long enough to see our churches being open again. After nine years of ordeals in the camps, my grandfather returned to L'viv where he continued serving his people as an underground Ukrainian catholic priest; and Bishop Budka several years after his arrest died in a concentration camp in Soviet Kazakhstan.
"

Greater love has no one than this: to lay down one's life for one's friends

". This verse from the Gospel of John 15:13 was printed on my grandfather's ordination commemoration card. On the day of his ordination there was a lot of uncertainty, but two things were clear his mission, and his commitment to carry it on till the end.
This is what ordination is all about for me. It is a permanent commitment to strive serving God, Church, and your neighbour in need, in times of peace, turbulence and uncertainty. I pray that my

predecessors: martyrs, and confessors from whom I have inherited my faith, and who are spiritually present with us today, will help me to complete this mission.
Amen.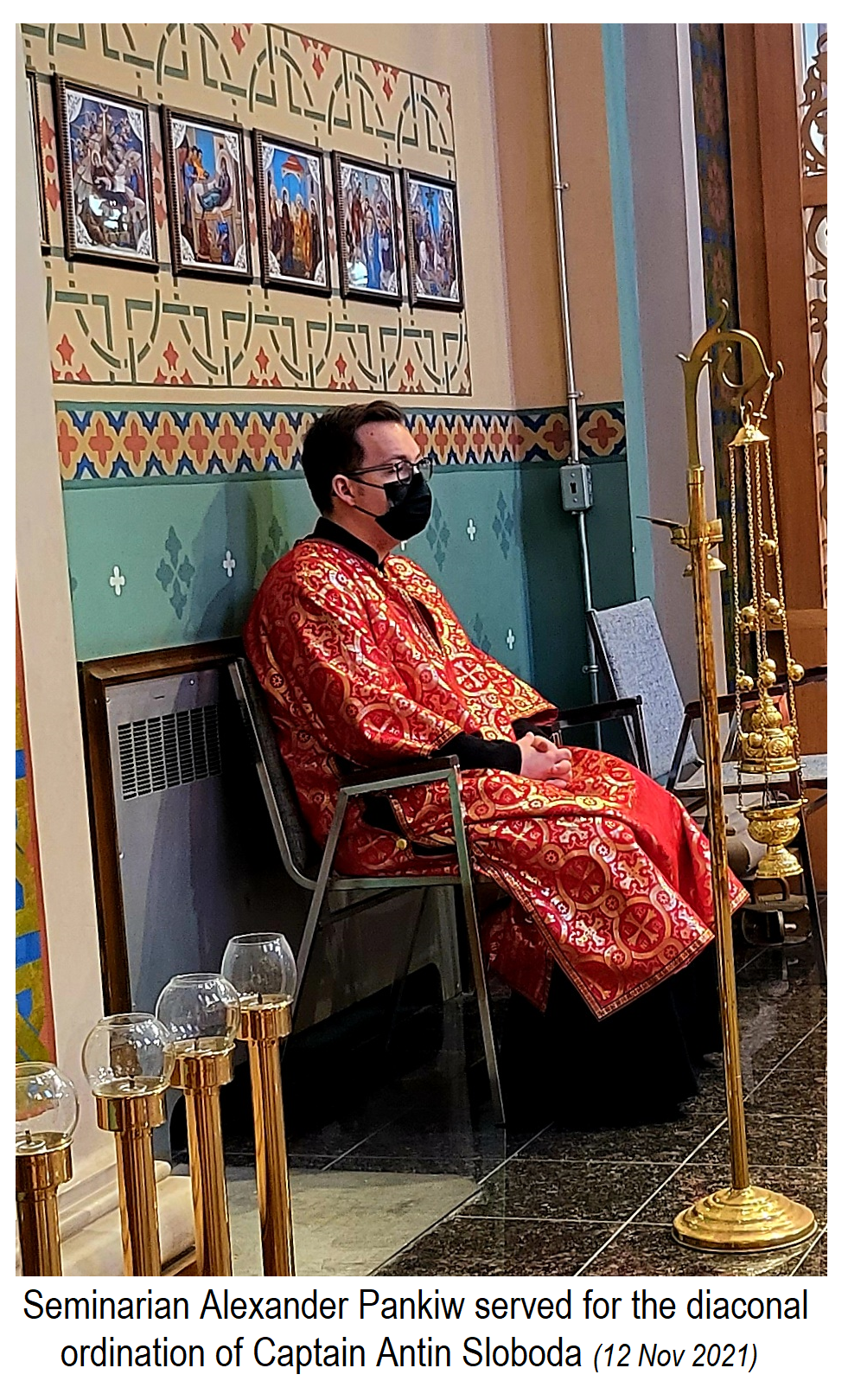 ---