BLESSED JOSAPHATA SPECIAL COMMEMORATION DAY NOVEMBER 20
November 9, 2021
NOVEMBER 20, 2021 - A SPECIAL DAY TO CELEBRATE BLESSED JOSAPHATA HORDASHEVSKA
20 листопада Церква спогадує пам'ять преподобної матері Йосафати Гордашевської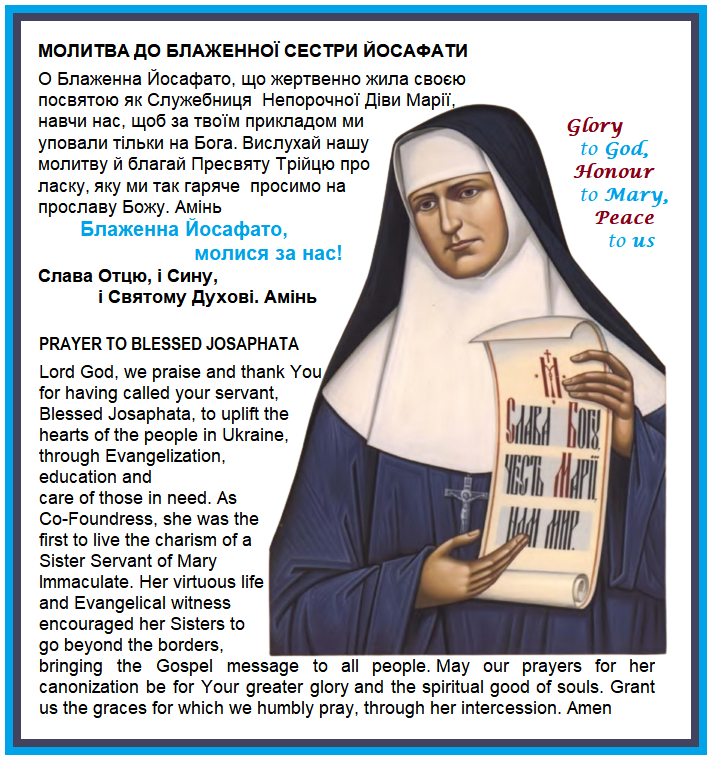 On November 20 we will celebrate the special commemoration of the co-foundress of the Sisters Servants of Mary Immaculate, Blessed Josaphata (Hordashevska, SSMI). She was declared "Blessed" before a crowd of hundreds of thousands of the faithful by Pope Saint John Paul II just outside the City of Lviv, Ukraine in 2001.
Read a brief biography of Blessed Josaphata at the SSMI website [HERE]
Revisit the 2019 celebration of the 150th Anniversary since the birth of Blessed Josaphata at the major Basilica of Santa Maria Maggiore in Rome [HERE]
Read the special centenary lecture by Sr. Oresta Svorak, SSMI on the "Eucharistic Spirituality of Blessed Josaphata" [HERE]
Watch your parish bulletins for information on special local events to honour and celebrate Blessed Josaphata and to seek her intercession before the Lord
_____________________________________
Bienheureuse Josaphata Micheline Hordashevska

fondatrice de la Congrégation des Soeurs Servantes de Marie Immaculée (+1919)
Originaire de Lviv en Ukraine, elle devint religieuse à 18 ans. Cofondatrice avec le Père Kyrylo Seletsky de la première Congrégation féminine de rite byzantin-ukrainien les Sœurs Servantes de Marie Immaculée, elle se consacre au soin des malades, aux catéchismes, à l'entretien des églises pauvres. En se remémorant chaque jour la passion du Christ, sœur Josaphata trouve la force de supporter en paix de nombreux problèmes. Atteinte d'un cancer des os qui la fait terriblement souffrir, elle meurt à 49 ans. Sa tombe se trouve à Rome dans la Maison Généralice de sa congrégation. Elle a été béatifiée en juin 2001 à Lviv par Jean-Paul II.
Domine Deus, gratias ago tibi, et laudamus nomen tuum quoniam autem servus, beatus Josaphata Hordashevska et mulcere dedit in corda hominum, propter Evangelium praedicandi, quae cura et educatione vero erit quasi fur. Ut sociam fundatricem, primo fuit a gratia gratis data ad vivere soror ad Beatissimam Virginem Immaculatam Servi. Testimonium evangelicum, et sanctae conversationis habitum quaesivit eam extra septa adhortatus ad Sorores, ad Evangelium cunctis hominibus nuntius. Cum quibus et nostras orationes tuae et canonizationis sit major gloria, et bonum spirituale animarum. Dona nobis cuius gratia, supplices deprecamur: Per eumdem. Amen.
Pater noster, Ave Maria, Gloria ...
---