2021 ARCHEPARCHIAL PILGRIMAGE TO COOKS CREEK
August 18, 2021
2021 PILGRIMAGE A WEEKEND OF GRACE AND RENEWAL
In spite of everything that is happening in the world (or perhaps because of it) hundreds of faithful from around Manitoba made the trek to Cooks Creek over the weekend of 13-15 August for three days of prayer, renewal and Christian fellowship. The site was the famous second "prairie cathedral" and grotto that were constructed under the direction of the saintly missionary priest Fr. Philip Ruh, OMI. Faithful from throughout the Archeparchy and beyond have been making their way to the spiritual centre annually for some 67 years. The parish and grotto were given a Lourdes theme. The church and parish are named for the "Immaculate Conception", while one of the features of the adjacent grotto is a larger-than-life cavernous shrine similar to that found at Lourdes, France where the Mother of God affirmed to St. Bernadette, that "I am the Immaculate Conception".
Depending on the year, the number of pilgrims over the three-day schedule of events, would range from the hundreds, even into the thousands. However, for the last few years, although the program was always full and well-planned and the hospitality of the parish always - amazing, the numbers of pilgrims seemed to be waning. This year, however, attendance wise - the pilgrimage was definitely back on track. Perhaps it was pandemic-fatigue and the eighteen months of restricted access to the Sacraments and to gathering with brothers and sisters in Christ, but people came out to the pilgrimage in numbers that haven't been seen for a while.
Many cautionary restrictions were still in place, of course, but the usual program was still possible. There was the Friday evening Rosary led by the Ukrainian Catholic Women's League and two walking pilgrimages. There were daily Eucharistic liturgies and molebens. The movement Mothers in Prayer held a parallel day of renewal on Saturday. One of the most noticeable occurrences was the almost endless streams of people wanting to make a good Confession after months of not being able to. Father Taras Kowch is the pastor of the parish-shrine, but there were several priests and deacons each day to lead services and, again, be available for the many who wanted to make a good Confession.
His Grace, Metropolitan Lawrence Huculak, the Archbishop of Winnipeg, attended at different times, but his main participation was to lead the Sunday Divine Liturgy at the Grotto at which he preached the homily and then performed the traditional blessing of flowers and herbs.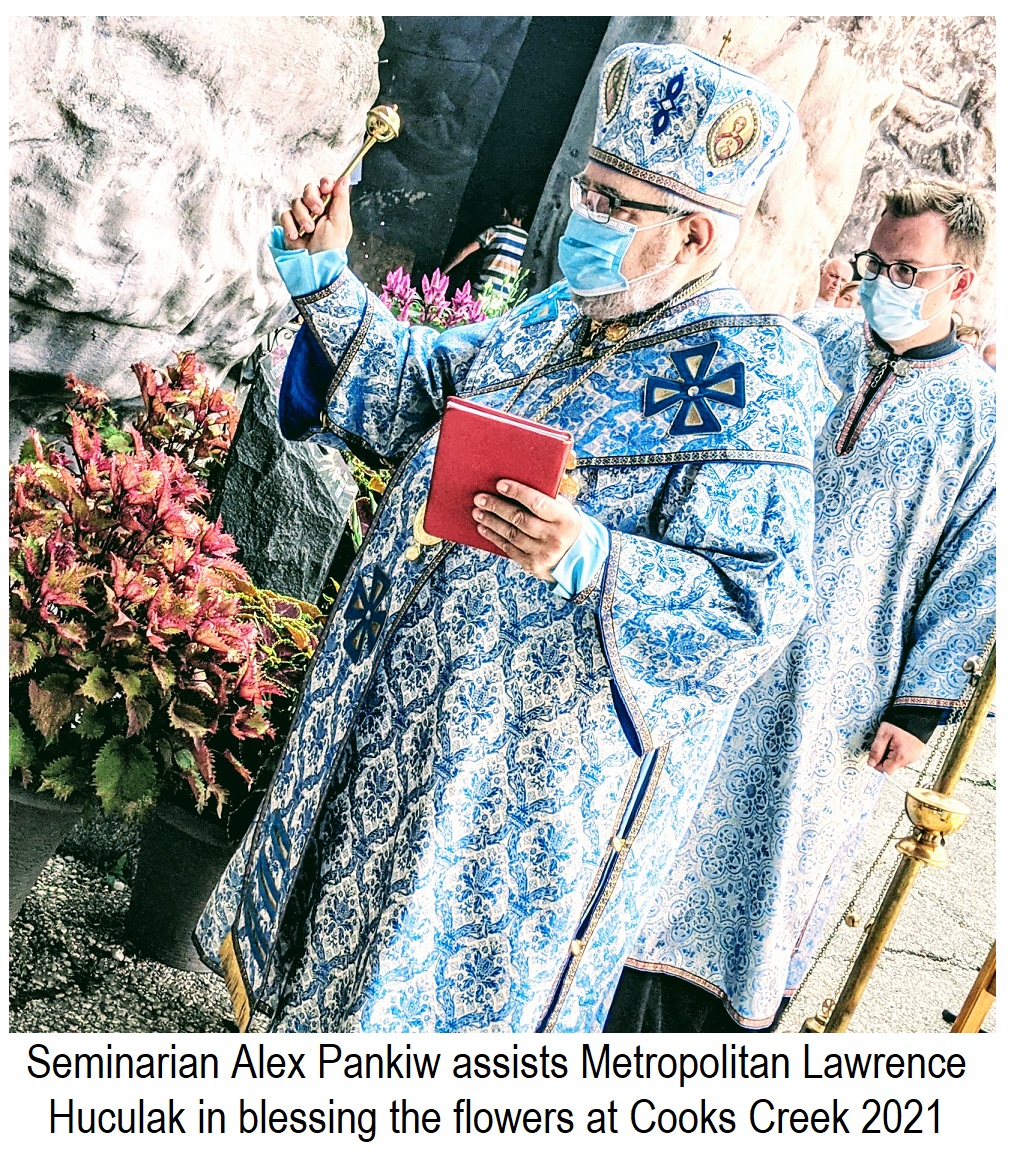 It was a beautiful event. We must be grateful to the parishioners of Cooks Creek and many others that made the pilgrimage the success that it was. The blessings that the Lord poured out upon His people through the intercession of His Blessed Mother, will benefit the Archeparchy immeasurably as we continue to navigate the pandemic, but also the "new normal" that is sweeping the world. Cooks Creek 2021 was a source of renewal, but also a sign of great hope for the faithful throughout the province.
---