DATE SET FOR MEETING OF POPE AND CANADA'S INDIGENOUS PEOPLES
June 29, 2021
VATICAN SETS DATE FOR LONG-PLANNED MEETING BETWEEN POPE FRANCIS AND CANADA'S INDIGENOUS PEOPLES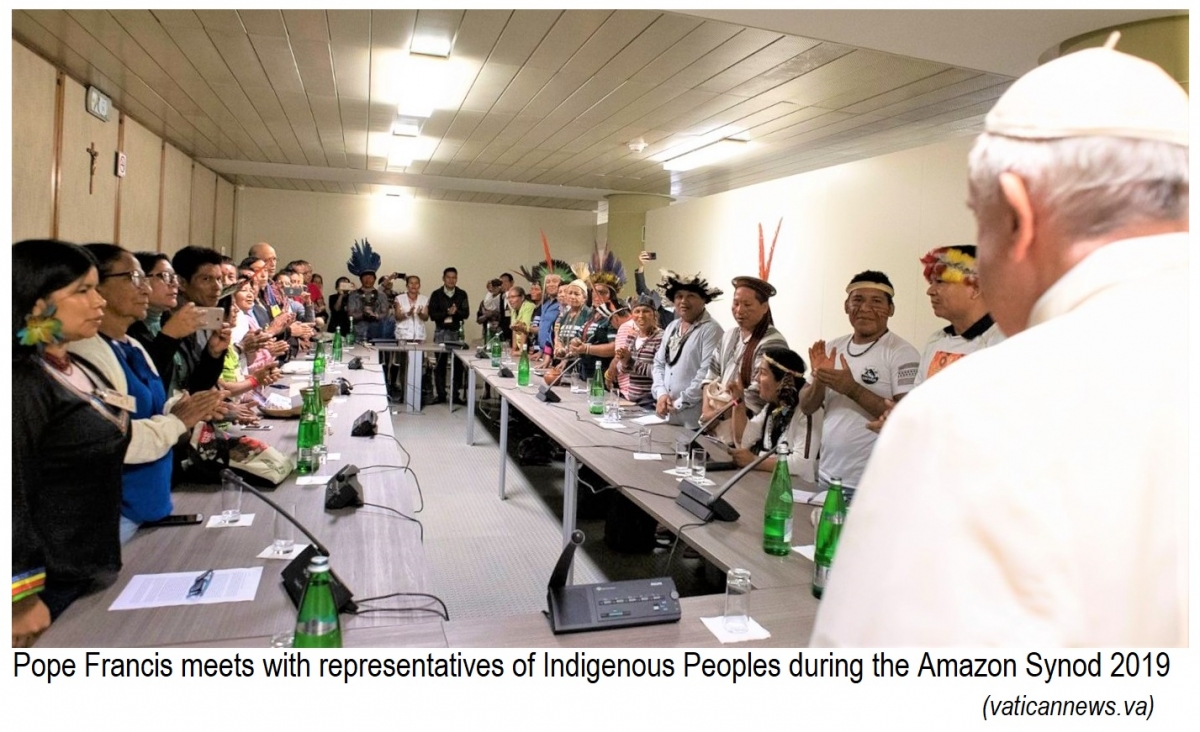 The Canadian Conference of Catholic Bishops has announced that the date has been set for when Pope Francis will host representatives of the Canada's Indigenous Peoples at the Vatican for four days of encounters and events.
The statement issued by the CCCB on the Feast of Sts. Peter and Paul, 29 June 2021, [given below] offers some details of the meeting.
As the CCCB President, Winnipeg's own Archbishop Richard Gagnon, together with his French-language counterpart Bishop Raymond Poisson, is serving as an official spokesperson for the CCCB to answer questions from media regarding this statement and related questions. Any media requests may be forwarded via Mrs. Lisa Gall, Lead, Communications Service, by email at l.gall@cccb.ca or by phone at 613-241-9461, ext. 225.
Planning for the delegation is ongoing and further details will be shared once they are available. In the meantime, during this period leading up to the special event. We are asked to offer our prayer that the encounter will be beneficial to all involved and that it will lead to a more profound truth and reconciliation.
________________________________________________
CCCB Statement
Date of the Delegation to the Holy See
Following the 10 June 2021 announcement regarding the delegation of Indigenous people to meet with the Holy Father to foster meaningful encounters of dialogue and healing, the Catholic Bishops of Canada are pleased to announce that the delegation is scheduled to take place from 17-20 December 2021 in compliance with global travel restrictions.
Pope Francis is deeply committed to hearing directly from Indigenous Peoples, expressing his heartfelt closeness, addressing the impact of colonization and the role of the Church in the residential school system, in the hopes of responding to the suffering of Indigenous Peoples and the ongoing effects of intergenerational trauma. The Bishops of Canada are deeply appreciative of the Holy Father's spirit of openness in generously extending an invitation for personal encounters with each of the three distinct groups of delegates - First Nations, Métis and Inuit - as well as a final audience with all delegates together on 20 December 2021.
This pastoral visit will include the participation of a diverse group of Elders/Knowledge Keepers, residential school survivors and youth from across the country, accompanied by a small group of Bishops and Indigenous leaders. Planning for the delegation is ongoing and further details will be announced when they are available.
The Bishops of Canada reaffirm their sincere hope that these forthcoming encounters will lead to a shared future of peace and harmony between Indigenous Peoples and the Catholic Church in Canada.
29 June 2021
---