MOTHER OF HIS BEATITUDE SVIATOSLAV REPOSES IN THE LORD
April 12, 2021
METROPOLITAN LAWRENCE SENDS CONDOLENCES TO HEAD OF UKRAINIAN CATHOLIC CHURCH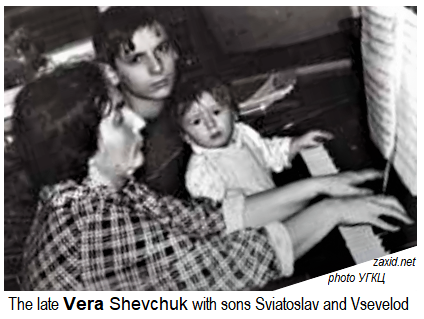 "On the occasion of the reposing in the Lord of your dear mother, the servant of God, Vera, please accept condolences on my behalf and on behalf of all the faithful of Archeparchy of Winnipeg.
The sad news of the passing of your mother spread quickly throughout the Church and everyone joined together in their prayer for your mother and for you and all your family. However, as many of our parishes recently celebrated the feast of the Resurrection of our Saviour, they are also filled with justified hope in the promise of our Lord to us all of new and eternal life!
May your mother rest in peace. Eternal be her memory! Vichna yiy pamyat'!"
-----------------------------
Блаженнішому Патріархові Святославові
Верховному Архиєпископові Києво-Галицькому
м. Київ
Україна
Ваше Блаженство,
Дорогий Владико Святославе,
Слава Ісусу Христу!
З нагоди упокоєння в Господі вашої дорогої матері слуги Божої Віри, прийміть співчуття від мого імені та від імені всіх вірних Вінніпезької Архиєпархії.
Сумна звістка про те, що ваша Мати померла, швидко поширилася по всій Церкві, і всі приєдналися до молитви за вашу Матір та Вас і вашу родину.
Однак, оскільки багато наших парафій нещодавно святкували свято Воскресіння нашого Спасителя, вони сповнені праведною надією в обітниці нашого Господа всім нам про нове і вічне життя.
Нехай ваша Мати спочиває в мирі! Вічна їй пам'ять!
Ваш брат у Христі,
+ Лаврентій,
Митрополит
---