ARCHEPARCHY BIDS FAREWELL TO DEDICATED PRIEST
March 3, 2021
FUNERAL SERVICES HELD IN NEEPAWA AND WINNIPEG
Wednesday, 3 March 2021 at 1:00 PM - Panakhyda at St. John Parish Church in Neepawa. Regulated viewing from 11:00 AM
Thursday, 4 March 2021 at 1:00 PM - Priestly Parastas at St. Andrew Parish Church in Winnipeg (160 Euclid Ave.). Due to stringent regulations, this service was reserved for clergy only. However, it was livestreamed for wider online participation by Korban Funeral Chapel that handled the Arrangements.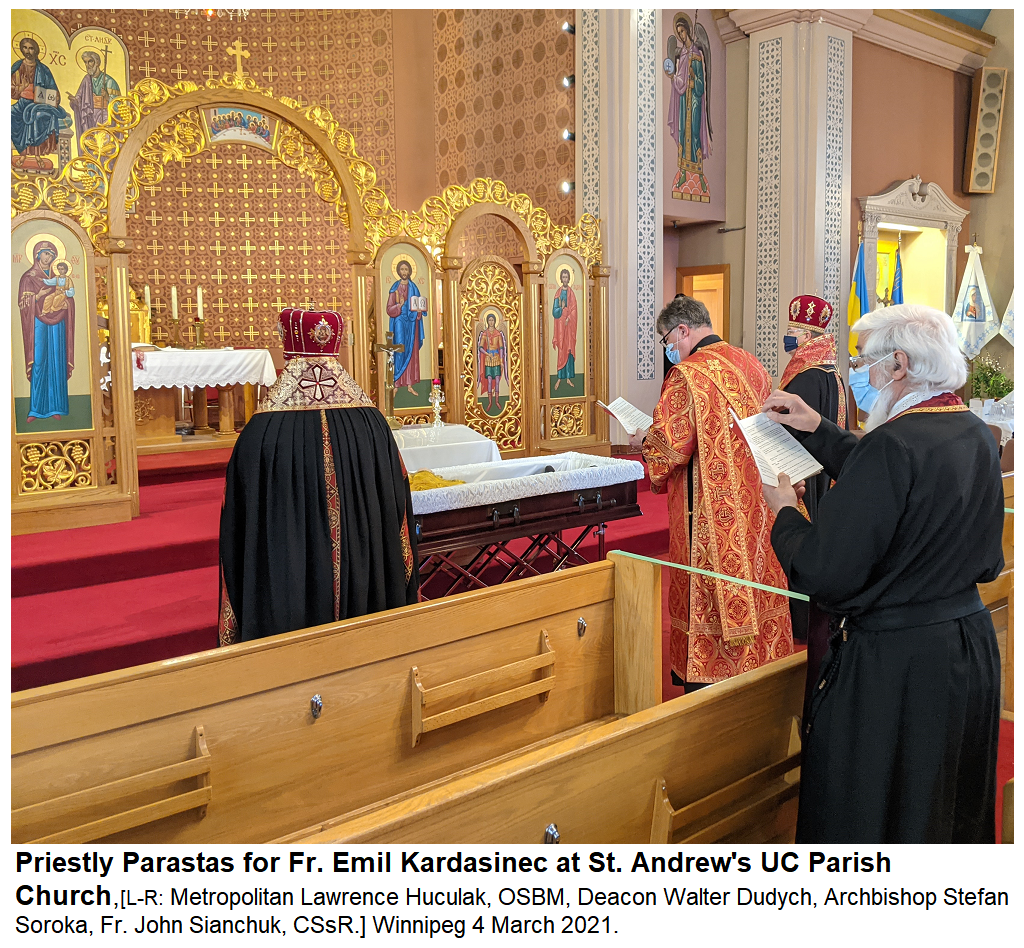 More information below....
REV. EMIL KARDASINEC (1951 - 2021)
Rev. Emil Kardasinec, a priest of the Ukrainian Catholic Archeparchy of Winnipeg, following the Anointing of the Sick, fell asleep in the Lord on Wednesday, 24 February 2021, at the Neepawa Health Centre, at age 69. The only child of the late William and Katerine (nee Turkocio) Kardasinec, he was born on 9 March 1951 in Winnipeg MB. Raised and educated in Winnipeg, Emil was involved in various church and cultural organizations. He was a member of St. Andrew's parish for over 40 years, and served on parish council in various capacities for over 15 years. He attended the University of Manitoba where he majored in Mathematics. He then attended Red River College, receiving a Diploma in Chemical Technology. He worked three years as a Chemical Technician at Canada Packers and thirteen years as a Chemical Sales Representative for Rochester Midland Chemicals Ltd.
From 1994 - 1997 Emil took diaconal studies offered by the Archeparchy of Winnipeg and in January 1998 he entered Holy Spirit Ukrainian Catholic Seminary in Ottawa. Upon completion of his seminary studies Emil was ordained to the diaconate by then Metropolitan-elect Stefan Soroka on 22 December 2000 at St. Andrew's Church. Deacon Emil completed a Bachelor of Theology degree in Eastern Christian Studies at the Metropolitan Andrey Sheptytsky Institute of Eastern Christian Studies granted by St. Paul University (Ottawa) in April 2001.
On 19 August 2001, during the annual Pilgrimage Liturgy at Immaculate Conception Church, Cooks Creek, MB, Dc. Emil, together with Dc. Peter Chorney, Dc. Michael Krochak and Dc. Nestor Yakiwchuk, was ordained to the priesthood by Metropolitan Michael Bzdel.
From 2001 to 2005 Fr. Emil served as pastor at Holy Ghost Parish in the The Pas Pastoral District that included Thompson (St. Joseph) and Flin Flon (Pokrov). Then from 2005 until his passing Fr. Emil served as pastor of the Neepawa Pastoral District, including: Alonsa (St. George), Crawford Park (Ascension), Elphinstone (Pokrov), Erickson (Sacred Heart), Glenella (Sts. Peter & Paul), Glenhope (Pokrov), Horod (Holy Eucharist), Minnedosa (Ascension), Mountain Road (Pokrov), Newdale (Sts. Peter & Paul), Ozerna (St. Nicholas), Rackham (St. John the Baptist), Sandy Lake (Holy Ghost), Scandanavia (Dormition). When his health began to fail Fr. Emil wrote regarding his pastoral ministry: "I would like to serve Christ in my capacity as a priest for as long as I can."
On Wednesday, 3 March 2021, a Panakhyda Memorial service will be held at 1:00 pm at St. John the Baptist Ukrainian Catholic Church in Neepawa MB (117 Mountain Ave, R0J 1H0). This will be preceded by visitation in the church beginning at 12 noon. Covid 19 protocols will be followed including distancing, wearing of masks and use of hand sanitization. Limited attendance will be on a first come basis. The service, however, will be livestreamed
On Thursday, 4 March 2021, Priestly Parastas (funeral service) will be held at 1:00 pm at St. Andrew's Ukrainian Catholic Church in Winnipeg MB (160 Euclid Ave. R2W 2T2) This will be preceded by visitation in the church beginning at 12 noon. Covid 19 protocols will be adhered to including distancing, wearing of masks and use of hand sanitization. Limited attendance will be on a first come basis. The service will be livestreamed. Burial will take place at Holy Family Cemetery.
Metropolitan Lawrence and Archeparchy clergy will officiate.
Korban Funeral Home is in charge of arrangements.
Donations in memory of Fr. Emil Kardasinec can be made to the education of priests at Holy Spirit Ukrainian Catholic Seminary, Edmonton AB, c/o Archeparchy of Winnipeg, 233 Scotia Street, Winnipeg MB R2V 1V7.
Blessed are they whom you have chosen and taken to Yourself, O Lord, and their memory shall be from generation to generation. (Ps. 65:5)
Everlasting Memory - Vichnaya Pamyat!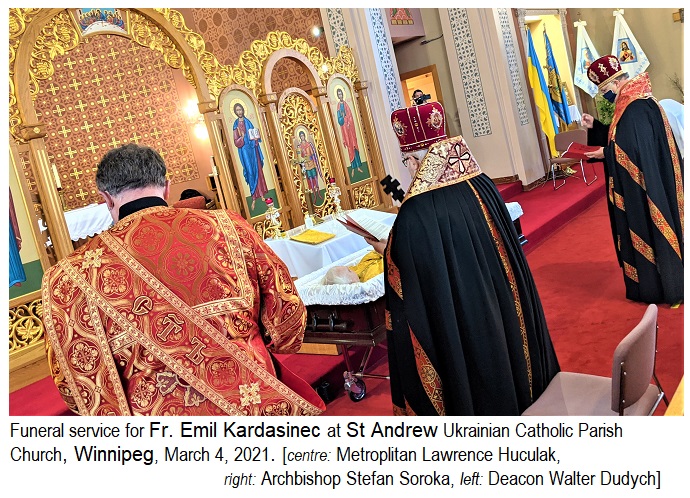 ________________
MEMORIES.....
Surely everyone that met Father Emil - especially his brother clergy and those that had him as their Parish Priest. As Father Emil was what is referred to as "a later vocation" (i.e. he entered the seminary later in life than most candidates) there are also many who know him from before his ordination. One such individual is his life-time friend, Ihor Holinka from Edmonton. Ihor and his wife Sharon and family were saddened to hear of Fr. Emil's passing and he wanted to share some memories. Here are some excerpts from what he wrote...
"... This is Ihor Holinka from Edmonton. .... [I would like] to contribute some personal sentiments about Fr Emil and myself.
Fr Emil and I go back years - to be precise, we became friends in elementary school. We attended Machray School in Winnipeg, then St John's High School, and The University of Manitoba. Our families knew each other; we were members of St Andrews Ukrainian Catholic Church, altar boys. As altar boys, we had some memorable times with Very Rev Mitrat Fr Joseph Pulak - we used to go prior to Christmas to cut Christmas trees for the Nativity scene at the church. As we grew a little older, we used to go to a billiard hall located on Portage Avenue - as Fr Emil lived on Boyd Ave and I on St Johns Avenue, we walked to the pool hall, played some games, and walked home. On the way home, we used to stop in for dessert to a Chinese restaurant kitty corner from Portage Ave and Main called Chans Cafe - Fr Emil had coconut cream pie and I, banana cream. Fr Emil and his father and myself used to go to the sand pits by Birds Hill Park, make a fire, and roast back bacon! So good! As we got older... One of the more memorable trips we took with two of our other friends was to go see Led Zepellin in Minneapolis. He did weight training in his youthful days and developed quite the physique. He also played the accordion!
"Prior to becoming a priest, Fr Emil was in Sharon's and I bridal party. He co-officiated at our eldest daughter Ulana's wedding. In spite of the miles, we stayed in touch with one another. Periodically, my wife and I would travel to Winnipeg to visit family, and if the occasion presented itself, we would try to meet Fr Emil and chat. Being in Neepawa, Fr Emil got to know my wife Sharon's side of the family; ... at the parish at Mountain Road, attended [her] aunts and uncles homes for meals. He also officiated at the passing of her aunt and uncles.
"His passing hit me hard. I never expected that he would be gone so soon. He was a gentle soul, kind and caring. In all the years of knowing him, he never raised his voice, never became angry. He did have a great sense of humour, and up until his passing.....
He will be missed! God grant Him Eternal Rest! Vichnaya Pamyat!"
God willing, when everyone can get together for a memorial Liturgy when the pandemic subsides a bit more, we will be able to share and hear many more accounts about Father Emil's life and how he touched the lives of many as one who said "yes" to the Lord and God's People.
---