METROPOLITAN LAWRENCE CELEBRATES 70TH BIRTHDAY
January 25, 2021
HIS BEATITUDE SVIATOSLAV GREETS METROPOLITAN LAWRENCE ON THE OCCASION OF HIS 70th BIRTHDAY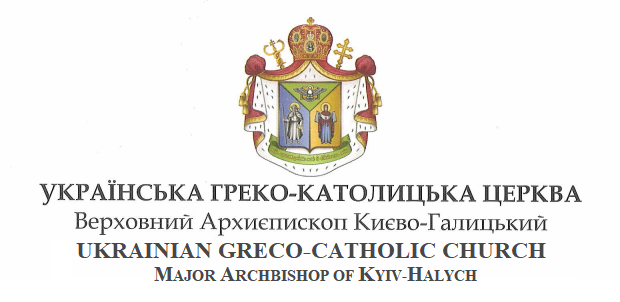 Most Reverend Metropolitan
On my own behalf and on behalf the Synod of Bishops of our Church, I wish to sincerely greet you on the occasion of your 70th Birthday!
On this day of celebration, we thank the Lord for the gift of your life, your episcopal ministry and for all the gifts with which He richly blessed you and which you generously multiplied throughout your dedicated service to God and Church. Your life is an invaluable treasure, offered on the altar of the Archeparchy of Winnipeg for the Faithful for whom you became the good shepherd who gives his life for his sheep (Jn. 10:11)
For the thousands of Ukrainians seeking a better life who made their way to Canada you became a caring father, a zealous preacher of the truth of Christ, a defender of their rights and freedoms and a protector of our culture and identity. Your life and service are filled with blessings of God that provided abundant fruit for our Church. The clergy and those consecrated to God benefit from your profound spiritual experience that is rooted in Christ the Lord.
We cannot neglect to mention your ministry for the development and promotion of consecrated life in Canada. You dedicated considerable effort toward the increase of vocations to monastic life and to the spiritual care of the Order of the Basilian Fathers in your country.
Distinct recognition is due for your academic activity that has been crowned with numerous successes. You have always been a zealous researcher of the liturgical patrimony of our Church.
Your lively participation in the activity of the Synod of Bishops of the Ukrainian Greco-Catholic Church bore much fruit. Your wise and measured advice assisted the Bishops in making important decisions.
May our merciful Lord repay you a hundredfold with His grace. May He accept the gift of your service as an acceptable sacrifice upon His altar, and, through the prayers of the Most Holy Mother of God and all the Saints of Ukraine, may He send you His generous blessing from on high. Continue to be for our people and for all peoples among whom you live, a bright beacon of God's truth - for many blessed years!
We send this greeting to you from the banks of our [ancient] Dnipro upon which our cathedral of the Resurrection of Christ was erected as a symbol of the indissoluble unity of our Church. May the entire remaining time that the Lord will yet grant you, be blessed and peaceful.
May the blessing of the Lord be upon you,
Sviatoslav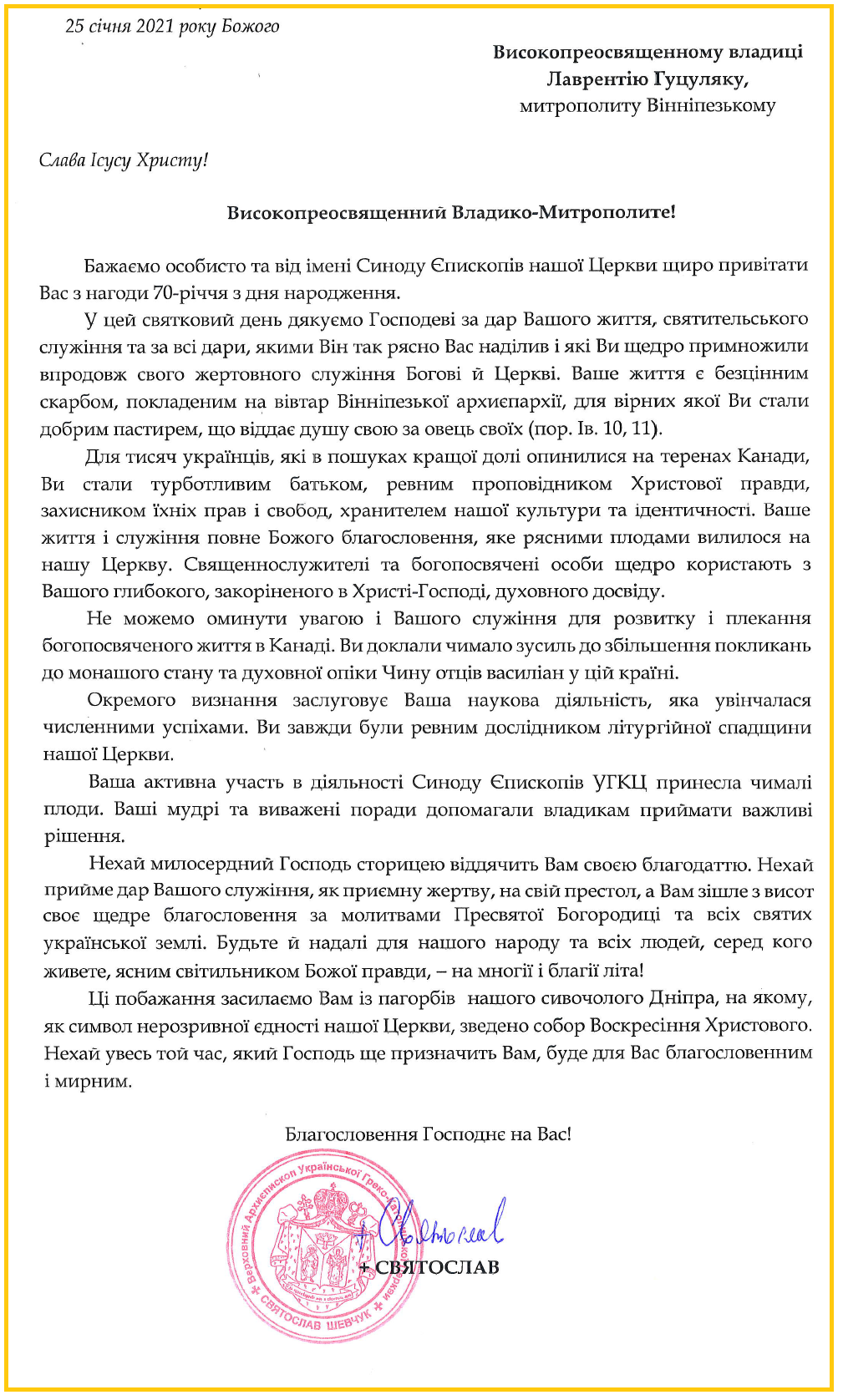 ---